Cardiff defeat marks the end for Clarke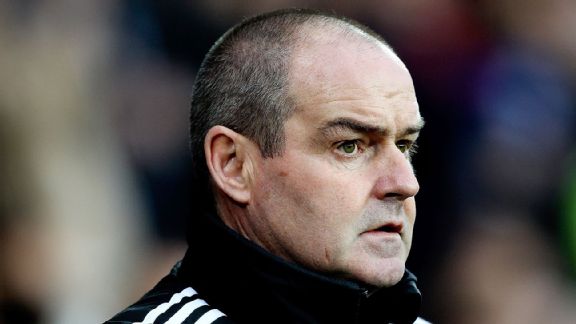 Ben Hoskins/Getty ImagesSteve Clarke's tenure as West Brom manager came to an end following Saturday's 1-0 loss at Cardiff City.
Following West Brom's 1-0 defeat to Cardiff City, Steve Clarke has been sacked by West Bromwich Albion in a move that may come as a surprise or even harsh to some. But recent displays, coupled with the club's form throughout the year, made this decision inevitable.

- Report: Cardiff 1-0 West Brom
- Report: West Brom sack Clarke

Saturday was clearly the final straw for the board and it was a display that was in complete contrast to the way West Brom played under Clarke initially. When he first came in, Clarke loosened the reins on his attacking players, allowing them to play with more freedom than his predecessor Roy Hodgson, while retaining his defensive organisation. Some have argued that the way Albion performed at the start of last season was simply a hangover from Hodgson's reign, but I do believe that's harsh on Clarke, who played with far more width than Hodgson ever did. Unfortunately, he couldn't find a way to repeat that form consistently.

Against Cardiff, West Brom were lacking both of these qualities. The Baggies seemed to be set up not to cause their opponents issues, but Saturday they seemed set up simply to try and defend. The players looked devoid of any confidence, when they got the ball they seemed to want to get rid of the ball as quickly as possible, hence the long ball football that West Brom resorted to today.

There was no drive or purpose in their play -- Albion simply look scared of doing something a little bit different, even when they went 1-0 down. Sometimes the attacking displays under Hodgson were far from inspiring but what you could always guarantee was defensive solidity. At the beginning of his reign, the same could be said of Clarke. But in recent weeks in particular, Albion have looked very shaky at the back, none more so than Saturday when even the ever-reliable Gareth McAuley had a few dodgy moments.

A lack of goals being scored coupled with goals still being conceded is a recipe for disaster. When you then take into account Albion's form this calendar year, the sacking of Clarke really can't be considered that harsh. In fact, some would argue West Brom gave Clarke plenty of time to turn it around. Since the turn of year, Albion have played 35 games, winning seven, drawing 11 and losing 17. That gives West Brom 32 points from nearly a season's worth of games, which is relegation form.

Additionally, West Brom have established arguably their strongest squad of players in the club's Premier League history, which makes the frustration at Albion's poor form this season even more understandable. The failure to re-sign Romelu Lukaku on deadline day was obviously a disappointment, but it should not be used an excuse for West Brom's poor fortunes.

Clarke has options in pretty much all positions on the pitch, particularly in the forward areas. Perhaps the amount of options he had at his disposal became a hindrance, as Clarke struggled to find a combination of players that allowed Albion to be more effective than they have been offensively.

His timing of substitutions has become a particular bug-bear in recent times. Clarke's changes always seem to be reactive rather than pro-active, as was seen Saturday. At 0-0, West Brom had a chance to change the game through their substitutions. Instead, Clarke waited and waited, only making subs once Albion had gone 1-0 down, by which point the task has become a lot harder. He then brought Matej Vydra on with two minutes left, what impact is a player supposed to have in that time?

Of course, it is a massive shame to see Clarke lose his job. He led West Brom to their highest ever Premier League finish and their highest amount of Premier League points in a season. If a few more decisions had gone his way this season, then this blog probably would never have been written.

Jeremy Peace has made a brave decision sacking Clarke at this time, with a huge game against Hull coming up at the Hawthorns next weekend. It would have been easy to have given Clarke this game to try and salvage his job, but Peace clearly felt that Clarke wasn't going to turn it around. It has to be hoped that Peace has somebody lined up for the head coach role -- to go into a such a big game with a temporary manager would be a massive risk and one that has Albion have been burnt by before. Michael Appleton took charge of one game between the reigns of Roberto Di Matteo and Roy Hodgson, where he contrived to lose a three goal advantage against relegation rivals West Ham.

The talk will now of course turn to a replacement for Clarke. When Di Matteo was put on gardening leave, West Brom knew that both Hodgson and Chris Hughton were out of work and available, the exact type of head coach Albion needed at the time. This time around, the options are not quite so clear. There isn't anyone out of work who strikes you as a stand-out candidate.

Martin Jol has connections with the club, but he was having struggles at Fulham. There has already been talk of names like Stuart Pearce and Glen Hoddle, but they don't strike me as the type of manager/head coach West Brom would look for. Carlo Ancelotti's assistant at Real Madrid, Paul Clement, is an interesting name, but would he really want to leave the Bernabeu for the Hawthorns?

In terms of those currently employed, Malky Mackay could potentially be an option, particularly as he has worked within a similar managerial structure at Cardiff. Sean Dyche is another with a burgeoning reputation in the game. It is a big decision, but it also one that needs to be made with some haste.