Why West Brom need to start beating Aston Villa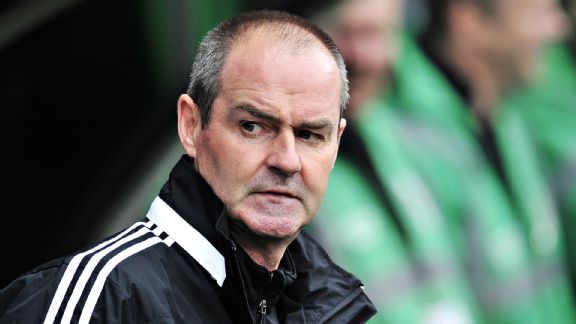 Glyn Kirk/AFP/Getty ImagesSteve Clarke's team have won only one of their last nine Premier League games.
"Pride of the Midlands, we know what we are" has become a favourite among West Bromwich Albion fans in recent seasons, after finishing above Aston Villa for two consecutive years.

Achieving this was undoubtedly a massive source of pride for The Baggies; it shows just how far the club have come from being the "yo-yo" side they were renowned as. Aston Villa have a bigger ground, a more illustrious history and were until very recently, working on a significantly larger budget than that of first Roy Hodgson and then Steve Clarke. In Biblical terms, West Brom were the David and Aston Villa were the Goliath.

- Report: West Brom to offer Clarke new deal

But for Albion to really claim to be the top dogs in the Midlands, they must start beating their local rivals on a more consistent basis. West Brom are unbeaten in five against their rivals, but have only won two of those. And despite their superiority in terms of league position in the last two seasons, West Brom haven't managed to defeat Aston Villa at the Hawthorns in that time, both matches ending in a draw. It's from games between two sides rather than overall position that bragging rights can be taken.

Last season's game in particular was one that Albion will look back on as a missed opportunity. At that stage Aston Villa were struggling while West Brom hadn't quite hit the slump that dominated the second half of their season. It was Albion's chance to really assert themselves at the top of tree, but in the end, they were lucky to escape from the game with a point.

The first half performance on that day was lethargic and weak -- Aston Villa were allowed pretty much free reign of the Hawthorns and really should have led by more than 2-0 going into halftime. The second half performance from that game is the type that Clarke will want to see from his players for this Monday's derby clash.

Albion pressured the Aston Villa defence, getting plenty of crosses into the box and plenty of shots on goal. Two key performers in that match were Romelu Lukaku and Peter Odemwingie, both of whom are no longer at the club. Despite that, I feel on a whole West Brom are a better side than they were last year. The goals of Lukaku may be missing, but there is far more creativity and goal-scoring threat from the midfield, with Stephane Sessegnon being the prime example of this.

The Benin international will be a key player in the derby, an environment he tends to thrive in as shown by his days at Sunderland. When Albion signed Sessegnon on deadline day, no-one doubted his talent, but there were question marks over his consistency. So far, West Brom have only seen the positives of Sessegnon.

Along with the two goals he has this season, Sessegnon has shown he is able to create chances for his team-mates and is also great at relieving pressure. Much like Odemwingie and Lukaku, Sessegnon is a player who gets fans off their feet. He can dribble the ball at great speed, which is not only exciting to watch but also a great way for Albion to implement their quick counter-attacking game.

While Sessegnon's position in the side is secure, it is the left wing position that remains open. There are three options for that role and all of them offer different qualities. Chris Brunt is the most experienced and offers a calm head in heated situations, as shown by the goal he scored against Aston Villa in the aforementioned clash from last season. Brunt's dead-ball delivery has also proved to be one of Albion's most potent attacking weapons this season.

Saido Berahino is arguably the most exciting option of the three. He isn't a conventional wide player but he offers the most goal threat. Clarke clearly trusts the youngster in high-pressure situations, having bought him on against Manchester United in the game where Berahino really made his mark. But with Albion's head coach often talking about not rushing the starlet, I expect him to start the game from the bench.

Scott Sinclair is the third option. When he was signed, I'm pretty certain he was seen as the first choice player in that role, but he has only made four appearances since signing because of injury. Sinclair is more of a conventional winger than Berahino, as he will look to take on his full-back, although more often on the inside than getting to the byline. However, having only just recovered from injury, I expect it to be club captain Brunt who gets the nod on the left wing.

Steve Clarke has achieved a lot in the relatively short time he's been at the Hawthorns. He led them to an eighth placed finish and their highest points tally in the Premier League. With talks over a new contract set to start in the new year, Clarke is in a good position when it comes to negotiating.

Clarke has made a habit of breaking hoodoo's in his time at Albion, such as The Baggies' historic win over Manchester United at Old Trafford this season. If Clarke can get at least one win over Albion's Midlands rivals this season, his hand would be stronger than ever.