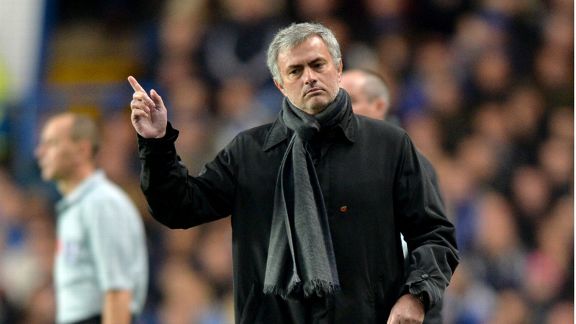 AssociatedJose Mourinho during Chelsea's Premier League draw with West Brom.
Perhaps as a way of deflecting the attention away from the fortuitous penalty awarded to his side in the last minute, much of the controversy from West Brom's 2-2 draw with Chelsea Saturday has come from what Jose Mourinho said in the immediate aftermath of the match as well as in his post match press conference.

Mourinho is reported to have caused a 20-man bust-up in the tunnel after describing West Brom as a "mickey-mouse club" and using the same term to describe Jonas Olsson. After the match, he described West Brom as "a team to finish mid-table, every point for them is a great point."

-Mourinho escapes FA discipline

The comments from Mourinho about West Brom were disrespectful, but most of all, they were wrong. Since becoming the Baggies coach, Steve Clarke's attitude in games against big clubs has not been one of a mid-table club thankful for every point they get. In fact, West Brom continued to attack in injury time, something which arguably contributed to them taking only one point instead of three.

Clarke's attitude to these games is refreshing -- he doesn't want to go to these games with damage limitation in mind, he encourages his players to go out and attack the opposition. He does not pick sides with the intention of shutting down the opposition's strengths, he picks sides that can exploit their weaknesses.

While there was a more defensive-minded change bringing Claudio Yacob into the side in place of James Morrison Saturday, it did not change Albion's approach. Stephane Sessegeon was still allowed to play quite a free role in behind Shane Long, Morgan Amalfitano and Chris Brunt played as proper wingers, with both full-backs joining the attacks when possible.

Another prime example of Clarke's desire to attack the big sides is the 2-1 win over Manchester United at Old Trafford this season, when Scott Sinclair was forced off with injury. Clarke could have reverted into his shell, bringing on Graham Dorrans or Goran Popov. Instead he brought on the inexperienced, more attack-minded Saido Berahino, who rewarded Clarke's attitude by scoring the winning goal.

West Brom's coach has already racked up some impressive performances against the top sides in his time at Albion. Alongside the two games already mentioned, Clarke also has a win at Anfield under his belt, while he's also taken a point away from White Hart Lane. He can also boast home wins over Liverpool and Chelsea, as well as draws with Manchester United and Arsenal.

Of course, this stance can sometimes backfire, particularly if he gets the selections wrong, such as in the 4-1 thrashing West Brom took at Liverpool this season. Clarke also took the blame for West Brom's 2-1 loss to Manchester City at the Hawthorns last season, when Albion were continually denied by Joe Hart in their push for a winner before City sucker-punched them and scored the winner on the counter. But on another day, the Baggies would have scored a winner and Clarke would have been heralded for his attacking approach.

The attitude of Clarke in these games is indicative of his attitude to the club in general. Previously Albion were happy to merely survive in the Premier League, where as now there is a lot more ambition to the goals being set. Whilst ensuring survival is always the first priority, Clarke wants to take The Baggies to new heights. Finishing "best of the rest" last season was a huge feather in the cap for Clarke, but he would have been disappointed with the finish to the season.

This year, Clarke has set the target of reaching and going past 50 points, something West Brom have never done in the Premier League. It may not be enough to finish eighth again, with the form of Southampton this season, but it would still be a sign of great progress for the Baggies. It does seem on occasion that Clarke's ambition isn't something that West Brom as a club were prepared for.

There were clear signs of frustrations in West Brom's early-season form, with Clarke obviously unhappy with the lack of financial support coming from the powers that be at Albion. The signings West Brom made on deadline day meant that Clarke now had to match his ambitious words with performances on the pitch and he has certainly done that. Since Deadline Day, the Baggies have played eight league games, losing only one, scoring 12 goals and conceding nine.

Perhaps in previous years, Albion could have been derided as a side who were happy to take what they could get, content with going to the top sides and not getting a thrashing. But not anymore. Clarke has installed a confidence in West Brom's players that allows them to play at the grounds of big clubs without fear. West Brom's head coach will certainly be pleased with the way his players put Chelsea noses out of joint and will be expecting more of the same in the remaining games against the top clubs.