West Brom outclassed as striker struggles continue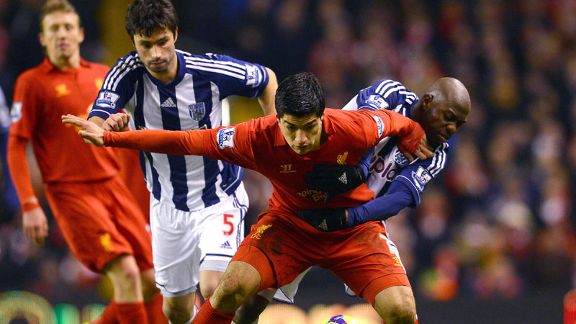 GettyImagesWest Brom were simply outplayed by Liverpool -- particularly Luis Suarez.
West Brom's recent run of good results against Liverpool came to a crashing stop on Saturday with a 4-1 defeat to the Reds, who quite simply outclassed Steve Clarke's side.

Whilst there are certainly concerns to emerge from Albion's defeat, it was one of those days where you had to simply admire the quality of the opposition and admit that you were outplayed. Luis Suarez has been kept relatively quiet by Gareth McAuley and Jonas Olsson in recent encounters between the two sides but they couldn't get near the mercurial Uruguayan as he put The Baggies to the sword with an outstanding hat-trick.

When West Brom defeated Liverpool at Anfield earlier this year, it was mainly down to the outstanding contribution of Claudio Yacob and Youssouf Mulumbu in constantly breaking up the play, constantly closing down Suarez and shutting off the space in front of West Brom's back four that Suarez operates so effectively in. It was a different case in the 4-1 defeat, with Yacob in particular struggling, constantly fouling in dangerous areas.

Olsson would have been particularly disappointed with the first half goal, as he allowed Suarez to put the ball through his legs with ease before blasting past Myhill. Suarez followed that with two headed goals, the second of which would have disappointed Steve Clarke, to complete his hat-trick. For a side that has been so defensively solid, it was surprising to see Suarez left unmarked eight yards out from goal.

Despite the score line, West Brom were arguably the better side for large spells of the second half. James Morrison scored from the penalty spot after Billy Jones was brought down after a rampaging run from right back. Jones' contribution, at least offensively, was one of the bright points of Albion's defeat. Chris Brunt then missed two decent chances for the Baggies, whilst Simon Mignolet also denied Morrison a second goal late on.

It was perhaps the difference in quality between Liverpool's front line and West Brom's that had the biggest impact on the result. Not only was Suarez outstanding but Daniel Sturridge also proved a tricky customer for Albion's back line to deal with, both proving lethal in front of goal. In contrast, Albion's forwards continued their struggles in front of goal, with none of their senior strikers finding the net this season.

Nicolas Anelka was recalled to the side and immediately instilled into the central striking position, shunting Victor Anichebe out to the wide left position. This was a strange decision on the part of West Brom's head coach. Anichebe's strong hold-up play away from home is what allowed West Brom's other attacking players to really flourish, bringing them into play and allowing quick counter-attacking moves. Anelka couldn't provide this type of hold-up play, which meant the ball was constantly coming back towards the Albion goal.

It is not that West Brom's forwards are playing badly, it's just that they simply don't look like scoring. They've linked well with Albion's attacking midfield players who have scored goals, but you can't go through a season being reliant upon the midfield for goals. Even when West Brom were in poor form in the second half of last season, they had a threat in the shape of Romelu Lukaku.

This season, The Baggies simply don't have a forward who strikes fear into the opposition or who can create a goal out of nothing. Saturday's defeat was a prime example of that. Albion in fact had more shots and more shots on target than they did in their 2-0 win from last season, but only managed to score from the penalty spot. Lukaku scored West Brom's second in the 2012/13 season, that he created himself.

Anelka simply doesn't seem to be fitting in at the moment. Previously I believed it was because he was on a different wavelength to West Brom's other attacking players but even with the added quality of Stephane Sessegnon and Morgan Amalfitano around him, he continues to struggle. Anelka has shown some nice touches away from the goal and he clearly has plenty of quality but his finishing ability seems to have deserted. In addition, Anelka does seem to be struggling with the pace of the league at times, which is perhaps down to his time playing in China.

Anichebe has perhaps been the most impressive of The Baggies' striker signings. As mentioned, his hold-up play is very good and he does allow West Brom's midfield to flourish. But Albion knew when they signed him that they were not getting a prolific goal-scorer, with the Nigeria international's best tally in a season being 6 goals. To suddenly expect him to score 10-15 goals a season is completely unrealistic.

Up next for The Baggies is Crystal Palace at the Hawthorns, a game that West Brom will be looking to win to immediately regain some momentum after this defeat. It's fair to say Albion shouldn't come up against the same sort of quality as they did against Liverpool, both in defence and attack. Therefore, they will be hoping to see at least one of their strikers finally break the goal duck for the season. Whoever does break their duck first may find themselves as the first choice forward for Steve Clarke.