Saido Berahino: West Brom's man of the moment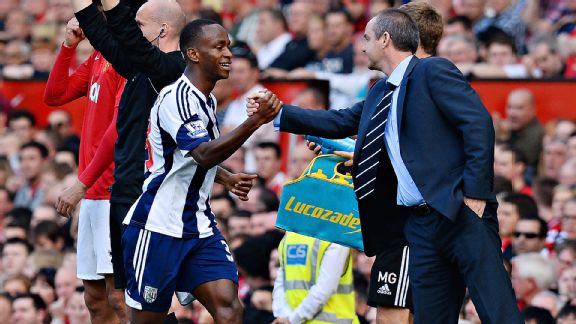 Andrew Yates/AFP/Getty ImagesSaido Berahino got a hand from manager Steve Clarke after scoring last week's game-winner at Old Trafford.
You have to think that Saido Berahino's life has changed quite a bit in the last week. Before he wasn't overly well known; West Brom fans knew about his talents and so did followers of England's age group teams, with Berahino having scored two in two games for England U21's.

But after his winner last weekend at Old Trafford to give Albion their first win away from home against Manchester United in over 30 years, Berahino has become the man of the moment on a national stage. He is the talk of Twitter, with various pundits lining up to describe him as one of the brightest young talents in English Football. His contract situation with West Brom has suddenly become big news, with the young forward in the process of negotiating a new deal with the Baggies, which wouldn't have picked up a single column inch before last Saturday. Now everyone wants to know where Berahino's future lies.

- Report: Clarke criticizes Berahino advisors

For The Baggies, it is imperative that they tie the impressive youngster down to a new deal as quickly as possible. There are a few reasons for this: one of them being that it will only benefit Berahino. Already bigger clubs are being linked with him, while his weekly wage has been leaked to the press, something that Steve Clarke wasn't best pleased with.

All of these factors are just increasing the pressure and focus being placed on Berahino, which is the last thing he needs. Although he has been very impressive in the early parts of this season, it is clear that he is still developing as a player. He should be able to do that away from the media spotlight. Berahino's development has been a slow-burning process from Albion: he's worked his way through the leagues with loan spells at Northampton, Brentford and Peterborough before being given opportunities in this pre-season by West Brom, which he took.

Clarke has eased him into the first team on the back of those displays, with very little expectation being placed on him. That's the best way to develop a young player, particularly a forward like Berahino who will have games where he struggles to make an impact. By signing a new deal, all of that focus will be navigated away from him to the next prospect, allowing Berahino to focus on his game and nothing else.
It is also vital for the club to get him to sign that new deal on a couple of different levels. Firstly, because Berahino is the first player to come through Albion's academy to really break into the first team picture and make an impact. It wouldn't say much for the club if the first real success story they have from the academy leaves before he makes a lasting impact on West Brom's fortunes.

It's also important for the other players in the academy to see it is possible to break into the first team squad at West Brom. Izzy Brown left the club for Chelsea in the summer transfer window, while Albion also lost Yan Dhanda and Jerome Sinclair to Liverpool over the past season. If a young player in the academy can see Berahino getting chances in the first team, as well as someone like George Thorne when his rehab is fully completed, then it should encourage them to stay at the club. It will show them they will get chances to perform on the biggest stage, rather than choosing to move to a bigger club at an earlier age, where their progress to the first team will take a lot longer.

It's only once West Brom start bringing through players into the first team on a consistent basis that the decision to invest getting the club academy status, then investing even more money to make it a category one academy, will be vindicated.

Back to Berahino; arguably the most impressive aspect of his performances this season is that he isn't playing in his natural position. Berahino has been played on the left and right-hand side of a front three under Clarke this season, scoring a hat-trick from the right against Newport in the Capital One Cup while of course his now famous winner at Old Trafford came from playing on the left of a front three.

But Berahino forged his reputation in youth football as a central striker and ultimately, that is where he will want to play in senior football, already showing his ability in that role for the England U21's.

Berahino certainly has the attributes to play as a central striker; he is very quick, makes good runs behind the defence and has shown himself to have good ability in front of goal in various situations.
With their being doubts over the fitness of Victor Anichebe, Nicolas Anelka, Shane Long and Matej Vydra ahead of tomorrow's game with Arsenal, Berahino may get his opportunity as West Brom's central striker a lot sooner than he expected. It will be a tough test for him up against two quality, experienced centre backs but a test that can only benefit the rest of his career.

If Berahino plays well in that position against Arsenal, then his current man of the moment status might not go away for some time.