West Brom looking forward after historic win over Manchester United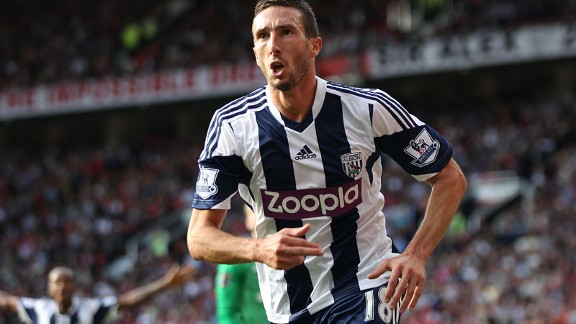 GettyImagesMorgan Amalfitano put West Brom ahead.
The last time West Brom won at Old Trafford was in 1978, their 5-3 victory one of the most famous games in the club's long history. For a bit of context as to how long ago that was, today's match-winner Saido Berahino wasn't born until 15 years after that game!

Whilst the 5-3 win was undoubtedly one of, if not the, best wins in Albion's history, you could argue Saturday's result was a little more special because it was so unexpected. The gap between Albion and United is much greater than it was in 1978 in pretty much every department. This truly was David toppling Goliath.

Over the past couple of seasons, Albion have enjoyed some famous wins away from home, two at Anfield and a 3-2 win over Arsenal at the Emirates stadium but none of them rank were as special as today's victory. West Brom went to the home of the champions and out-played them for the majority of the game, in truth they could have won by a lot bigger margin than they did. That is the kind of special performance you get once in a blue moon. Not only did Albion score twice but they also hit the bar and saw David De Gea produce one stunning save to deny a Morgan Amalfitano free-kick.

That Berahino was making his first apperance at Old Trafford makes the story of West Brom's win that little bit more fairy-tale like, it truly did turn into the theatre of dreams for the youngster. It was not only the goal that made Berahino one of the stand-out performers, but his all-round play.

Berahino worked hard off the ball, doing his best to protect Liam Ridgewell as a lot of attacks were coming down Albion's left. Going forward, it did look like that it wasn't going to Berahino's day in front of goal, but his movement and positioning was still very encouraging. He got in a good position and attacked the ball well when missing with a headed chance in the first half, whilst he was also denied by David De Gea in the 2nd half after taking up another good position in the box.

Berahino's goal was an excellent finish after a superb team-move that involved all of Albion's front four, with Berahino blasting the ball in with his left foot from the edge of the box. That took his tally to 5 goals for West Brom this season, plus two in two games for England U21's. He's in electric form and any injury to Sinclair may be a blessing in disguise for The Baggies, as it should allow for the academy product to get more game-time at the highest level which should benefit the player and club.

Whilst the Academy starlet impressed, at the other end of the scale, it was two of West Brom's summer signings who also made the biggest contribution to Albion's historic win. Club Record signing Stephane Sessengeon has settled seamlessly into West Brom's side, scoring a goal on his debut last week and also impressing against Arsenal. Sessengeon was the type of player Albion were crying out for, as shown by their poor start to the season.

His pace and creativity that has been a vital addition to Albion's attacking options. On numerous occassions today Sessengeon glided past players like they weren't there, either through his pace or some quick feet. He picked up some criticism at Sunderland for his decision-making but that criticism couldn't be levelled at him today. He made the right decision every time he advanced into the final third, be it to play the pass or go past another player.

Morgan Amalfitano was the least talked about of Albion's three major deadline day signings but he has been a stand-out performer in their last two games. Amalfitano oozes quality, as shown by the goal he scored today, running from his own half, nut-megging Rio Ferdinand and chipping the ball over De Gea.

West Brom have gone from having maybe one player who could produce a moment of magic to four or five. This can only benefit Albion as they look to repeat their achievements of last season, or perhaps even better them. Having so many flair players can be an issue as it could hinder your defensive play, but a lot of credit has to go to Clarke for finding a formation that allows this personnel to flourish but not leaving West Brom exposed. It was important that Clarke did this, as he piled the pressure on himself by publicly expressing The Baggies need for 2 or 3 creative players on deadline day. When the board delivered these type of players, Clarke needed them to hit the ground running and he has.

He seems to have re-discovered his tactical mojo after a couple of puzzling selections in Albion's poor early season form. Clarke has reverted to the 4-2-3-1 formation that was so successful last season, but with slight tweaks that have meant the formation has worked well both home and away.

In the 3-0 win over Sunderland, James Morrison played a slightly more advanced central midfield role but Clarke went with the more defensive-minded Claudio Yacob at Old Trafford, also dropping Youssuff Mulumbu into a slightly deeper area than he normally plays to keep tabs on Wayne Rooney. Clarke must also take the credit for bringing Berahino on in placed of the injured Sinclair, he could have quite easily taken the more conservative option of bringing on Graham Dorrans.

West Brom have gone from looking towards the bottom of the table nervously to gazing ambitiously towards higher reaches after today's historic victory and Steve Clarke currently looks like the man who can guide Albion to even more history-making.