Amalfitano shines as the Di Canio sideshow rages on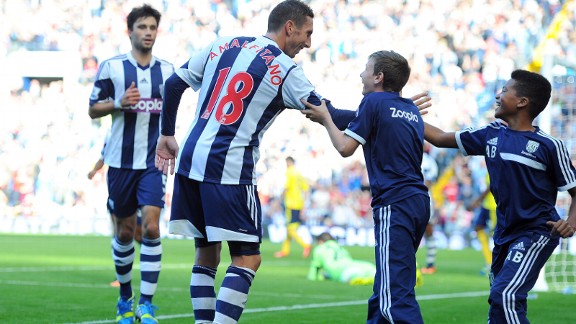 PA PhotosMorgan Amalfitano celebrates scoring West Brom's third goal.
West Brom's performance in their 3-0 win over Sunderland at the Hawthorns seems to have gone somewhat un-noticed thanks to the latest episode in the Paolo Di Canio show. But it was a performance and win that will have gone some way to easing any pressure that was building on Steve Clarke.

You couldn't get two more contrasting personalities on the touchline. Di Canio is all about over-exaggerated gestures, passion and showmanship. Clarke is as calm as they come, he doesn't let his passion boil over into displays that over-shadow his team, he doesn't seem to over-react to anything. It was that attitude that prevailed on Saturday as Albion look to use this result as a springboard for their season.

Pressure was starting to build on Clarke after a poor start to the campaign, coupled with some even poorer form since the turn of the year. It was not only the results that were the issue, but also the performances. Albion hardly mustered a shot on goal in their first three games this season, with the forward players ineffective and the style of play not exactly easy on the eye. With some late additions to the squad and a change in formation, Clarke seems to have found a way of rectifying these problems.

- Sixsmith: Sessegnon heaps pressure on Di Canio

In the second half of last season and the beginning of this term, it was obvious to everyone who watched West Brom that they lacked pace, creativity and width. They were reliant upon their full-backs to provide width, which in turn left the defence more exposed. Against Sunderland, the Baggies put in a performance that was more like those that were seen under Clarke at the beginning of his tenure, the 4-2-3-1 formation working well.

A lot of focus was placed on Stephane Sessegnon as he made his Albion debut against his former club, but it was another of West Brom's deadline day recruits that stole the show. Morgan Amalfitano was decent enough on his debut at Fulham, looking tidy on the ball and hard-working off it. On Saturday, he was even better and looks to be the type of player that West Brom have been missing.

Although he did drift around and interchange with Scott Sinclair and Sessegnon on occasions, Amalfitano mostly stuck to his position on the right wing and provided the creativity that Albion lacked in the opening weeks of the season. He completed 36 of his 44 passes, made 14 crosses (two of which led to goals) and created three chances for his team-mates. In his final season with Lorient, before making the move to Marseille, Amalfitano contributed five goals and 16 assists. I think all Baggies fans would be delighted with a similar return this season from the loanee.

The French International also hit the bar in the first half before adding Albion's third late on with a powerful strike into the far left corner. Another area where Amalfitano was effective was in creating space for Billy Jones to attack. He knew when to come inside slightly to give Jones room for the overlap and more often than not, put him into a good position to cross the ball. Not only that, but he also helped Jones defensively, tracking back willingly and offering his full-back good protection, something that Jones has often been left without.

You also have to mention Sessegnon, who scored West Brom's first goal from open play this season to give the Baggies the lead against Sunderland. It was far from his best game but it is easy to see what he is going to give to Albion. He's someone who likes to get the ball to feet and take players on, the type of player the excites fans. He is also surprisingly strong for someone so slight of build, he gets his body between the ball and defender before rolling them, which he did well a couple of times on Saturday. Sessegnon should also contribute a decent amount of goals to the cause; he scored seven for Sunderland last season and is, of course, already off the mark for the Baggies, arriving at the right time to slot the ball in.

In addition to that, having the likes of Sessegnon and Amalfitano around him allowed Nicolas Anelka to flourish; he had by far his best game in a West Brom shirt on Saturday because he was getting the type of service he wanted. Anelka was getting the ball to feet, he was able to play quick give and go's with team-mates who were actually on his wavelength and he got in behind on a couple of occasions. All the Frenchman needs is a goal for him to really start firing, but his performance on Saturday was encouraging.

Sessegnon is a flair player which would explain why he is considered "inconsistent" by some people. That's inevitable with someone who plays off the cuff, there will be games where everything they try comes off and they look like a world-beaters, other games nothing they try will work. Luckily for Albion, if it doesn't work out for Sessegnon, they now have plenty of other players who can provide a bit of magic.

There is Amalfitano, who was mentioned earlier, and the other wide player from on Saturday's win, Scott Sinclair. Sinclair was relatively quiet, but that was unimportant as the other two were so effective. Sinclair did his job defensively and did have a couple of bright moments going forward, it just seems he is searching for a little bit of confidence to take players on after playing so few games for Man City last season. With more game time, Sinclair will only get better.

There is also Chris Brunt, who was Albion's best player against Fulham but missed the game against Sunderland through injury, whilst Zoltan Gera is close to returning. If you include James Morrison, Albion now have six players available for those roles in the advanced trio of midfield. Clarke will no longer be forced to put square pegs in round holes; he has competition for all the forward positions. Clarke just needs to find a way of combining all of the talent at his disposal to win games and he made a good start with West Brom's performance on Saturday.