Nicoas Anelka's West Brom struggles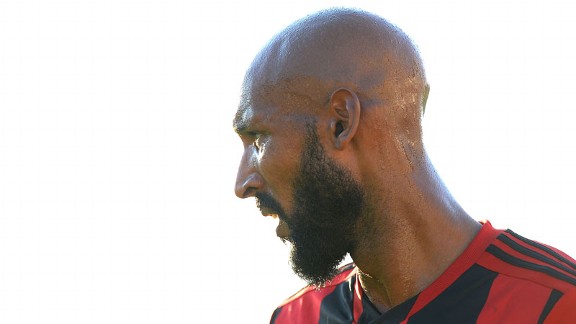 GettyImagesThings have been tough early on for Anelka.
He is only three games into his spell at West Bromwich Albion, but already questions are being asked about the signing and role of Nicolas Anelka at the club. He has already gained Albion more column inches than they would usually get, unfortunately it was for events off the field rather than his performances for The Baggies.

When Anelka first signed, I believed that he was a fantastic capture for the club and I do still believe that, over time, he will prove to be a good addition for West Brom. However, it can't be denied that thus far this season, he has struggled. The main evidence of that was last weekend against Fulham when he was put through on goal by Victor Anichebe. If you could have picked one man for that chance to fall to, it would have been Anelka, a proven Premier League goalscorer known for his clinical finishing. It didn't work out like that, Anelka miscontrolled the ball and the chance was gone.

A confident Anelka would have buried that chance, but the Frenchman's early season struggles have left him lacking that confidence. So why is Anelka struggling at Albion? Of course you have to consider the sad news he received after the first game of the season with the death of his agent, no-one really has any idea how long it takes anyone to get over the death of a close friend. Anelka may still not be fully recovered from that news, but I'm going to stick to matters purely on the pitch.

One of the main issues is that Anelka's style of forward play doesn't really fit into the preferred 4-2-3-1 formation from last season, which proved very successful. Even in his prime, Anelka's attributes were not suited to playing as a lone striker, but that is the case even more so now. Anelka likes to drop deeper to pick up the ball, he wants to take it and run at defenders, or look to create chances for a team-mate. Clarke has pretty much had to wipe the slate clean in trying to find a way of fitting Anelka into the side and finding a defined role for him, which is why he has switched to a 4-4-2 formation.

The problem with this is two fold. Firstly, choosing this formation marginalises some of Albion's key players. Claudio Yacob isn't nearly as effective in a 4-4-2 formation, James Morrison is far better when he is playing higher up the pitch in a central position, rather than deeper or in a wild role. Because of this, Albion's play has been lacking fluidity so far this season, it seems with the volume of new players brought in that they are taking time to adapt to each other's games.

The second problem with the 4-4-2 formation is that Clarke is yet to find a partner who will bring out the best in Anelka. Markus Rosenberg played well alongside Anelka in pre-season but is clearly out of favour, whilst Shane Long struggled to link with Anelka in the opening two home fixtures against Southampton and Swansea. There were some signs of understanding between Anichebe and the former France international at Fulham and Anichebe certainly represents the physical presence that can hold up the ball, which would allow Anelka to play off him from a slightly deeper position. But it is still a partnership that is in its formative days and West Brom need results to pick up quickly. How long can they wait to see if these two can strike up a partnership before Clarke has to make a brave decision and perhaps drop Anelka for the good of the team?

Another factor in Anelka's struggles could perhaps be the pressure he is under to succeed. Having Anelka sign for Albion was a large coup for the club, with the striker said to be on a club-record deal, so the spotlight is inevitably going to fall on him, from both the fans and the media. There is a burden of expectation that comes with being a marquee signing for a smaller club, fans are expecting you to be that much better than the rest of your team-mates, to be the player who changes a season. Of course some people would argue that someone like Anelka shouldn't feel pressure, he has played on the biggest stages for some of the biggest teams in the world. But playing at these clubs, Anelka was with players on the same level or even bigger stars than him; they took some of that pressure away from him, whereas at West Brom, Anelka is by far the most high-profile name at the club.