Old hands key to Albion's improvement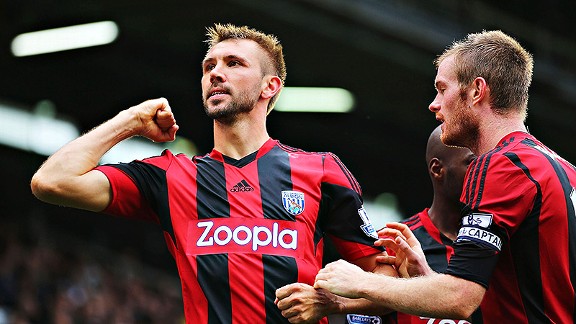 Clive Rose/Getty ImagesWest Brom's Gareth McAuley, center, celebrates his goal with Chris Brunt Saturday. It was the Baggies' first goal of the season after going scoreless in their first three games.
While the focus before Saturday's match at Fulham was on West Brom's new signings, it was a tried-and-trusted combination that earned them a point at Craven Cottage.

The combination on set pieces between Gareth McAuley and Chris Brunt is something that was effective for Albion on a few occassions last season and is also one that has worked well at the international level with Northern Ireland.

It worked its magic Sunday as well in what was clearly a pre-planned move between the pair. Brunt chipped the ball into the box from a corner, with McAuley sprinting onto the ball from deep at the box post to power the header in.

The celebrations from players and fans after the goal showed just how important it was for the Baggies to get that first goal of the season in their fourth game. It clearly lifted a weight off their shoulders, and with the goal coming so late, Albion will now be heading into next weekend's game against Sunderland with some momentum and optimism.

To have left Craven Cottage without a point or a goal would have put a lot of pressure on Steve Clarke and his players at the Hawthorns next week.

It was just reward for Clarke and West Brom after a much improved second-half performance. It was far from perfect, but it was a marked improvement on anything that Albion have produced in their other league games this season. What was most noticeable about the 2nd half performance was that West Brom kept the ball a lot better than in the previous few weeks and this was influenced by the two longest serving players at the club.

I've already mentioned Brunt, but it wasn't just his dead-ball delivery that was good Saturday. he had one of his best games in an Albion shirt in a long time, which came as no surprise as he was played in his natural wide left position and, for most of the game, stayed there instead of drifting inside. Brunt passed the ball well, helping Albion maintain possession far better than in previous games.

In addition to that, Brunt gives Albion someone who can provide quality service, be it a through ball or a cross from out wide, Brunt is someone who creates chances for his forwards, providing them with the type of quality service that was sorely lacking in West Brom's first three games.

It was quite a big decision from Clarke to leave out one of his recent additions, Scott Sinclair, in favour of Brunt, but it was a decision that paid off. Clarke also has to take some credit for the introduction of James Morrison from the bench in place of Claudio Yacob.

If Clarke is going to persist with the 4-4-2 he has used so far this season, then it is imperative Morrison fulfills one of the central midfield positions. Last season it would have been unthinkable to have considered dropping one of Yacob or Mulumbu, but the change in formation and personnel now makes dropping one a necessity. If you play Yacob and Mulumbu in a 4-4-2, there will be no creativity from the central midfield.

On current form, it is Yacob who has to be left out. He began his West Brom career with West Brom in a fantastic vein of form but after picking up an injury in December, he hasn't been the same player. Off the ball, he doesn't seem as destructive as before the injury; on the ball, he doesn't move it quickly enough, slowing down many of Albion's attacks.

The difference Morrison made was immediately noticeable as he gave Albion so much more attacking impetus than Yacob. Morrison collected the ball from deep and moved it forward quickly, either through a pass or by taking on a man, something not in Yacob's natural game.

Morrison has to start against Sunderland and with Youssuf Mulumbu one of the few West Brom players in decent form, I believe that Yacob is the man who has to make way.

Albion's new additions, Morgan Amalfitano and Victor Anichebe, did decent jobs in their debuts. Amalfitano made a very good first impression on the right-hand side of midfield. It is clear he is very comfortable on the ball, he is technically sound and also seems to be a good crosser of the ball.

The French international also performed his defensive duties well and it was obvious it was Amalfitano's preferred position as he looked far more comfortable with where he was supposed to be positioned than when the likes of Shane Long or Graham Dorrans are forced to play there.

Anichebe wasn't quite as impressive, but he did enough to suggest he should prove to be a good signing. He held the ball up well and on a couple of occasions linked well with Nicolas Anelka. He does provide the physical presence West Brom lacked after the departure of Romelu Lukaku and Marc Antoine Fortune. However, he doesn't look like a player who is going to get you 12-15 goals a season.

Albion's third deadline-day signing, Stephane Sessengeon, couldn't play against Fulham because of a work-permit issue but should be back to face his old club Sunderland. With Sessengeon becoming available, Clarke faces a couple of tough decisions, but decisions that he will welcome. He now has far better options going forward than before deadline day.

Now Clarke has the types of players he wanted, the pressure falls on him to fit them into a formation that gets results.