Tactical issues mean busy deadline day for West Brom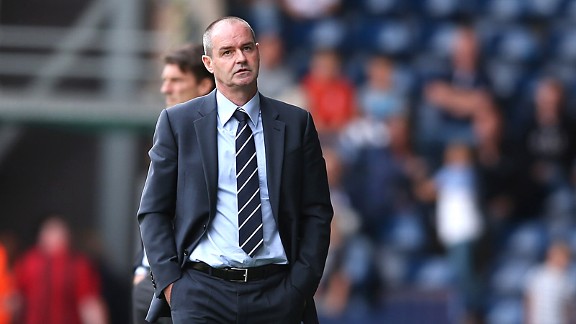 David Rogers/Getty ImagesSteve Clarke's West Brom have stumbled out of the Premier League gates this season.
West Brom's poor start to the season continued yesterday as they suffered their second consecutive home loss, going down 2-0 to Swansea, leaving Albion with only one point from their opening three games.

- Report: West Brom 0-2 Swansea
- Report: West Brom sign Amalfitano


There were very few, if any, positives to take from this game and it seemed to create even more problems for The Baggies, rather than solving any issues. One of the most worrying problems to have emerged from the game is that Steve Clarke's tactics and personnel choices are starting to become even more questionable.

Without a doubt, he got it wrong against Southampton, playing a 4-4-2 with Shane Long and Nicolas Anelka as the two strikers -- two players who had barely played together all pre-season, with James Morrison and Graham Dorrans as his wide men, who are both better suited in the centre of the pitch. Some of the blame for this was transferred away from Clarke as he didn't have a fully fit, natural wide player in his squad.

However, for Sunday's loss, he must take a lot of the blame for what happened as he continued West Brom's woeful record against Swansea in the Premier League. The two sides have now played five games in the top division. Swansea have won four of those, scoring 11 times and conceding only four.

In those games, Albion have often struggled to deal with Swansea's wide players, be it Nathan Dyer and Scott Sinclair (who is now an Albion player) or Pablo Hernandez and Wayne Routledge. That's why Clarke's decision to play Long as a wide player was one of a few baffling decisions he made. Long works hard but he's not used to tracking back and getting into position defensively, which is why Routledge and fullback Ben Davies had the freedom of Albion's right hand side of the pitch as Billy Jones was often left exposed in a 2-on-1 situation.

Playing Morrison in a wide role is something I have criticised, but he would have been a far more sensible choice yesterday, as someone who knows the defensive responsibilities of playing in that position. Shape is so key against sides like Swansea who keep the ball well and have some excellent passers, so for Albion to leave one side of the pitch so open to exploitation was criminal. It was hard to tell if there was any sort of formation being used by West Brom, at best it could be described as almost a 4-2-4, such was the gap between the two defensive midfielders and the four forwards.

Long being shunted out wide also meant that once more The Baggies had little to no attacking threat, mainly down to lack of width. West Brom had some nice passing moves but it was all in front of Swansea and everything was so cramped, as Long pushed inside as did Sinclair on the opposite wing with Morrison and Anelka also central. The only width came from the full backs, which often left Albion hopelessly exposed on the counter attack when Swansea broke up Albion's play.

Anelka played far better yesterday than he did against Southampton, but the Frenchman does seem to be one of the main reasons Clarke is having tactical issues. Having received so little of the ball against Southampton, Anelka came very deep to pick the ball up, often finding himself in the same spaces as Morrison and leaving The Baggies with no central striker. This was of no benefit to Albion, as although Anelka showed some nice skills and dribbling in getting past players, it was nowhere the Swansea goal and thus it wasn't really threatening at all.

With the way Anelka drops deep to collect the ball, there is no way he can play as a lone striker, but West Brom playing 4-4-2 just doesn't seem to work under Clarke. Perhaps the best option would be to drop Anelka into a role behind the striker, but that would then leave Albion's most creative player, Morrison, with no place in the side.

You can see Clarke's dilemma: he wants to get Anelka into the side but there seems to be no natural fit for him. It's not surprising he is desperate to get Anelka into the side any way possible. He is a proven goal-scorer, which is what Albion desperately need having now played three games in the Premier League this season and not scoring once, with only four shots on target.

It's these issues that mean West Brom are going to find themselves, unusually, very busy on deadline day. They've already completed the capture of Morgan Amalfitano on a season-long loan from Marseille with an option of a permanent deal at the end of the year. The French midfielder can cover all across the midfield, but Clarke has suggested he sees him as a predominantly wide right player, which is certainly a position Albion have lacked options in so that should mean Long doesn't have to be played wide again.

Albion are also in talks with Sunderland over a deal for Stephane Sessengon. I'm unsure as to where exactly he fits in the Albion side, but he is a proven Premier League performer and would add some pace to West Brom's side, something they are lacking in the most part.

With Albion also said to be interested in Victor Anichebe and Fabio Quagliarella, it is the forward areas that are clearly of most concern to Clarke. He has recently said transfers aren't down to him, he merely works with the players he is given. After today is over, the focus will no longer be on Albion's transfer policy but on what he can produce with the set of players he has been given, and Clarke knows he needs to change West Brom's fortunes, with Albion only having won four league matches in 2013.