Transfer frustration could force Clarke's hand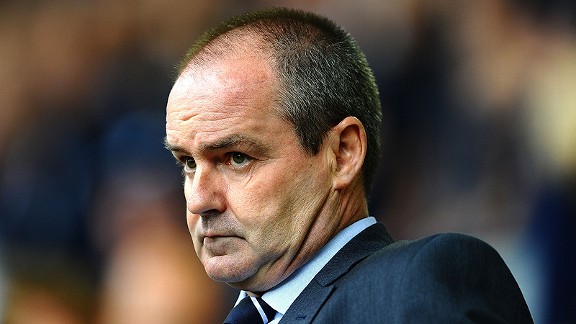 Laurence Griffiths/Getty ImagesSteve Clarke has voiced his frustration over the lack of transfer activity at West Brom.
With only four days left in the transfer window, it would be fair to suggest that West Brom head coach Steve Clarke seems like he is getting rather frustrated with the lack of progress Albion seem to be making in bringing in new players before the window closes.

Clarke stated in his press conference yesterday he would still like two more forward players, even with Nicolas Anelka returning to training with the club after his compassionate leave last week. Clarke said that the club was interested in signing (loaning) Victor Moses from Chelsea but added; "But I can't say I'm confident in landing him or any player at the moment." He also added that, "I'm getting nervous and I'm concerned we've left it too late -- that we won't get the players in to improve the squad."

- Report: West Brom keen on Victor Moses

Clarke's frustration and worry is easy to understand. As head coach, his influence over transfers is very limited; he can make recommendations about players, but the actual dealing is left down to Sporting and Technical Director Richard Garlick and Chairman Jeremy Peace. Clarke is therefore placing all of his trust in this system to provide him with the players he wants in the positions that need strengthening. The system has worked tremendously well for Albion in recent seasons, but it does seem that The Baggies are finding it a lot harder this year to get the players in who Clarke wants.

There are two levels to Clarke's worry: First of all, Albion aren't exactly renowned for acting quickly or recklessly in the transfer market. Generally, this is a good thing. But as the transfer window gets closer to shutting, it is these qualities that become more vital in getting a deal done. Albion may have to pay over the top to sign one of their top targets, but going by their track record in that area, they would likely just move on to the next name on the list of targets.

The other worry for Clarke is that although he isn't in charge of transfers, he is the one in charge of the team, which is one reason why he'd have much preferred to have the majority of his targets signed earlier in the window rather than rushing around now. The buck stops with Clarke if results go badly. He will be the one criticised by fans if results don't go well; he will be the one facing the sack, which is perhaps why he has decided the time is right to ramp up the pressure on the board publically.

The first two games of the season have shown that while West Brom seem fairly resolute at the back, they are still lacking a bit of flair and goal threat in the final third, having not scored a league goal thus far. Therefore, it's obvious why Clarke wants to bring in two forward players to help his squad, particularly with a dangerous slump that has seen Albion win only four games in the whole of 2013.

One of those victories came against Swansea at the Hawthorns and they are Albion's opponents this Sunday. With it looking unlikely that West Brom will have brought anyone in by the weekend, the best option for Clarke could be to back some of his younger players, something Clarke may find himself forced to do until January if The Baggies fail to bring in any more players.

In particular, I am referring to Saido Berahino, who burst onto the scene with a hat trick on his full debut against Newport in the Capital One Cup this past Tuesday. Berahino has long been highly rated within the club and impressed on loan last season at Peterborough before picking up an injury that ruled him out until the end of the season.

The England U21 man played very well in pre-season and after his hat trick against Newport, I think he has to start against Swansea. Berahino is arguably the only Albion forward with any sort of form this season, it doesn't matter how old he is or that he has no Premier League experience, what matters is that he is clearly very talented and plays in a position where Albion are currently weak.

The Baggies have been forced to play the likes of Graham Dorrans, James Morrison and even Shane Long in the wide right position, all of whom aren't naturals in that role. While Berahino has also played as a central striker, it's clear that this wide role isn't alien to him. What's more, Berahino seems to have all the assets that Clarke likes his wide forward players to have. Berahino is quick, he runs with the ball, he has the ability to go past a man on the inside or the outside, and as shown by his first two goals against Newport, he is composed in front of goal.

Scott Sinclair is another player with these sort of attributes and he seems certain to start his first Premier League game for Albion against the team who were the first to really give him a chance in the top flight. Again, Sinclair will add some much needed pace and width for Albion and showed his creative flair in patches against Newport, none more so than the through ball he played to put Berainho in for his first goal of the night. The fact those two seemed to link well together should only add to the list of reasons why Berahino deserves his chance against Swansea.