Morrison central to West Brom's hopes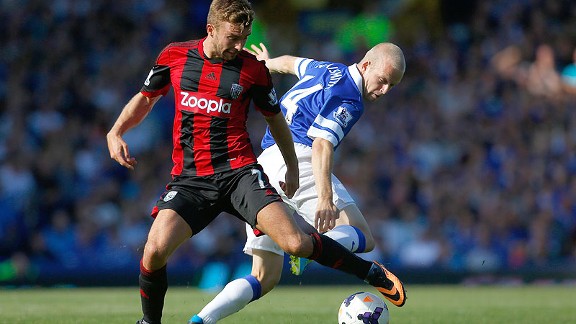 Paul Thomas/Getty ImagesJames Morrison has been one of West Brom's top performers through the first two matches.
West Bromwich Albion's 0-0 draw at Goodison Park against Everton on Saturday was certainly a point gained, and although the performance was far from perfect, it was a marked improvement on Albion's display in their opening day loss to Southampton.

Steve Clarke's change in formation from a 4-4-2 to West Brom's more common 4-2-3-1 saw The Baggies give a much improved performance, as it meant the return of the central midfield trio of Claudio Yacob, Youssuff Mulumbu and James Morrison. It's no coincidence that Albion's attacking play was far better with Morrison playing behind the striker, a position which he is much more effective in rather than being stuck on the right win.

- Match report: Everton 0-0 West Brom

Morrison has been one of Albion's key performers in the Premier League ever since he was given a more central berth first under Roy Hodgson, with Clarke continuing that trend, and also by bringing Morrison even further up the pitch so he is just behind the striker. The Scottish international seems to link well with whoever plays in front of him, operating in fine fashion with both Shane Long and Romelu Lukaku, while also showing signs of understanding with Markus Rosenberg against Everton.

One of the main reasons Morrison is so vital to Albion in that central role is that he presents a very viable goal threat. His shooting from distance is very good, as shown by the wonder-goals he scored against Manchester United and Blackburn in the past. Morrison came close to adding another to his collection in Saturday's match, hitting a ball on the half volley just over the bar from 30 yards, while he also forcing Tim Howard into his best save of the match in the second half, again from distance.

It's not just his shooting from distance that is a goal threat for Albion. Morrison also gets himself into very good positions in the box, even if his goals-to-game ratio doesn't suggest that: Morrison scored five in 36 games last season, averaging a goal just over every seven games. With one man up top, it's important that there is another option for The Baggies to target in the box.

Morrison also has the ability to unlock defences in that central role, having grabbed eight assists in the last two seasons for Albion, a tally that is only exceeded by Chris Brunt for The Baggies, with the captain getting 10 assists in that time.

Morrison is also a great outlet for West Brom, which again is important in the system Albion play as they lack outlets in the wide area at the moment. Morrison is a great dribbler of the ball, thus he can be relied upon to bring the ball away from the defence if the ball breaks for a counter-attack. Because of this great dribbling ability, it is somewhat odd that Morrison isn't more successful when asked to play out wide. I'd suggest the reason for this is that fullbacks tend to be more adept and experienced at dealings with players running at them compared to the midfielders Morrison tends to find himself gliding past when in the central role.

Arguably, the main reason for Morrison's success in this central role is the freedom that he is given by Clarke, which is down to the "dirty work" done by Yacob and Mulumbu in the defensive midfield roles. The game against Everton was one that was perfect for Yacob and Mulumbu: up against a formidable central midfield unit including Marouane Fellaini, the duo more than held their own. Yacob seemed to struggle against Southampton last week, but against Everton he was far more like his usual self, winning a lot of aerial and ground duels, breaking up play which again helped to relieve the pressure on the defence.

Yacob is someone who seems to go under the radar somewhat, with only those who follow Albion really recognising the important role he plays for the side. Not only does he do a fantastic job for The Baggies defensively, he is often the man who starts Albion's attack. Gareth McAuley and Jonas Olsson are very good defenders, but it is fair to say that their distribution from the back is fairly basic. In Yacob, they have someone who offers the simple pass who can then really begin attacks, rather than forcing the centre backs into beginning attacking moves. Therefore it's quite surprising the two centre backs haven't used Yacob as much in this season's opening games, leading to a lot of long balls up the pitch that have often ended up coming straight back at West Brom.

Unlike Yacob, Mulumbu does seem to be picking up more credit in wider circles these days. While he gave away the penalty against Southampton, Mulumbu has been the one man who has emerged from Albion's opening two games with some praise. Like Yacob, Mulumbu seemed to revel in the physical battle against Everton, helping Yacob in the breaking up of play and protecting of the defence, while also showing his ability to drive Albion forward with the ball at his feet, much like Morrison albeit with a lot less grace.

As a general rule for last season, if two or all three of this midfield trio performed to their abilities, The Baggies tended to have a lot of success. That won't change this season, with perhaps even more responsibility being placed onto the shoulders of Morrison. It is also perhaps why Albion are looking for another creative midfielder, to take some of the pressure off Morrison.