As one problem is solved, another emerges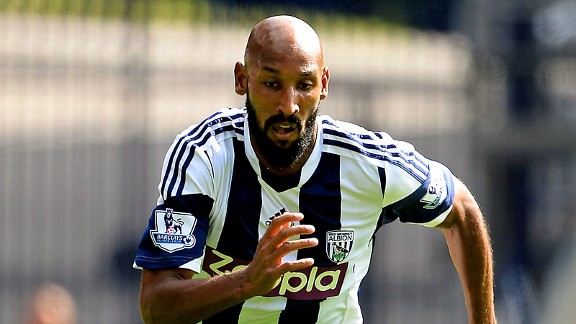 Laurence Griffiths/Getty ImagesWest Brom will temporarily be without the services of Nicolas Anelka.
It seems that at West Brom things can never be simple. Within about 10 minutes of each other, Albion had solved one issue only for another to arise; not exactly the ideal preparation ahead of a tough away game at Everton after a disappointing opening day loss at home to a team who The Baggies would have expected to beat.

Let's start with the positive news, which was West Brom tying up a season long loan deal for Scott Sinclair with a view to a permanent deal at the end of the season, after a prolonged spell of negotiations and the possibility of Premier League rivals coming in for the wideman. The signing of Sinclair is one that Albion have desperately needed for probably six months or so, although there was no possibility of bringing him in January.

West Brom have lacked any pace and width since Peter Odemwingie's deadline day and subsequent Twitter antics left him exiled from the first team picture. In Sinclair, The Baggies have someone who will provide that pace, width and skill in abundance and his ability to play on either wing is another aspect that must have appealed to Albion's recruitment staff and to Steve Clarke. The fact that Sinclair seems to operate best as part of a 4-3-3/4-2-3-1 is also good news, as this is a formation that Albion had great success with last season and it may force Clarke's hand somewhat in choosing how he lines up.

While Sinclair will offer Albion pace and width, it's important not to expect him to be like Odemwingie. The Nigerian was a forward playing out wide, while Sinclair is a true wide player. Therefore, West Brom's new signing might not provide as many goals for his team as Odemwingie, though I expect that Sinclair will lay on far more goals for his team-mates than Odemwingie, who was guilty of tunnel vision on most occasions when the goals came into view. That is not to say Sinclair won't be a goal threat: he did manage nine goals for Swansea in his one full season at this level, although five of those were penalties.

Arguably, the most pleasing aspect of Sinclair's signing is that he was Clarke's number one target for the summer in the wide areas. It seems that Salomon Kalou was Albion's first choice target as a forward, only bringing in Matej Vydra on loan when it became apparent that Kalou was unlikely to join West Brom. Bringing in Sinclair, even on loan, will show Clarke that he does have the full backing of the board.

However, this positive news was somewhat dampened by the news that Nicolas Anelka has been given permission to miss the Everton game on compassionate leave after a close friend of his, believed to be one of his agents, passed away suddenly. It was previously reported that Anelka had a bust-up at the training ground and had got up and left, but this was untrue and so were reports that he had retired from football.

- Report: West Brom snap up Sinclair
- Report: Anelka excused by Baggies

West Brom giving Anelka the time to grieve is certainly the right thing to do, as it is apparent that he is in no state of mind to step onto the pitch at this moment, which is completely understandable considering what has just happened to him. It is important he is given the time to think over what has happened and recover from something that has clearly had a profound effect on him.

This situation does however place The Baggies in a very difficult situation with regards to Anelka. While reports are now stating Anelka is not going to retire, it is unclear as to when he will return to the first team picture, leaving Albion in limbo somewhat. Not only was Anelka their marquee summer signing, but he was clearly marked out as being their first choice forward going into the season, a proven Premier League performer with an impressive pre-season behind him who was expected to contribute heavily to Albion's season. Now West Brom have to decide whether to wait on Anelka, or bring someone else in to boost the striking ranks in his absence. With 10 days left to the close of the transfer window, Albion do have a bit of time to wait on Anelka and that would be the best thing to do in this current predicament.

With Anelka's absence and the arrival of Sinclair, I am expecting Clarke to revert to the 4-2-3-1 formation that was so effective last season, with Shane Long leading the line from the start with Vydra available off the bench to run at the tiring defence. Despite only joining on Thursday, it would be no great surprise to see Sinclair given an immediate debut such is Albion's need for width which is why I also expect Chris Brunt to return to the side in place of Graham Dorrans with James Morrison moving to his preferred central role where he is at his most effective. With that formation, I'd expect Albion would perform much better than against Southampton, although they may well come home from Goodison Park still having no points against their name.