Abject Albion start season with a stutter
As far as setting a precedent for the season, West Brom fans better hope that Saturday's performance and 1-0 home loss to Southampton is going to be an exception rather than the rule. Otherwise it could be a long, hard season for Steve Clarke and West Bromwich Albion.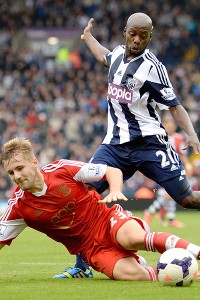 Michael Regan/Getty ImagesWest Brom's Youssouf Mulumbu, right, brings down Southampton's Luke Shaw, leading to the penalty kick that gave the Saints the win.
It was arguably worse than any home performance from the Baggies throughout the whole of last season. Pr-season showed some signs of promise for Albion, with Nicolas Anelka hitting the scoresheet regularly and, in the games I saw first-hand, some lovely link-up and passing play. All that was in complete contrast to the display West Brom put in against Southampton, which was abject and uninspiring and highlighted all the areas in which Albion are lacking.

It has been widely acknowledged that Albion lacked any width the entire game, which hindered them both going forward and defensively. Going forward, West Brom lacked fluidity and this was in part down to the centre of the pitch being crowded with all of Albion's midfield players as well as Anelka, who likes to drop deep to collect the ball. With no option out wide, Albion were often forced to play the ball backwards to Gareth McAuley and Jonas Olsson, who then resorted to a long ball up to Shane Long, who didn't seem to be in any kind of form.

James Morrison and Graham Dorrans' preferred positions are in the centre of midfield. So defensively, it was natural for them to move inside to the middle of the pitch. This left both flanks with plenty of room which Southampton could exploit. It was not just the wide midfielders who had plenty of space but also the full-backs, often leaving Billy Jones and Liam Ridgewell in 2-on-1 situations.

Luke Shaw was arguably the most impressive player on the pitch and won the penalty for Southampton that gave them the game. That came about because of the space available to him down West Brom's right-hand side.

Clarke definitely got the tactics wrong Saturday. The 4-3-3 that worked so well for many parts of last season, including an impressive win over Southampton away from home, was pushed aside so Albion could play 4-4-2. For Clarke to go with that was certainly a surprise, even though used the formation in the 2-0 win over Bologna in the final preseason friendly. The 4-4-2 meant that Southampton were allowed to bring the ball out from the back and press Albion higher up the pitch, another contributing factor to the long ball that ended up being used so often.

The use of the 4-4-2 meant that Claudio Yacob and Youssouf Mulumbu were relied upon to provide the creative outlet for Albion and that is quite simply not their game. Yacob is fantastic at breaking up play and beginning attacks from the back while Mulumbu is the heartbeat of Albion's side with his endless energy from the centre. But neither man is capable of coming up with a defence-splitting pass, a delicate dribble or a shot from long range. Morrison and Dorrans are, but couldn't do so because of where they were played.

Although the formation played into Southampton's hands, it could have potentially worked, but I also felt Clarke made the wrong decisions in terms of who he used. Albion had Chris Brunt on the bench, and even if he wasn't fit enough to start, he should have certainly have been brought on as he is Albion's best player when it comes to ball retention. Of course, he would have offered a more natural wide option than Dorrans, Morrison or Long, who had to move out wide on occassion.

Additionally, Markus Rosenberg could feel very hard done by, finding himself on the bench despite impressing throughout preseason with his goal tally and some of his combination play with Anelka. On the other hand, Long saw very little preseason action because of a couple of minor knocks. Then, having played in midweek for Ireland, it was somewhat surprising to see him start over Rosenberg.

Long looked lethargic, his touch was poor and, unlike Rosenberg, he didn't seem to have much of an understanding with Anelka. What must have been even more galling for Rosenberg was he was only given 10 minutes to try and change the game alongside new signing Matej Vydra, who he just met, let alone played alongside.

Whilst Clarke must take a large portion of the blame for the defeat, Jeremy Peace and others in charge of transfers at the club should perhaps also be taking a long, hard look at themselves. Ever since Peter Odemwingie was rightly frozen out of the first-team picture, West Brom have been crying out for someone who can dribble past players in the wide position, setting up or scoring goals.

Odemwingie's antics came too late in the day for that situation to be addressed in January, but for Albion to have bought no one in to fill for that role before the season began is criminal.

Next weekend sees the Baggies travel to Everton and while Steve Clarke will know his tactics need adapting, he will be hoping to have a couple of bodies in by that time, with Scott Sinclair reportedly close to joining on a season-long loan with a view to a permanent deal.