West Bromwich Albion season preview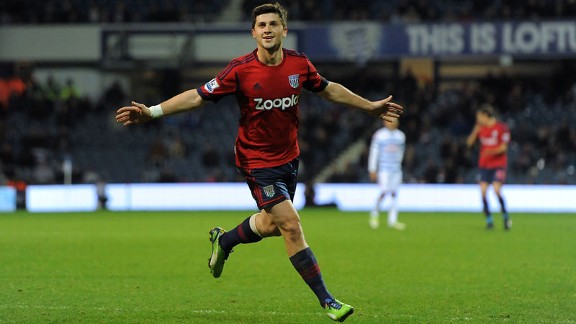 AllsportIt will be a make or break season for Baggies striker Shane Long.
What's changed since last season?
There hasn't been a great deal of change at the club since last season, particularly compared to some of Albion's rivals. Romelu Lukaku has returned to Chelsea and doesn't look to be coming back, but Nicolas Anelka has joined the club in one of Albion's most high-profile signings in history. Peter Odemwingie is still at The Hawthorns and continues to represent a disruptive and unwanted distraction despite his recent lack of tweeting. There has been very little done in the transfer window at the time of writing, with Anelka and Diego Lugano the only additions to last season's squad. Steve Clarke goes into the new campaign as a far more experienced head coach who will have learned a lot from last season, which should only benefit The Baggies.


Key to this campaign?
The key to Albion maintaining their recent level of success is to address the seemingly traditional winter slump. It happened under Tony Mowbray, Roberto Di Matteo, Roy Hodgson and Steve Clarke, as soon as the year enters into its final month, West Brom suddenly become cursed and results go downhill, winning only two of their 12 league and cup games in the December and January period. That is why it is vital that Albion continue to strengthen in the remaining time of the transfer window.

Predicted finish/realistic goal
I don't think that Albion will have as much success as last season in the league, although a cup run is certainly a possibility. The impact of Romelu Lukaku on West Brom's season has certainly been over-hyped in certain quarters, it shouldn't be forgotten that Lukaku very rarely started in the period up to Christmas, when Albion mustered the majority of their points. He will, though, be a big miss, and coupled with a number of clubs in and around Albion strengthening significantly, I expect them to fall out of the top half but still finish comfortably in mid-table. Eleventh place.

Make or break season for...
Shane Long. The Irishman became a fan favourite as soon as he debuted against Manchester United in the 2011/2012 season, partly because of the goal he scored but more because of his endless amount of energy and hard work. In his first two seasons at the Albion, Long has finished with eight Premier League goals but The Baggies want more from him this time around. With Romelu Lukaku no longer around, the goal-scoring burden will fall more heavily on Long, who looks like he will be starting the season as West Brom's first choice striker.

One to watch
Saido Berainho has been very impressive during pre-season and I expect to see him get some first team action at some point during the 2013/14 season. Depending on who The Baggies bring in he may be sent out on loan in the Championship for the first part of the season to gain some more experience and get some playing time under his belt, but in the Christmas period Berainho should prove to be a useful option for Steve Clarke, particularly because of his ability to play in the wide forward role that Clarke likes to use.