Anelka and Albion: a perfect match?
Monday saw West Bromwich Albion return to preseason training, which also meant the first viewing of Nicolas Anelka training with his new club. It's still quite difficult for me to believe that a player of Anelka's reputation and standing is now playing for the Baggies.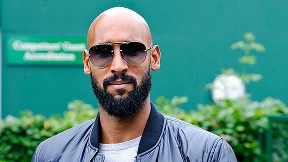 Ben A. Pruchnie/FilmMagic/Getty ImagesNicolas Anelka spent some of his vacation at Wimbledon before joining West Brom for training.
He is the very definition of a marquee signing and is one of -- if not the -- biggest name player to have signed for Albion. A player who has changed hands for over 90 million pounds throughout his career, with 69 caps for France and has winner medals from the FA Cup (three), Premier League (two) and Champions League. It is easily the most impressive CV among Albion's current squad.

Anelka, 34, does not represent a typical West Brom signing. While the club are known to be focusing on higher wages and lower fees, it is still not the age range of player that West Brom usually target, as there will be no resale value with Anelka whatsoever. Anelka's reputation as "Le Sulk" also precedes him, although that reputation was forged as a 19-year-old being influenced by his older brothers. You would certainly hope that as a battle-hardened, experienced veteran that has changed.

With Steve Clarke having created a tight-knit squad who would run through walls for each other, I am certain the Baggies wouldn't have signed Anelka if they didn't think he would buy into such a philosophy.

-Brassell: Anelka hoping for home again

In pure footballing terms, the signing of Anelka is certainly a good one. He is a proven Premier League quantity with 123 goals in 352 Premier League games, a stunning record. Many people are using Anelka's age as a stick with which to beat him, but from his interviews, Anelka sounds as motivated as ever and sees his time at Albion not as one last payday, but one last chance to cement his legacy as a top-class Premier League striker.

Another appeal of signing Anelka is his ability to perform as both a central striker or as a wide forward. At Chelsea, Anelka spent most of his time playing wide and he proved to be more than capable in that position, where Albion really lacked depth at times last season. With Clarke having worked with Anelka for a time at Chelsea, he will know what is needed to get the best out of the Frenchman in either role.

However, it is not only Anelka's impact on the pitch that could benefit West Brom. As mentioned, Anelka is a vastly experienced Premier League player with an outstanding scoring record. It will be hugely beneficial for young strikers such as Saido Berainho, Adil Nabi and even Shane Long to work alongside and learn from a player who was truly world-class in his pomp.

In addition to this, there are clear commercial benefits to West Brom's signing the Frenchman. I have already seen a number of fans who have purchased or are planning to purchase Albion's new away shirt just so they can have "Anelka 39" printed on the back. There is no doubt this trend will continue when the latest home shirt is revealed and put on sale Friday.

Merchandising can be a lucrative source of extra income for a club and signing a player like Anelka will only help increase revenue from that area of the business. Anelka is also a world-renowned name and will put West Brom's name out into parts of the world where many people may never have heard of them before.

You can also consider the impact of signing Anelka will have on other potential additions. While Albion have in recent years somewhat established themselves as a decent Premier League side, the Anelka signing is something that will make other players sit up and take notice, players who perhaps would have considered themselves above Albion prior to the move.

West Brom have a well-documented interest in Salomon Kalou and the signing of Anelka could aid West Brom in their attempts to persuade Kalou they are the club for him, with Anelka a clear signal of their ambition and intentions.

Of course, Anelka will be mainly judged by what he does on the pitch, especially as he is the highest-paid player West Brom have had. I feel Anelka still has the attributes and ability to be a big success for West Brom on the pitch, he is definitely capable of reaching double figures in terms of his goal tally.

If he does that, added into everything he will help the club with off the pitch, then Clarke, sporting and technical director Richard Garlick and chairman Jeremy Peace will be absolutely delighted with this piece of business.