Peace policy sound, but more permanent deals needed
West Brom chairman Jeremy Peace didn't exactly spring a surprise when revealing the club wouldn't be spending a fortune on new signings this summer, sticking to their preferred approach of low-fee, higher-wage signings further supplemented by loans.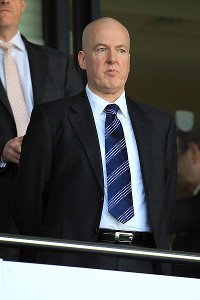 AP PhotoWest Brom and chairman Jeremy Peace have been crafty putting together deals, but the Baggies need to consider offering permanent deals with bigger salaries.
Although that wasn't at all surprising, what was interesting was Peace's intention to be "creative" in the club's transfer dealings and look to use both domestic loans available to them this year, when in previous years the club have only had one or no players on loan from a domestic team.

Peace has certainly engineered some innovative, creative transfer dealings when it comes to players leaving the club, such as the deal that saw Jonathan Greening go on loan to Fulham at first, but with a binding permanent deal at the end of the first season. A similar deal could certainly appeal to the club for any deal that sees Peter Odemwingie leaving the club, particularly to a fellow Premier League side. That way, the Nigerian forward wouldn't be allowed to play against Albion because it's a loan deal, thus saving fans from the potential nightmare of seeing Odemwingie scoring against West Brom.

What will be interesting to see is if Peace and sporting and technical director Richard Garlick can pull off similar deals for players coming into the club. Otherwise, a strategy based around loans that aren't binding and free transfers could certainly prove a very risky stance to take, although it has proven to be successful in the past.
Albion's scouting network is extensive and well-respected, with a proven track record in finding players on free transfers or nominal fees who prove to be tremendous players worth a lot more than what West Brom shelled out to bring them in.

You only have to look at the key midfield pairing of Youssuf Mulumbu and Claudio Yacob to see this, with Mulumbu arriving for around 150,000 pounds, while Yacob was brought in on a free transfer. Or you can look at the centre back pairing of Gareth McAuley (free) and Jonas Olsson (£800,000) to show how good the scouting network is at discovering these gems.

However, like nobody can guarantee the success of a player who cost a lot of money, you can't guarantee every free transfer will be as successful as McAuley, Yacob or even Billy Jones. That was demonstrated this past season with Markus Rosenberg. The Swedish international looked like a perfect "Albion signing" in line with the Peace model, a free transfer but on a decent wage with a proven track in Europe's major leagues.

As it has turned out, Rosenberg could barely get a game for the Baggies and now looks set to be on his way out of the club after only one season. That is why looking at players who are available on frees are a risk, particularly ones who have been let go by clubs rather than choosing themselves not to renew the deal, as it does tend to suggest there may be an issue there that no scouting network could discover.

Loan signings have, on the whole, proven to be a successful way for West Brom to do a lot of their business, both domestic and foreign loans. Last season presented the obvious and most successful of West Brom's domestic loans with the capture of Romelu Lukaku from Chelsea, the big Belgian scoring a West Brom-record 17 Premier League goals. Kieran Richardson and, to a lesser extent, Carlos Vela, also proved to be good loan signings from fellow Premier League clubs.

But there is one obvious issue when relying upon loan deals for players from Premier League clubs -- they aren't your club's player. While it was great to have Lukaku at the club and for him to be so successful, it soon became a bad situation for the Baggies as the more successful Lukaku was, it became less likely he would be at the club again next season. That is why I am wary of domestic loan deals, such as the links to Demba Ba and Scott Sinclair.

There is no denying these two would be perfect fits for Albion, proven Premier League performers in areas where West Brom are in need of strengthening. But by bringing them on loan, as I stated they aren't your player and you are also putting them in the shop window.

If the player is successful, plenty of other clubs will be interested the following seasons, clubs able to offer better financial packages to the parent club, player or both, meaning Albion would find themselves in this very same situation in a year's time. The same scenario applies to foreign loans, with Albion talking to Matej Vydra of Udinese. His situation is the perfect example of what I'm talking about -- he was superb for Watford last year which has led to clubs higher up the food chain with more financial muscle coming in for him, leaving Watford with no chance of signing him.

Peace said that most of Albion's big-money signings haven't really come to fruition, true in the case of players like Borja Valero and Gianni Zuiverloon, the last two "big-money" signings made by West Brom were Shane Long and Ben Foster, who are both now key players in Steve Clarke's side. So it is not as if West Brom are incapable of bringing in good players for a decent fee.

That's why I think that although Peace is right to back the policy of bringing in players on frees and loans, he shouldn't be afraid to loosen the pursestrings a little if a player comes along who is highly rated by the club but perhaps would cost a little more than they like to usually pay to avoid being in this same situation again next year.