Youth the future for West Brom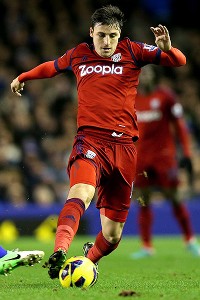 Clive Brunskill/Getty ImagesGeorge Thorne is one of many promising youth players at West Brom.
It is looking as if the 2013-14 season could be one where West Brom may begin to reap the rewards of hard work and investment in their academy system, but only if they are able to stop the big boys from coming in and poaching their brightest young talents.

It was revealed this week that Albion will once again look to go into the Premier League season with a 22-man squad of senior players, which will be supplemented by a number of players under 21 who don't have to be registered in the 25-man squads submitted at the end of the transfer window.

I believe this strategy from the club is certainly admirable and one that Steve Clarke has really brought into, a lot more so than predecessor Roy Hodgson. Toward the end of the season where it became clear that Albion didn't really have a lot left to play for and injuries were catching up with the squad, Clarke gave some of the younger players a taste of what it was like to be a part of the matchday squad. Liam O'Neil, Callam Jones, Donervon Daniels, Kemar Roofe and Adil Nabi were all in matchday squads in the back end of the season.

-Albion may keep Odemwingie

When you add that George Thorne played a number of games for the club over the festive period until he picked up a nasty ligament injury against Everton, and Izzy Brown becoming the second-youngest player in the Premier League history, it is clear that Albion's academy is certainly beginning to flourish.

However, for the academy to truly be considered a success Albion need someone such as Thorne, Brown or the other players mentioned to really establish themselves in the first team over the coming years.

Thorne was hugely unlucky in that sense, as he really looked to be adapting to the Premier League and almost certainly would have got more chances to impress if he'd have stayed fit as both Claudio Yacob and Youssouf Mulumbu missed games toward the end of the season.

What Albion must hope for is that Thorne recovers fully and can once again establish a place in the first-team squad, as he looked to have been more than able backup for the first-choice defensive midfield pairing.

There are some other potential names who could step up into the first-team picture. Daniels, mentioned above, impressed in a loan spell at Tranmere before being recalled by The Baggies. It has been mooted that Gabriel Tamas may leave the club, so Daniels could potentially become Albion's fourth-choice centre half behind Jonas Olsson, Gareth McAuley and Craig Dawson.

Up front is where West Brom really look like light at the minute and that means first-team chances could present themselves to Nabi and also to Saido Berainho, who I am certain would have been involved in the first team toward the end of the season if not for injuries. Berainho impressed on loan at Peterborough at the same time as Thorne, but his stay was cut short by an injury. Berainho certainly seems highly rated amongst the Albion hierarchy and next season could be when he breaks in the first team.

Despite West Brom's strategy being an admirable one, it is also quite risky because of the nature of the English game. If Albion produce a talented young player, it won't be long before the vultures of the bigger clubs are circling. At best Albion may get a year or two out of these players before they are poached by a bigger club. What's more likely now is that the talented young player may never play a senior game for West Brom, with clubs signing players younger and younger these days.

Before he even made his debut for the club, Izzy Brown was being linked with moves to Chelsea and Arsenal. In addition to this, Jerome Sinclair left Albion for Liverpool without even playing a game for the first team and actually made his debut for Liverpool against West Brom. While the reported £750,000 fee for the 15-year-old may seem big at the moment, if he lives up to his obvious potential he could potentially have been worth 10 times that for Albion.

This summer has been no different with a further two youth players already being strongly linked with moves away from the Hawthorns to bigger clubs. Centre back Reiss Greenidge, 17, has been linked with a move to Chelsea while Yans Dhanda, 14, is seemingly on the verge of joining Sinclair at Anfield and there is nothing the club can do about it.

Such moves must be galling for all concerned at the Hawthorns, considering the investment in recent years to improve the academy and earn category 1 status, which was supposedly meant to prevent this sort of poaching from happening. Unfortunately, all it is really doing is making it easier for the bigger clubs to cherry-pick the best talent from around the country and bring into their academy.

It is vital that Albion do their best to try and keep hold of their most talented youngsters as the plan to supplement the first team with these players is one that could work, but only if they have the best available to them rather than just the players the big clubs don't want.