Fixture highlights for West Brom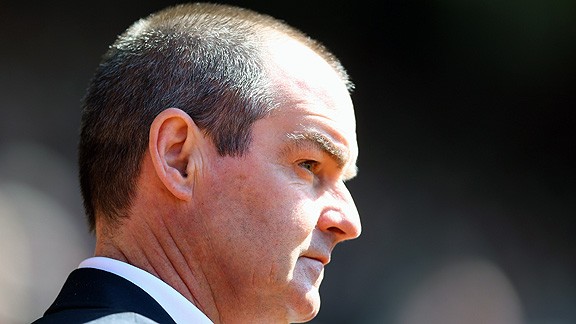 Paul Gilham/Getty ImagesWest Brom manager Steve Clarke hopes to have the same kind of early success in 2013-14 that he had last season with the Baggies.
Finally, it's back! It's hardly been a month since the Premier League season finished but things were already starting to get quite boring in the football world. So thank goodness that today was when the Premier League fixtures were released, meaning the countdown to the opening game of the 2013-14 season can start now.

- Premier League fixtures list

As ever, there are games that stand out more than others, be it an individual game or a series of matches that fans are already thinking could have a big impact on the next season. I'm no different, so here's some of the fixtures or groups of fixtures I looked for straight away.

Opening Day

West Brom find themselves at home on the opening day for the third year in succession, this year against Southampton. This will make a welcome change as in the previous four Premier League seasons they have faced top sides in Arsenal, Chelsea, Manchester United and Liverpool on the opening day. Last season's opening day 3-0 win over Liverpool was what gave Albion the platform for such an impressive opening three months under Steve Clarke and they will be hoping a win against The Saints can provide the same impetus.

The derbies

In a way, last year's derby games with Aston Villa were rather unsatisfying, with both games ending in draws meaning neither side walked away with any bragging rights, although of course Albion did finish the season as the top dogs of the Midlands. This year's clashes fall on November 23rd at the Hawthorns before a midweek game at Villa Park on the 28th January; that game in particular should prove to be a fantastic atmosphere with a derby under the floodlights always making the occasion a bit more special.

Villa have already made four new additions this summer and will no doubt be looking to try and re-establish themselves as the top side in the Midlands after flirting with relegation last year. But after two seasons with that crown, Steve Clarke, the players and most definitely the West Brom fans won't want to give that accolade up anytime soon.

The Master vs The Apprentice

West Brom have become somewhat of a bogey team for Chelsea over recent years, winning the previous two games at the Hawthorns which proved to be the final Premier League games for both Andre Villas Boas and his successor Roberto Di Matteo. The fixtures between the two sides become even more interesting this season as Jose Mourinho returns to Chelsea with Steve Clarke now Albion's Head Coach after many years as Mourinho's assistant.

Clarke will no doubt be looking forward to pitting his wits against his former boss and looking to get one over on him, the first opportunity comes on the 9th November when Albion travel to Stamford Bridge, while Chelsea come to the Hawthorns on the 11th February. Somehow, I don't think that Mourinho will be losing his job if even Chelsea lose both games to The Baggies.

The game on the 11th February is also significant as it is likely to see Romelu Lukaku playing at the Hawthorns once more, unfortunately it will be in the blue of Chelsea rather than the blue and white stripes of Albion. Lukaku will no doubt be greeted with a warm reception after the 17 goals he scored in his loan spell this season, while Gareth McAuley and Jonas Olsson won't be looking forward to having to defend against the Big Belgian.

December to February

I've chosen this spell as it is where Albion notoriously struggle with the volume of games that come their way in this time due to the small squad that they carry, as it is the time period where the number of injuries pick up and suspensions start to come into play. The fixture list in this time period could certainly have been a lot tougher than what it is. Albion have two winnable home games in December against Norwich and newly promoted Hull, while they also travel to Championship winners Cardiff. They do face two tough games over Christmas with away games against Spurs and West Ham before Newcastle at home on New Year's Day.

This is another fixture date that has been unkind to Albion since they returned to the Premier League under Di Matteo, with The Baggies suffering three losses in three New Year's Day games under three different head coaches. The first was a 2-1 loss to Manchester United, followed by a 1-0 defeat against Everton and last season was an abject display in a 2-1 loss to Fulham. Clarke will no doubt be looking to change that trend and start 2014 with a bang rather than the whimper that this year started with.