An interesting summer ahead for West Brom
For a club renowned for its stability, this summer is certainly shaping up to be an interesting one for West Bromwich Albion and its fans. Depending on your outlook on life, this may be a source of great excitement or a source of apprehension and worry.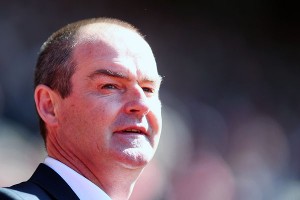 Paul Gilham/Getty ImagesThere won't be much time for WBA manager Steve Clarke to rest this summer.
The summer transfer window is looking interesting because it seems as if it will be one of the biggest turn over in players that the club have had in many a year as Steve Clarke looks to put his own stamp on the side. Gonzalo Jara and Jerome Thomas have both already left the club, while it is in contract discussions with Steven Reid and Zoltan Gera, where it remains to be seen whether these veterans stay at the club.

Marc Antoine Fortune has also been released, although the club could yet offer him a new deal but that only seems likely if Albion fail to capture their preferred forward options going into next season. Alongside this, loan players Romelu Lukaku and Goran Popov have returned to their parent clubs. West Brom are in talks to bring Popov back permanently, although they want to pay a lower fee than the one previously arranged. However, it does seem unlikely that Lukaku will return to the club. This will have an impact on Albion's transfer policy, something that I'll look at later on in the blog.

That is three definite exits with question marks over the heads of four others. In addition to this, West Brom's record-breaking season will no doubt alert bigger clubs to the talents of some of their key players. It is well documented that Jonas Olsson would like to play in London during his career, with Spurs being linked to a move for the big Swede, who only signed a new contract at the beginning of the season. Peter Odemwingie also looks likely to leave the club, which is unsurprising considering the transfer saga and consequent falling-out that overshadowed West Brom's second half of the season.

Key midfield men Claudio Yacob and Youssuff Mulumbu have both been linked with moves abroad, with West Brom attempting to tie Mulumbu to a new deal. This could be one of the most important signings West Brom make in the summer, as despite a wealth of midfield options, the Baggies have no one in their ranks who can perform the Mulumbu's box-to-box role so effectively.

These potential exits cover the apprehensive side, but the exciting part of this summer transfer window is potential additions to the squad. West Brom could feasibly be looking at seven signings, depending on those who leave the club. Of course, West Brom are unlikely to spend money on all of their signings as they don't possess the financial muscle to do so.

Additionally, West Brom also possess one of the most well-respected scouting networks in the game who have proven their ability to discover bargains that not many other teams would look at such as Yacob, Billy Jones and player of the season Gareth McAuley, who were all brought in on free transfers and have proven to be fantastic additions.

As mentioned, that Lukaku looks unlikely to return will make an impact on how West Brom approach their transfer dealings. If Lukaku had stayed at the club another year, there would have been no need for Albion to spend what would be their largest fee of the summer on a striker, saving it to be re-invested in other areas of the team that are in equal need of strengthening, such as the wide areas.

Out wide is one spot where I really hope Albion bring in some quality. In Clarke's preferred 4-3-3 formation there is a reliance on the wide players to break, able to chip in with goals whilst they also tend to be the main creative outlet in the side. That is why the 4-3-3 worked so well earlier in the season, when Odemwingie and Gera were in the wide areas and Shane Long was played down the middle to great effect. Long could prove to be a big player for Albion next season, but he is another who would rely upon Albion bringing in quality out wide.

Long's header against England for Ireland last week proved how talented he is in the air, but he was sorely deprived of that kind of service for the majority of the season due to the wide players, or lack of, that Albion had. Adding quality out wide may mean Albion would have a ready-made replacement for Lukaku already in their side.

In my next blog, I'll look at those rumoured to be replacing Lukaku and other players West Brom have linked with and what they'd bring to the club if they arrived.