West Brom's top five matches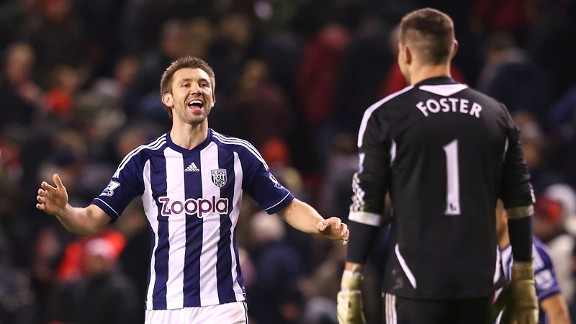 Alex Livesey/Getty ImagesWest Brom's 2-0 win at Anfield was highlighted by Gareth McAuley's goal and Ben Foster's save of a Steven Gerrard penalty.
Head coach Steve Clarke led West Brom to a record breaking season in the Premier League, scoring a record number of points, wins and a highest Premier League position. In such an outstanding season, it is difficult to pick out the most outstanding matches, but that is what I am going to attempt to try and do.

- Fiorentina swoop for Mulumbu

Top 5 matches

1. Liverpool(H) Saturday 18th August 2012

It is difficult to say that West Brom had a defining moment in their season, but this match was certainly a key result in their season, even if it was the opening fixture. There was some doubt surrounding the appointment of Clarke as head coach, as West Brom went from a hugely experienced head coach in Roy Hodgson to a complete novice when it came to being a number 1. Clarke seemed to settle any nerves West Brom fans may have had by beating the Reds 3-0, a result that was undoubtedly the catalyst for Albion's superb start to the season.

The match showed West Brom fans that Clarke would look to attack teams at home, playing with a freedom that was absent under Hodgson in home games. Zoltan Gera scored the opening goal, a sweet moment for the Hungarian who missed most of the previous season with a horrible knee ligament injury. His goal was added to in the second half with a Peter Odemwingie penalty and a goal from Romelu Lukaku. This was the first Baggies saw of Lukaku and he showed signs of promise from the start of his cameo, where he left Jamie Carragher on the floor when he spun way from the defender with one of his first touches.

2. Sunderland(A) Saturday 24th November 2012

If you were you pick the pinnacle in West Brom's season, statistically this would be it as Albion went to third in the Premier League for a short time, the highest position they reached in the table. It was also the first time Albion recorded four consecutive Premier League wins with a classy, if a little nervy, away performance.

The Stadium of Light has been a happy hunting ground for Albion in recent seasons and this match was no different as goals from Gera, Shane Long, Lukaku and Marc Antoine Fortune gave Albion a 4-2 victory and a performance of real Premier League quality. What was most pleasing about the match was it showed Albion could perform well when missing a couple of key players, as Youssuff Mulumbu and Ben Foster missed the match through injury.

3. Chelsea(H) Saturday 17th November 2012

This was the third win in West Brom's four successive Premier League victories and West Brom's second successive Premier League victory over Chelsea. It was ex-Albion head coach Roberto Di Matteo's final Premier League match as Chelsea manager, who ironically took the Chelsea job after Andre Villas-Boas was sacked following the loss to West Brom. This victory was made even more special as Chelsea were going into the game as European Champions.

Although Di Matteo chose to rest some of his key players, it was a fantastic performance from West Brom and typical of the way Clarke's side played prior to Christmas. This was no backs-to-the-wall, "park the bus" type of performance, West Brom took the game to Chelsea right from the off. Long grabbed the opener and Odemwingie the winning goal, in what was the last great performance the Nigerian put in for The Baggies.

4. Liverpool(A) Monday 11th February 2013

This is the first game from 2013 that has a spot on my list of West Brom's best matches in this record-breaking season and it was a particularly vital win for The Baggies. While their early season form meant West Brom were never in any real danger of relegation, Albion went into the game on the back of six games without a win in the Premier League and in need of some positive news following Odemwingie's transfer debacle and Popov being sent off for spitting in the previous game.

The match also marked the return of the partnership of Mulumbu and Claudio Yacob, who had missed the majority of West Brom's bad run because of international duty and injuries. It was the return of this partnership that gave Albion the defensive solidity required to produce the counter-attacking performance they needed to defeat Liverpool and record their first Premier League double over Liverpool. Lukaku grabbed The Baggies second in a 2-0 win with a piece of individual skill that set up his outstanding end to the season.

5. Manchester United(H) Sunday 19th May 2013

If West Brom had managed to complete the ultimate comeback and win this match 6-5, it would have gone straight in at the top of this list. As it was, they only managed to comeback from 5-2 down to draw the match 5-5, with a stunning three-goal comeback in the last 10 minutes. It was one of the best and most exciting games in Premier League history, so it had to make it onto my list.

It was also a fitting farewell for on-loan striker Lukaku. Firstly, he broke the record for number of goals scored in a single season by an Albion player, previously Odemwingie with 15. He followed that by completing a perfect hat trick against the champions, the first Premier League hat trick at the Hawthorns from a West Brom player. After a relatively poor end to the season, it was important Clarke's side signed off with something that could give them momentum heading into next season.