Steve Clarke -- How did he do?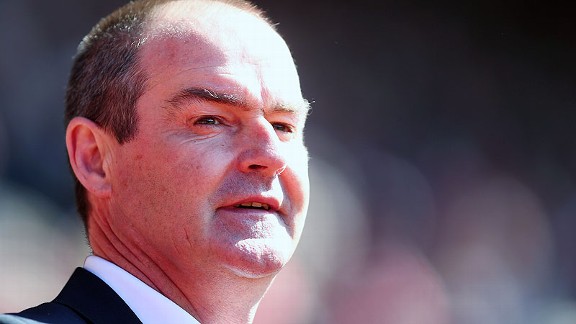 Paul Gilham/Getty ImagesIn his first season at the helm of West Brom, Steve Clarke led the Baggies to an eighth-place finish.
The season finished with West Brom in eighth place, their highest finish ever in the Premier League. They recorded a record amount of Premier League points for the club, 49, and a record amount of wins, 14. On a whole, Steve Clarke must be pretty pleased with how his first season as a head coach/manager went. Although The Baggies didn't reach his target of 50 points, it may be understandable considering how fast West Brom managed to reach the safety of 40 points.

- Clarke not expecting spending spree

So, what did Clarke do well in his first season and where are the areas he will be looking to improve for next year?

Home Form

Although Roy Hodgson did a superb job as West Brom head coach, the home form in his only full season as manager was appalling. A few late season wins made the form under him look a lot better than it actually was. As I suggested at the start of the season this would be an area Clarke would target and it certainly was, winning nine games at home and losing only six. This is vindication for Clarke sacrificing some of Hodgson's discipline for a bit more freedom in attack when playing at home, while still maintaining a solid base from which Albion built from. It was very much a happy medium between Hodgson's defensive style and the attacking flair seen under Roberto Di Matteo.

Tactics

In his first season as manager, it was perhaps inevitable that Clarke would make some mistakes tactically, but on balance, I think he got more right than he did wrong. The 4-3-3/4-5-1 formation that Clarke used at the start of the season proved very effective in getting West Brom off to a flying start and easing any pressure or doubt that may have surrounded Clarke. Claudio Yacob and Youssuff Mulumbu formed a combative partnership in midfield that offered great support to the defence, while Clarke's use of Romelu Lukaku as an impact sub at first was also a wise one. It allowed the Belgian to settle into the Premier League pace, which I think is why he was so good in the second half of the season.

I was also impressed by the tactical flexibility shown by Clarke. On occasions his tinkering didn't really help but he had two outstanding tactical victories at Wigan and Southampton. West Brom used a 4-4-2 away to Wigan, the first time they used the formation this season, which perfectly combated the three at the back system that Wigan use, while against Southampton, Clarke used three strikers to press high up the pitch and neutralise the playing out from the back that Southampton favour. Clarke also experimented with a 3-5-2 formation against Manchester City, showing that West Brom do have options for next season.

Blooding Young Players

Although his hand may have been forced at some points by injuries, Clarke must be applauded for the way he has integrated young players into the first team squad. George Thorne returned from an impressive loan spell at Peterborough at a time of midfield crisis for The Baggies and performed admirably, starting a number of games before picking up a bad injury against Everton. Clarke has also put Kemar Roofe, Adil Nabi and Donervon Daniels on the bench, while Liam O'Neil and Callam Jones have been in the 19 man squads this season.

The most exciting prospect by far is Izzy Brown and Clarke has certainly recognised that, giving Brown a number of appearances on the bench and one senior appearance thus far. There is nothing a fan enjoys more than seeing one of the club's own coming through, so for Clarke to be giving these younger players a chance is great to see.

Transfers

While Clarke is far from being the man solely responsible for transfers at West Brom, who employ a more continental approach of a sporting and technical director with an outstanding and vast scouting network, it was Clarke's reputation and contacts in the game that seemed to swing the loan transfer of Lukaku. Clarke was given glowing endorsements by former players at Chelsea and this seemed to sway Lukaku's mind. It has certainly been a beneficial arrangement for both parties: Clarke added a 20 million pound striker to his squad for the season while Lukaku has improved greatly as a player because of regular first team football. Clarke will just be hoping that a similar deal can be arranged for next season.

So those are positives and there are a lot of them, but where can Clarke improve next season?

End of Season Form

It was never likely that West Brom would maintain the early season form that at one point catapulted them to third in the Premier League. They were always likely to regress to the mean, but no one would have expected the alarming slump in form that has come in the second half of the season. This is something that Clarke will no doubt have to address in the summer. He won't want The Baggies to go into next season with a hangover from the poor form at the end of this year and he certainly won't want a repeat of the end of season slump next year. Clarke has recognised Albion were particularly poor in the game immediately following an international weekend, perhaps the training regime needs to be changed in these weeks or more players rested, but either way Clarke must find a way of addressing this issue.

The Defence

Initially, West Brom seemed to have carried over the defensive solidity that was seen under Hodgson into the reign of Clarke. Gareth McAuley and Jonas Olsson were nigh on unbeatable in the air, with a solid midfield in front of them offering plenty of protection. This solidity disappeared in the second half of the season. Loss of personnel such as Zoltan Gera made it difficult to fill certain roles in the side without moving someone from their natural position, while both Jonas Olsson and Claudio Yacob were nowhere near their early season form. The issues with the defence could also be contributed to by the fact that West Brom relied heavily on their fullbacks for width due to not having the wide players they had earlier in the season(Gera and the controversial Peter Odemwingie), leaving the defence more exposed.

The Cups

Clarke said on his arrival that he would be targeting the cups this season but West Brom fell well short. When you consider the two winners of the cups, Wigan and Swansea, both finished below the Baggies in the table, it shows that a trophy was certain a realistic proposition for West Brom, so a loss in the third round of the FA Cup at home to QPR and losing at home to a very young Liverpool side in the Carling Cup would have been a source of great disappointment to Clarke.

Overall, Clarke certainly comes out favourably when reviewing his first season in charge. The head coach has said he has learned a lot from this season and I see no reason why Clarke can't match the eighth place finish again next year, perhaps adding a good cup run to the mix as well.