Baggies bounce back in a stunning finish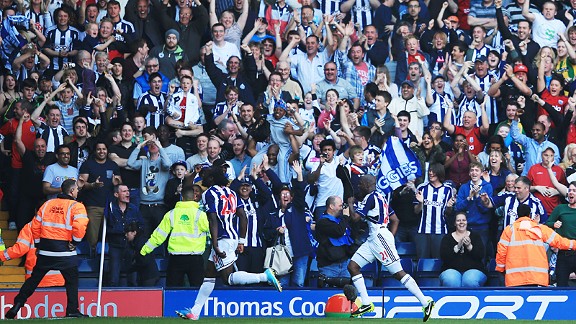 GettyImagesWest Brom's fans go wild after Romelu Lukaku forced a 5-5 draw with Manchester United through his late hat-trick goal
Not a bad game to end the season! West Brom's 5-5 draw with Manchester United at The Hawthorns on Sunday was the craziest and most enthralling matches I have ever seen, particularly the second half. It is not very often a team comes back from three goals down against Manchester United to get a point, so for West Brom to do that in the last 10 minutes is practically unheard of.

Any such comeback didn't look likely in the first half when Manchester United went 3-0 up inside half an hour and looked as if they could score as many as they wanted. Steve Clarke went to a 4-5-1 formation after last week's shocking defensive performance with a 4-3-3 against Norwich, but it made little difference to West Brom's standard of defending.

- Okwonga: Sir Alex bows out with fitting thriller
- Fergie signs off with wine, not win

All round West Brom were poor defensively. There was far too much room on the width for United's wing-backs to run into, as it seemed that Albion's full-back didn't know whether to go to the man or leave him to the wide midfielder in front of them. In the middle, the normally solid pairing of Gareth McAuley and Jonas Olsson were struggling to deal with the movement of Javier Hernandez. Olsson is one of a number of West Brom players who have struggled in 2012-13, which may be because of how much football he has played this year -- Olsson has made his most Premier League appearances in a single season, or it may be the seemingly constant speculation surrounding him.

The main area where the Baggies struggled was in the centre of midfield and it typified the problems West Brom have faced the second half of the season. West Brom's 4-5-1 worked so well earlier in the season and that was based upon the foundation Youssuf Mulumbu and Claudio Yacob as the sitting midfielders. Mulumbu's and Yacob's presence meant the Baggies broke down many of the opposition's attack before it reached the defence. Since the turn of the year, Yacob and Mulumbu have struggled to replicate the form which shown Sunday.

While Shinji Kagawa is a talented player, there is no way he would have got as much time and space earlier in the season and the same applies for Anderson, who was seemingly given the freedom of the Hawthorns midfield. Yacob in particular has struggled since the turn of the year to replicate his early-season form, which I feel is because he was rushed back from injury too soon. Because of this, Yacob hasn't really been at full fitness and has struggled to readapt to the pace of the Premier League, which was shown more than ever on Sunday.

But that is enough of the negativity! Steve Clarke must be given some credit for the personnel change that turned West Brom's fortunes, bringing Romelu Lukaku on and going two up front. This forced Chris Brunt to play left back but Clarke's attacking approach in the second half must be applauded. At times it has been of detriment to West Brom, but more often than not it has worked well. It could have been even better on Sunday as West Brom missed a couple of big chances to grab what would have been an amazing win.

Lukaku has been a superb loan signing for West Brom; there is nothing more you could ask for from a loan signing. Again, Clarke must be given a measure of credit for the way he has handled Lukaku, using him more as an impact sub in the first half of the season before starting him more since the turn of the year where his form has really picked up, quite surprising considering the Baggies' general form.

The way Lukaku has taken to the club and the fans and vice versa means that the Baggies may be in for a drawn-out transfer saga. If they can, there is no doubt the club will want to bring the big Belgian back to the club and their whole transfer policy is dependent on it. If they can get Lukaku in for another season, then big money doesn't need to be invested in a central striker and can be spent on the wide areas where West Brom are in desperate need of additions.

Whatever the scenario, the Baggies can't afford too long a wait to find out what Lukaku is doing, in case they miss out on other targets. If that is to be Lukaku's last game at The Hawthorns, then it is some way to sign off, a hat trick against the Champions.

In what has been a record-breaking season for The Baggies as a team -- most Premier League points, most wins in a season, their highest Premier League finish -- Lukaku broke another two marks. The hat trick took him to 17 goals, making him West Brom's highest scorer in a Premier League season, surpassing Peter Odemwingie's 15 in 2010-2011. Additionally, Lukaku also became the first West Brom player to score a hat trick at The Hawthorns.

This comeback should not paper over some of the cracks that have appeared in West Brom's foundations in the second half of the season, but this result should give them momentum heading into preseason and next year.