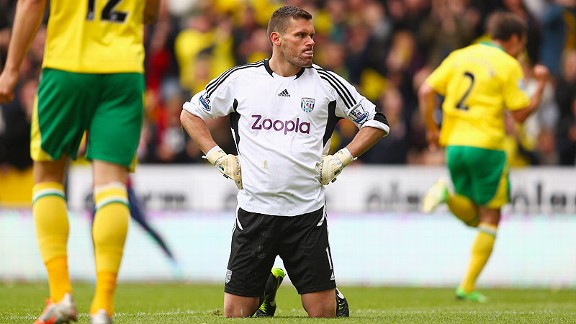 Clive Mason/Getty ImagesIt was a long day at the office for West Brom goalkeepr Ben Foster in Sunday's 4-0 loss at Norwich.
West Brom's performance against Norwich was nothing short of pathetic. In the battle of the birds, it was The Canaries who won out, trashing The Throstles 4-0 at Carrow Road in what was by a long way West Brom's poorest performance of the season.

- Match report: Norwich 4-0 West Brom

Trying to remain objective and considerate in the aftermath of a performance like that is quite difficult which is why I can understand much of the frustration being expressed on Twitter and fans forums immediately after that display, especially if they attended the match.

While the end of the season is as good a time as any to experiment with different formations, Steve Clarke made an error today returning to a 4-3-3 formation. Against Manchester City, Clarke successfully employed a 3-5-2 formation that gave Albion some of the width they have been lacking but without taking away too much of their defensive shape. He should have continued with that formation today, particularly as he had the personnel available to actually make it work.

Goran Popov was fully fit and started at left back, but the 4-3-3 formation that Albion used meant Popov was left sorely exposed against Robert Snodgrass down the right hand side as Markus Rosenberg did not provide the same sort of cover that Marc Antoine Fortune did when the 4-3-3 was used successfully away at Southampton. Popov's game would have been far more suited to the 3-5-2 formation that Clarke used against Man City. In addition to that, Clarke also brought Steven Reid and Gareth McAuley back into the starting lineup.

McAuley has been West Brom's best player by far this season so that was unsurprising, but bringing Reid back into the fold was a bizarre decision. West Brom have struggled in the second half of the season to maintain a consistent back line, be that through injury or just tinkering from Clarke. That doesn't help when trying to keep things solid at the back, as is shown by the fact that Albion have now conceded three or more goals in three of the last seven games. Billy Jones has impressed in his past few games and should have been given the opportunity to show he can be Albion's first choice right back next season.

However, Clarke's tinkering cannot be blamed for basic defensive errors that have cost Albion dear in recent weeks and nor it can be blamed for the shambolic scenes that led to Norwich's second goal.

This defeat probably marks the low point in Albion's decline since the turn of the year, where they have picked up a mere 15 points from 51, winning only four games in that time. While their superb start to the season should not be overlooked when examining the table at the end of the season, it is a very worrying statistic and one that Clarke will not be happy about.

While 48 points represents Albion's highest ever points tally in the Premier League which has also now guaranteed them their highest Premier League finish, it should have been a lot more particularly as Clarke targeted 50 points which looks highly unlikely now. Nobody expected Albion's early season form to continue, particularly with the number of injuries that hit a small squad during the busy Christmas and New Year period, but it should have been better than this.

West Brom have traditionally struggled in this period of time. It has happened under Tony Mowbray, Roberto Di Matteo and Roy Hodgson. The difference being in the previous two seasons, after the poor spell, Hodgson picked his troops up to finish the season strongly, something which hasn't happened this year. The form of too many key players has tailed off since January but the main issue, in my opinion, has been the Peter Odemwingie saga.

Enough has been written about the off-field antics of the Nigerian that there is no need to go into them, so I am looking at it from a purely on the pitch perspective. Odemwingie was capable of filling the wide forward role that Clarke favoured and worked so well in the first half of the season, the issue being that Odemwingie is the only player Albion have who can play that role. Since the various incidents, Albion haven't had a balance to their style or formation like they did in the first part of the season. Couple that with the absence of Zoltan Gera on the other wing, who shared the creative burden with James Morrison, and I think you have the main reason behind the tailing off of West Brom's form in the second half of the season.

That is why it is going to be absolutely pivotal in the summer that West Brom bring in at least one player who is capable of playing that role, preferably two. While the potential loss of Romelu Lukaku is also something to consider in the transfer window, the recruitment of at least one natural wide player is the pressing issue for Clarke, Richard Garlick and Jeremy Peace this summer.