Mulumbu's midfield return a boost for Baggies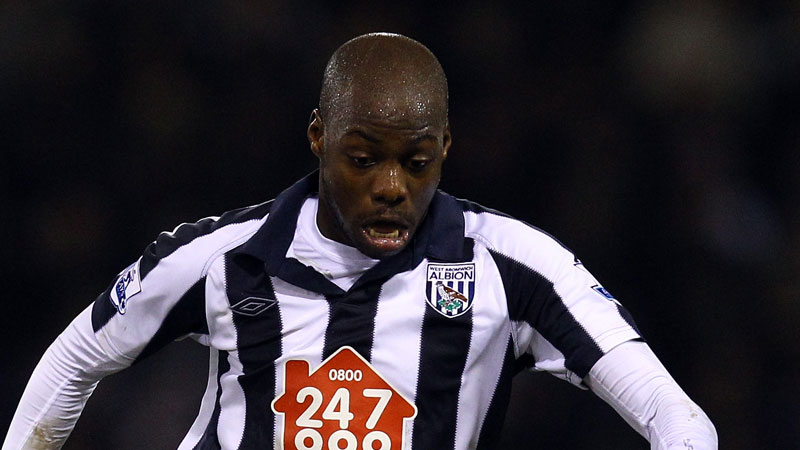 GettyImagesYoussouf Mulumbu: Return a boost for Claudio Yacod and West Brom
West Brom's win over Southampton last Saturday was a hugely impressive display, particularly when you consider that a couple of key players were missing through injury and suspension. One of those was Youssuff Mulumbu, who returns for the game with Wigan this Saturday, when he will once again join forces with Claudio Yacob.

After the sending off, the question was asked if Yacob would be able to perform as well without Mulumbu alongside him on a regular basis and I don't think that a firm answer can be given as his performances in the three games were a mixed bag. Yacob was fine against Arsenal but he really struggled in the game with Newcastle, where he was hauled off at half time by Steve Clarke - a substitution that would have been almost unthinkable earlier in the season.

Against Southampton, Yacob was back to his normal self. The Argentine international was protecting his back four, winning tackles and passing the ball simply but effectively, ensuring that the Baggies retained possession, particularly when Southampton went down to 10 men and then nine men. But what is interesting to note about Yacob's return to form against The Saints was that he had two other players alongside him in the middle of the park.

Usually Yacob is paired with Mulumbu in the deeper central midfield roles, with Yacob's main job being to win the ball and then often having the simple pass to Mulumbu, who drives the team on with his seemingly endless amount of energy. When he is paired with someone else, more responsibility falls on Yacob, who simply doesn't have the pace to do the pressing and driving that Mulumbu does.

Having two alongside him against Southampton meant that Yacob was able to return to his usual role, whilst James Morrison and Graham Dorrans could share the workload that Mulumbu normally gets through by himself. Morrison picked up an injury against Southampton so looks to be a doubt for the game with Wigan, which opens room up for Mulumbu to make an immediate return.

It is something I am quite looking forward to as it will give Graham Dorrans the opportunity to be the main creative force in the side. His form over recent weeks has been very good, even though he is playing out of position, now it looks as if he will get the chance to try and replicate that form in the position he favours most. The Scottish international has waited some time for this opportunity to be given to him in the Premier League, if he shows from now until the end of the season that he is capable of playing there, Albion will be delighted.

One of the more interesting facets about Albion's game with Wigan is the return of Paul Scharner to the Hawthorns. In his two seasons at the club, Scharner became a huge favourite of the fans, not just because of his winning goal against Aston Villa or the T-Shirt he unveiled in a win over Wolves, but also because he was a bit different to your usual footballers. Scharner was considered and intelligent, he will readily admit he is a bit of a maverick. What made Scharner most different was the fact he interacted with fans, he'd have regular Q+A sessions on Facebook with the fans and would often be seen joining in with the "Boing, Boing" celebration after a win.

Scharner will no doubt get a fantastic reception from the Albion faithful but what is most interesting about his return is that Yacob has essentially replaced Scharner in the West Brom line-up. Particularly in his first season at the club, Scharner formed a fantastic partnership with Mulumbu. In terms of dynamics, it was a rather different partnership to the one formed between Yacob and Mulumbu this season.

Whilst Yacob is very disciplined in the role he performs for the side, his focus being mainly protecting the defence, Scharner and Mulumbu took it in turns to perform that role. In fact, sometimes both would focus on protecting the defence, on other occasions they'd both be seen joining in the attacks. There was certainly a lot more goals between the Scharner-Mulumbu axis, Mulumbu was West Brom's second top scorer in their first season back in the Premier League.

One area where Yacob is superior to Scharner is his passing ability. Whilst the Austrian would often be seen bringing the ball forward, he didn't have the quality of Yacob on the ball. Scharner was by no means poor on the ball but he doesn't have the passing range of Yacob, something which has proved so vital in starting attacks for Albion this season.