West Brom's slow starts must stop
It's become somewhat of a familiar pattern for West Brom fans over the past month or so. The game starts poorly and sometimes gets worse up until the half-time whistle. In the second half, it is as if West Brom have a different set of players. There is more tempo, the passing is better, it is the opposition who struggle to cope with them rather than the other way around.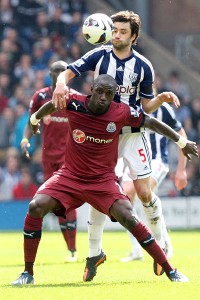 Ian Horrocks/Newcastle United via Getty ImagesWest Brom's Claudio Yacob, top, had a tough first half against Newcastle. The first 45 minutes have been a problem for all the Baggies recently.
This happened in the draw with Newcastle, to some extent in the 2-1 loss to Arsenal and also against West Ham in a 3-1 defeat before that.

-Lukaku grateful to West Brom

While it is a nod to Steve Clarke's half-time team-talks and the players' ability and determination that they can perform so well in the second half to mount comebacks, it is not a trait that Albion will want to continue starting with Southampton away on Saturday.

Perhaps it is a matter of circumstance, but it seems in the first half West Brom tend to come out and try to contain the opposition with limited emphasis on their own attacking. I'm unsure whether this is a deliberate tactic of Clarke's, or whether the players are just struggling in the first half to keep the ball.

In the second half, sometimes through necessity, Albion are much more attacking with more emphasis on playing their own game rather than trying to stop the opposition from playing theirs.

Statistics back up the observation West Brom are generally a poor first-half team. In the first 15 minutes, Albion have only scored two goals while conceding five. In the next 15-minute phase, the Baggies have scored four and conceded seven. In the last 15 minutes of the first half, West Brom have managed nine but conceded 11. On aggregate, West Brom has been outscored 23-15 in the first half.

In the second half, Albion have scored 28 goals and conceded 21, a clear representation of the change in approach. Clarke will be hoping that in the final run-in, West Brom will be able to mesh the two and put in a full 90-minute performance.

A slow start is not something that can be afforded against a Southampton side that has their tails up after a good run of form has seen them escape the perils of a relegation battle for a more secure mid-table finish, with the possibility of catching Albion in eighth place, especially if they win on Saturday.

Southampton's high-tempo, pressing style and their passing will make them particularly dangerous if Albion aren't on the ball right from the first whistle. As the statistics show, Albion aren't that strong in the first 15 minutes. Then you look at Southampton, who has scored seven goals in the first 15 minutes compared to the Baggies' two. It could be a potentially crucial time in the game.

It will be interesting to see the side Clarke picks. Shane Long looked back to something like his usual self when coming off the bench against Newcastle whilst Romelu Lukaku was below par. Clarke's preferred formation away from home is a 4-2-3-1, which would suggest there is only room for one of these two, unless Lukaku takes on a wider role like he did at times against Newcastle in the second half.

Personally I hope this isn't the case, as it wouldn't be a role that suits him.

With Youssouf Mulumbu out one more game on suspension, Clarke is presented with a dilemma in the centre of the park. Claudio Yacob was hauled off at half time last weekend but I fully expect him to start Saturday. He will most certainly have a point to prove after that substitution. This leaves Clarke with a choice of Chris Brunt or Graham Dorrans for a central role.

While Dorrans is a central player by trade, he has formed a good partnership with Billy Jones down the right hand-side over recent games. Brunt was very good in the centre of the park against Newcastle in the second half, but was poor there against Arsenal, with question marks remaining over his suitability for the role.

I expect Brunt will be used in the central role due to that performance against Newcastle, but I would prefer to see Dorrrans given his chance in what is a more natural position for him.