West Brom vs Newcastle: It should be a cracker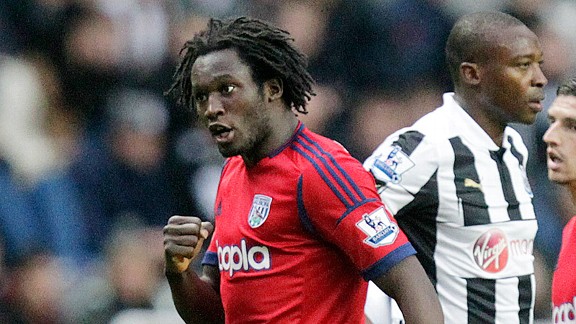 Graham Stuart/AFP/Getty ImagesRomelu Lukaku scored the Baggies' lone goal versus Newcastle back in October, but his first half misses proved costly in the 2-1 defeat.
West Bromwich Albion and Newcastle United's recent history have been somewhat entwined. Relegated to the Championship together in the 2008-09 season, they immediately won promotion back to the Premier League at a canter. In their first season back in the Premier League, both teams sacked their managers in what were considered contentious decisions. In fact, Chris Hughton was sacked by Newcastle after a 3-1 loss at the Hawthorns.

- Clarke would relish Europa League

Last season saw slightly more of a gap emerge between the two sides. Newcastle performed above all expectations, finishing in the top six. A late season push from Roy Hodgson's West Brom saw them reach 10th place, although in this late season push they suffered a loss to Newcastle who put in the most impressive performance of the season at the Hawthorns as they recorded a 3-1 victory.

That game was a reflection of the types of matches Newcastle and West Brom tend to be involved in. Over the past few seasons, West Brom vs Newcastle has been a recipe for goals and excitement. I've already mentioned last season's 3-1 loss at the Hawthorns, but the other game from that season was also a thriller.

The Baggies won at St James Park 3-2, Paul Scharner scoring the winner in the 90th minute after a swift counte-attack. That match was full of action, as Newcastle twice came back from being a goal down and looking like the team most likely to win it at the death until Scharner's timely intervention.

The 2010-2011 season was no less exciting. As previously mentioned, West Brom won the game at the Hawthorns 3-1, with Peter Odemwingie scoring twice in his electric first season with The Baggies, which has of course now become tarnished by his actions over the past couple of months. There was even more excitement in the final game of the season, where Albion came back from 3-0 down to draw 3-3 -- Somen Tchoyi completing his hat trick in the last minute to earn a point for West Brom.

Even in the season where the two sides played in the Championship, the games were hugely exciting affairs. In the opening game of the season, the two sides drew 1-1. It was in this game that Tim Krul made his league debut for Newcastle and he put in an outstanding display of goalkeeping to keep Albion at bay, making a succession of superb saves.

The sides faced each other in the FA Cup that season and that match was no different than the rest, with West Brom winning 4-2 in a match that saw a red card and two penalties. Straight after that was a league game against Newcastle which was an entertaining 2-2 draw.

This pattern of exciting, goal-filled games is not something I expect to change ahead of the match on Saturday, particularly considering the circumstances. Apart from league position, West Brom have very little to play for, and after a poor performance against West Ham coupled with an under-par display against Arsenal, Steve Clarke will no doubt want his charges to go out and make amends for these displays with some exciting attacking play.

Newcastle of course have plenty to play for, which means they can't really come and play for a point. That is something which isn't really in their mindset, nor in West Brom's, which is probably why the two sides often produce such enthralling encounters.

Both sides possess some tremendous forward players who are also very exciting to watch. Pappiss Cisse ran Albion ragged last season, as did Hatem Ben Arfa if he plays while Moussa Sissoko looks a fantastic player.

For West Brom, Romelu Lukau is obviously the most talked about player. The Belgian certainly has certainly come a long way since the game against Newcastle back in October. Although he scored that day, Lukaku missed two other huge chances in a first half West Brom dominated. I'm not sure many would have foreseen him sitting on 13 league goals by April after that display, which is testament to the way Clarke has handled his development.

He knew that Lukaku wasn't ready to be a consistent starter at that point and swapping lone-striker duties between him and Shane Long allowed both men to keep fresh. Lukaku's more constant presence in the side since January is purely down to the fact he has hit an electric run of form and it would be impossible for Clarke to leave him out, particularly when Long was injured.

Having said all this, expect the game to be a 0-0 bore draw!