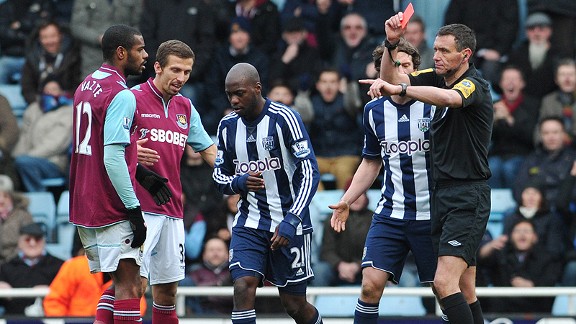 Carl Court/AFP/Getty ImagesWest Brom will be without key midfielder Youssuff Mulumbu for the next three matches after his late red card in Saturday's loss at West Ham.
A series of mistakes from some of West Brom's most reliable players, plus a change in formation caused by injury, were the main reasons behind The Baggies 3-1 defeat to West Ham at Upton Park.

James Morrison was ruled out before the game with a hamstring injury that kept him out of the international games in the midweek, which led to Steve Clarke changing West Brom's formation to a 4-4-2. This is Clarke's favoured formation at the Hawthorns, where the partnership of Shane Long and Romelu Lukaku has proved to be very effective. However, he seldom employs this more attacking formation away from home, preferring a more solid 4-2-3-1 shape. It is only the second time this season that Clarke has played 4-4-2 away from home, which shows how unusual it is to see Albion line up like this.

- Evans: Errors cost Albion
- Delaney: Carroll-inspired Hammers buck trend

Morrison's injury left Clarke short of his number one playmaker, but I don't think that was the reason for the change in formation. He had Graham Dorrans, who had his best season for West Brom playing in the central role behind the striker and has been in good form lately, even though he is playing out of position on the right hand side of the pitch. He would have been a good option in that role.

I believe that the reason Clarke changed formation was because of the wide options he would have been left with. One choice would have been Jerome Thomas, who started the last game against Stoke City. However, Thomas was fairly ineffective for most of the game after a bright start and it is quite clear that Thomas isn't in Clarke's long term plans. The only other choice was Peter Odemwingie.

Besides the obvious issues with selecting Odemwingie, such as his criticism of Clarke in his last Twitter rant, his appearance as substitute should be enough to highlight why Odemwingie would not have been a good choice to start. There is no doubt that Odemwingie was threatening, but he was also incredibly selfish. This was highlighted when he had the ball at his feet 40 yards from goal and decided to shoot. Odemwingie was not playing for the team and Clarke nor the fans would have liked that.

The change to a 4-4-2 left Albion far too open. Claudio Yacob and Youssuff Mulumbu do a superb job of protecting the back four, but even they were overran with West Ham's five-man midfield. Despite this, it must be those who made shocking individual errors that should take the blame for this defeat.

Jonas Olsson will not have been happy with his performance today; he was at fault for both of Andy Carroll's goals. This is particularly surprising considering the success Olsson has had against the big forward in previous encounters. Olsson has dominated Carroll in the air, not letting him get a sniff. Today, Olsson was all over the shop from set pieces when he was marking Carroll.

For the first goal, Olsson allowed Carroll a two yard run on him to get to the ball and head in. This was particularly out of character for Olsson who is normally such a big figure for West Brom at set pieces; he is the first to put his body on the line or get up for a vital header. On the second goal, Olsson seemed to lose the ball in its flight while also managing to lose Carroll at the same time.

These errors were very uncharacteristic for the big Swede who has been such a pivotal player for West Brom since his arrival at the club under Tony Mowbray. It was not until West Brom beat QPR in the April of last season that Albion won a Premier League game without Olsson in the back four. This shows just how important he has been to West Brom, even if he has been outperformed by his centre half partner Gareth McAuley this season.

The other individual error came from Mulumbu, who was sent off in the last minute of the game for a moment of utter stupidity. The game was gone when Mulumbu was tugged back, he proceeded to pick the ball up and volley it into the back of Gary O'Neil's head. This means that Mulumbu will now miss the next three games, the whole April programme.

Mulumbu is a vital player for West Brom. He has a set of qualities that none of West Brom's other midfield players possess. Mulumbu has a seemingly endless amount of energy, constantly driving the Baggies forward from deep. While players like Chris Brunt and Morrison are much better passers of the ball, they simply do not have the engine that Mulumbu has.

His ability to press will certainly be missed against Arsenal and Southampton, who both play a very possession-based game while Newcastle have a very powerful midfield, so Mulumbu's ability to break up play would have been vital. What will be interesting is to see how Yacob copes without Mulumbu.

Earlier in the season it was obvious that Mulumbu missed playing alongside Yacob, he wasn't half the player when he was the man charged with breaking up play and helping George Thorne or Chris Brunt through the game. It will be a sign of Yacob's undoubted class if he deals with Mulumbu's absence seamlessly.