Trusting academy players is the future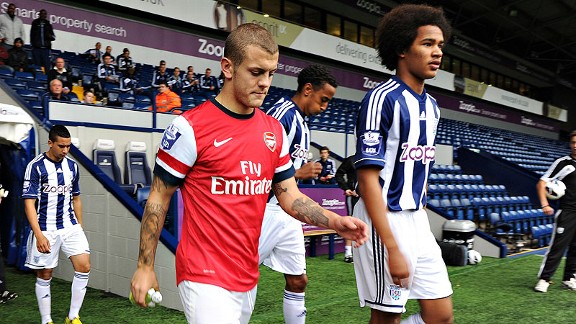 David Price/Arsenal FC/Getty ImagesWest Brom supporters hope Izzy Brown, right, stays around long enough to have an impact on the first team in the way Jack Wilshere, left, is contributing at Arsenal.
Steve Clarke's policy of getting younger players involved with the first team and putting them into West Brom's matchday squad is one that should be admired. As a fan, there is nothing better than seeing a player who has come through the youth system wearing the shirt and representing the club.

This season has already seen the likes of Adil Nabi, Romaine Sawyers and Callum Jones included in matchday squads or on the bench, while George Thorne would have considered this somewhat of a breakthrough season until picking up a serious ligament injury against Everton at the end of January that has ruled him out until next season.

In addition to these players, West Brom have many promising young players out on loan. Defenders Cameron Gayle and Donervon Daniels have both been on/are on loan in League Two, while Saido Berainho had an impressive spell at Peterborough alongside Thorne, whose spell of first-team football was, unfortunately, also curtailed by injury.

However, the fact of modern-day football is that if any club produces a young player with any semblance of talent or potential, they are poached by a bigger club further up the Premier League food chain.

Izzy Brown is a prime example. West Brom nurtured him from the age of 12. In fact, Brown was introduced to the fans in the first home game of the 2010-11 season as someone who was going to be a big figure for West Brom in the future.

Only recently turned 16, Brown was on the bench away at Chelsea and the 19th man the following match against Swansea. This makes it clear that Brown is highly rated within the club. But even before he'd been included in a first-team squad, Arsenal were said to have an interest in Brown. Since then, Chelsea are also credited with interest in the youngster.

Despite what Clarke says about Brown not being for sale, that does not really matter. If these clubs want Brown, it is highly likely he will go, and West Brom will be able to do very little about it. Because Brown is only 16, he is not allowed to sign a professional contract until the day he turns 17. That is when other clubs will also be able to approach him, by which point The Baggies will only be entitled to compensation from the deal.

West Brom have already lost one of the most promising players of his age group, Jerome Sinclair, to Liverpool for one million pounds at the age of 15. To rub salt in the wounds, Sinclair made his debut for Liverpool against Albion in their League Cup match earlier in the season.

It is a fault with modern-day football that young players are getting too much, too soon. It is not healthy for these young players' mentality to be sold for large fees -- whether they want it to or not, those sort of things will go to a player's head. Younger players are even getting signed by agents, which is frankly ridiculous. The planned introduction of the Elite Player Performance programme could help solve the issue, although in my eyes it looks as if it will just increase it.

Where the academy system becomes beneficial is if a club manages to keep hold of their talented younger players and bring them through to become prominent first-team players. Even producing one or two players every other season is financially massive for a club -- it saves on bringing in established players who will come with both a transfer fee and higher wage demands. If a club can get a few good seasons out of a player, they will only be in profit should the player move on.

That is why it is vital The Baggies keep hold of someone like Izzy Brown. Albion would hate to have to let him go for a one million pounds, because if Brown was to have a few good seasons in the Premier League, he'd be worth 10 times that, such is the overinflated fees that clubs will pay for young British talent.