Odemwingie's legacy being destroyed by tweeting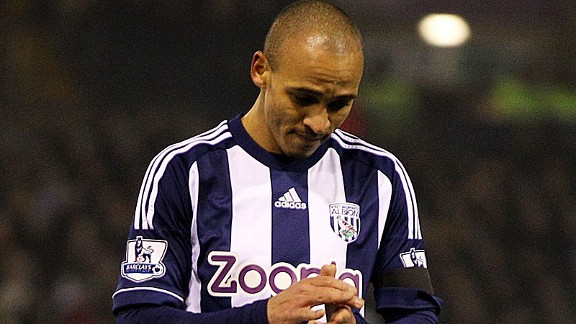 PA PhotosPeter Odemwingie vented his frustration via twitter
He's been at it again. Following the Stoke game, Peter Odemwingie returned to the Twitter-sphere with a bit of a bang after a short absence from the social networking site. Odemwingie decided that the time was right to go on another ill-judged rant at the West Brom hierarchy, from coach Steve Clarke to sporting and technical director Dan Ashworth to the tea ladies and even to his team-mates, though he fell short of mentioning them by name.

- Odemwingie threatens to buy out contract

The crux of Odemwingie's latest twitter rant was that by keeping him at the club, and only using him off the bench, West Brom were ruining his career. He even said that what the club are doing now was worse than "What they did to him on deadline day". That's right, Odemwingie believes the incidents on Deadline Day were the club's fault. This is the same Peter Odemwingie who drove down to QPR of his own accord, knowing full well a deal had yet to be done between West Brom the London club.

There is only one person to blame for the whole incident and that is Odemwingie. He started ranting at the club when his transfer request was turned down. Albion remained silent. He turned up at QPR without a bid being accepted. Albion remained silent. Odemwingie gave an interview without the club's permission in which he once again criticised West Brom. Albion remained silent. It was only once the transfer window was over that West Brom finally came out and dealt with the incident, fining Odemwingie two weeks wages and attempting to defuse the situation with an apology from the player.

With this latest rant, Odemwingie has ruled out any chance of ever being accepted back into the fold; by staff, players or fans, all of whom he has criticised. Odemwingie suggested in his tweets, most of which have now been deleted, that players at the club were holding meetings behind his back and were criticising him in presence of the captain, Chris Brunt. Odemwingie said that he did not trust his team-mates anymore. It's probably a fair inference to make that they don't exactly trust him either.

Odemwingie added: "Want to treat me like an average player. The abuse and praise I get is average? So get some extra from me too." I'm not exactly sure what reaction Odemwingie was expecting to get from the fans. Openly criticising the club and saying you want to leave is not exactly a way to endear yourself to supporters. I believe that the reaction from the stands could have been a lot worse and up until this latest rant the fanbase was divided in their views.

Throughout this, Steve Clarke has conducted himself with a dignity and class that Odemwingie is sadly lacking. He said he had moved on from the incident and urged the fans to do similar. Clarke would have known that he'd have to face the press during his time as a number one, but I doubt he thought he would be presented with an incident like Odemwingie's at a club like West Brom, who are widely regarded as one of the most stable, uncontroversial clubs in the country.

It is a shame that it has come to this. Odemwingie should have left West Brom with his head held high, knowing that he had contributed to the club's progress and with the respect of his fellow professionals and of the fans. Odemwingie was a fan favourite, any time he came back to the ground he'd have been welcomed back with open arms, he should have been one of those players that are talked about fondly by fans years after leaving the club. Instead, he has completely tarnished his reputation.

He has made a huge contribution to the recent history of the club. When West Brom were promoted, they were expected to be relegated because they lacked a goal-scorer. Albion had always wanted a striker that would get them 15 goals a season, they found Odemwingie for £2.5 million. In addition to that, he added nine assists in that first season. Over the next two seasons, Odemwingie has added a further 15 goals.

There is no doubt that without Odemwingie, West Brom would have made nowhere near the levels of progression that they have. However, West Brom have developed since then. Odemwingie is no longer a pivotal player. He is no longer irreplaceable, partly because West Brom have performed just as well without him this season and partly because of Albion's extensive scouting network.

It is possible that West Brom will find out what life without Odemwingie will be like sooner than the summer. The most interesting tweet from Odemwingie was his threat to buy out his contract and become available on a free transfer. Although West Brom would probably like a fee for Odemwingie, it may be best for all parties to remove Nigerian international from the squad, because it is clear that Odemwingie is becoming a bad apple in the West Brom barrel.