Bargain buys impressive in bore draw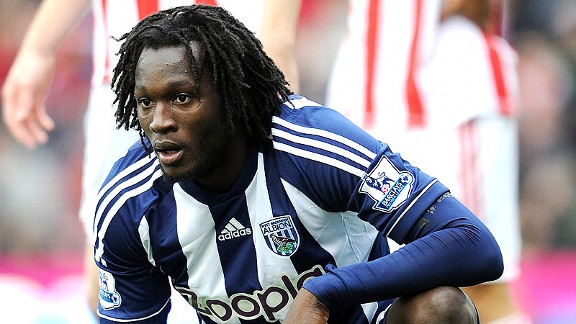 Chris Brunskill/Getty ImagesA workmanlike effort from the Baggies' defense helped offset the lack of goals from Romelu Lukaku and the West Brom attack.
You would be hard-pressed to find a worse game of football from the Premier League this season than West Brom's 0-0 draw with Stoke City. West Brom will happily take a point from the Britannia Stadium, against a team who have so often defeated West Brom in similar cagey, tight and turgid affairs.

- Whittaker: Stoke stumble another point closer to safety
- Pulis frustrated by lack of goals

It was only Albion's second 0-0 of the season, but this was a 0-0 in the truest sense of the word. Asmir Begovic and Ben Foster were rarely tested throughout the game, with West Brom struggling to get any rhythm in their passing game, meaning that the ball was constantly coming back at them.

However, Steve Clarke will no doubt see this point as a big positive. He will no doubt have been aware of Albion's shocking record against Stoke and a few seasons ago, this is a game that the Baggies would have lost; they would have been bullied into defeat by Stoke's more direct approach to the game. This is a facet of the game that was first developed under Roy Hodgson and has continued under the stewardship of Clarke.

There were three key men in Albion remaining resolute and solid in the midst of an aerial barrage -- all three of them bargain buys. The first of those was Foster. Although he did not have to make many saves, he still showed why Hodgson was so keen for him to come back into the international fold. Foster was dominant in his own area: He was not rooted to the line but came and attacked every ball which eased the pressure on the defence in front of him.

Foster has been in a superb vein of form over the recent weeks, as far back as the 2-0 win at Liverpool. Although Joe Hart is clearly a very talented goalkeeper, if you were to pick the England goalie purely on form, then Foster would be the man wearing the number 1 shirt. As it is, I expect that the Manchester City keeper will still be number 1, but Foster will certainly prove tough competition for the role.

The second man who has to take great credit for the Baggies' rearguard action is Gareth McAuley, another man initially brought in by Hodgson. McAuley was once again massive at the heart of the defence. McAuley is often an unsung hero in the Baggies lineup despite being one of the most consistent performers in the side. His centre half partner, Jonas Olsson, is often the man who takes more of the plaudits.

Olsson has been linked with a few clubs and is a very good centre back, but I think McAuley has out-performed the big Swede since arriving at the club. McAuley is what can only be described as a proper defender. He's more limited on the ball than Olsson, but he is by no means poor. However, in the air, McAuley is very rarely beaten in the air, even up against aerial powerhouses such as Kenwyne Jones and Peter Crouch.

He is the sort of centre half that West Brom fans had been pining for, so it is quite amazing that the big defender did not even turn professional until the age of 24 and did not make his Premier League debut until the age of 30. It is imperative that Albion do everything to ensure that the contract negotiations with McAuley are settled. He performs a role that no one else at West Brom can.

The final player who really seemed to relish the blood and thunder game was Claudio Yacob. The Argentine international was in his element up against the physicality of Stoke. He was scrapping for every second ball up against the bigger plays Stoke possessed, but Yacob has a deceiving amount of strength for someone who is quite diminutive in stature.

Another area where Yacob's build is deceiving is in aerial battles. If McAuley wasn't winning the ball in the air, it was Yacob. He wins a lot of balls in front of the centre halves which, like I said, is very surprising considering his size. Yacob has been some find for West Brom; he has been superb since arriving in the summer.

He has provided Albion with a type of player that they were missing last season. Yacob is very good defensively, but he also adds a great deal to their attacking game. Yacob is a simple but effective passer of the ball. Last week against Swansea he had 100% pass completion rate, which is very impressive as Albion were struggling to keep the ball initially. He may not have as many plaudits as someone like Michu, but he is certainly one of the signings of the season!

Clarke will be happy to see an international break as it gives players such as Steven Reid and Graham Dorrans a chance to recover and give the Baggies a fully fit squad heading into the run-in!