Clarke continues to learn as Albion end Swansea hoodoo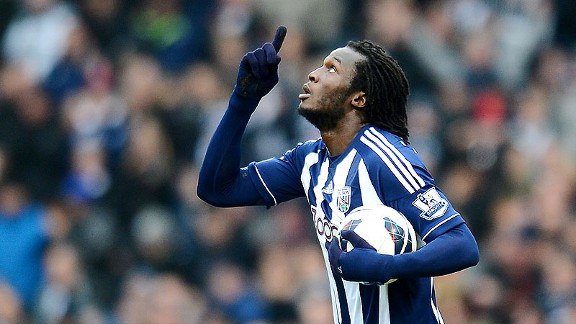 Laurence Griffiths/Getty ImagesRomelu Lukaku got to celebrate scoring a goal for the 13th time this season in West Brom's' 2-1 win over Swansea.
Steve Clarke's impressive start to his managerial career continued with a 2-1 win over fellow surprise packages Swansea City at The Hawthorns. It was only the second time this season West Brom have come from a losing position to win a game. This victory was particularly sweet for Clarke and his players after West Brom were tore apart by the Swans in the reverse fixture, a 3-1 defeat.

- Match report: West Brom 2-1 Swansea

The head coach obviously learnt from this defeat as he guided the Baggies to their points against Swansea in the Premier League, with perhaps a bit of luck towards the end. In previous games, West Brom have failed to counter Swansea's passing ethos, showing them too much respect and giving them too much room in the wide areas where Swansea have some talented players.

In the game at the Liberty Stadium, Albion particularly suffered down their right hand side where Billy Jones was left exposed two-on-one far too often by Peter Odemwingie, who was playing on the right win. This time it was Graham Dorrans on the wing and the Scotsman put in what was probably his best performance of the season. He put in a tremendous shift, working up and down to protect his fullback while also laying on the assist for Romelu Lukaku's 13th goal of the season.

It was also by far and away Jones' best game of the season. He has always been a good outlet going forward, far more so than Steven Reid. This was shown today as Jones overlapped Dorrans who played more of an inside role, Jones being the man brought down for the penalty which was missed by the otherwise fantastic Lukaku. However, Jones has often struggled at the back but today he was solid up against a pacy Swansea attack. He perhaps benefitted from not being constantly targeted in the air, with Swansea not possessing much in terms of an aerial threat.

What was really impressive was that Clarke seemed to strike a balance between countering Swansea's game and also letting West Brom play their game. Without the ball, West Brom were their typical organised self, with Clarke constantly urging his players to push up and press Swansea from the front as Lukaku really was the first line of the defence. It was a pressing job that Shane Long would have been proud of!

The normal pattern of games with Swansea is that no matter how solid West Brom are, when they get the ball, they give it away very quickly which means Swansea will eventually break them down. There was some evidence of that today early on, but soon Albion got into their rhythm and it was probably the best they have kept the ball all season, enforcing their own game on the opposition rather than trying to counter-act.

Key in that were the performances of Claudio Yacob and Youssuff Mulumbu. They have become a midfield duo to be reckoned with and their importance to West Brom was really emphasized in this game. With Yacob, you know what you are getting. He breaks the play up (winning five out of five tackles attempted today) and then moves the ball quickly, often becoming the starting point of West Brom's attacks. He did a particularly impressive defensive job on Michu, cutting down on the space he received and intercepting the ball before it reached the Spaniard.

Mulumbu was given the club's own Man of The Match award and you'd be hard pressed to find anyone who argued with that. He is the driving force of Albion's midfield and was the man who really led them in their pressing game, often being the player highest up the pitch apart from Lukaku. Alongside Yacob, he, too, was fantastic in breaking up the play; he is tireless. But what Mulumbu did really well today was keep the ball, something he has often been criticized for. Mulumbu made 59 passes today, during which he became the first Albion player to complete 1000 passes this season.

Clarke would have been very pleased with the commitment of West Brom's players; he made it clear that he expected the team to really kick on from this platform of 40 points rather than relax and just meander into the end of the season. It was not just Yacob who completed all of his tackles today, but also Jonas Olsson, James Morrison and Chris Brunt, the latter two not really recognized for their ability in that area of the game. This win took the Baggies to 43 points, making their next target of 50 points look a very realistic proposition. The higher West Brom finish, the more attractive the club will become to potential signings, which could prove particularly important if top goal-scorer Lukaku doesn't return; he will be a very tough man to replace.

Next up for the Baggies is Stoke City away from a home, another bogey team although West Brom did win their last year. They are far better equipped to deal with Stoke's physical threat, particularly the ever-consistent Gareth McAuley, who must be the stand out contender for player of the season at the moment.