Shane Long: The unsung hero?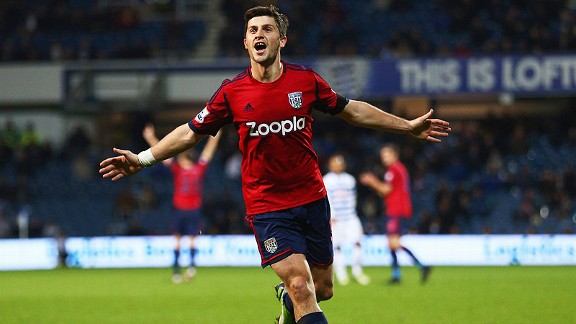 Paul Gilham/Getty ImagesShane Long's hard work this season for West Brom has been invaluable to their Premier League success.
It is inevitable that most of the attention from media and fans alike will be focused upon the players who are currently in form, or the flair players, or the ones with the leading statistics. Romelu Lukaku falls under all of these categories. He is undeniably in great form; he is fantastic to watch and is Albion's top league goal-scorer by some distance.

However, the excellence of Lukaku should not lead West Brom fans to underestimate just how important Lukaku's fellow forward, Shane Long, is to the side. It is fair to say that the pair possesses very different attributes, which is why perhaps they work well together as a partnership. But it is also these different attributes that makes West Brom's 4-5-1 work so well.

- Clarke wants final push

Long does a job for the team that often gets overlooked, whether that is by himself or as part of a partnership with Lukaku. Long is one of the hardest working players in the West Brom starting XI; it seems like he never stops running. He is constantly harassing defenders, deep sitting midfielders and the goalie, which really does benefit Albion defensively as it gives them more time to get set in their shape.

It is also hugely beneficial for Lukaku, either from the start or from the bench. If Lukaku is on from the start, he benefits from Long working the defenders by either dragging them out of position or making a run in behind, which in turn presents Lukaku with more space where he can do what he does best: Running at defenders and taking them on with his pace and power.

If Lukaku comes off the bench, usually in place of Long, he is up against defenders who have been tired out by Long's constant running and pressurizing. Of course, it is not as easy as just coming off the bench and things just happening. Lukaku does bring a threat that Long doesn't, but he is no doubt assisted by Long's attitude.

It is clear that working with Long is rubbing off on Lukaku, demonstrated by his second goal against Sunderland where Lukaku chased down on a back pass that then saw the ball ricochet off him and into the net. That was something that Lukaku would not have done earlier in the season.

One area in which Long has improved greatly this season is his creation of chances for other players, demonstrated by the four assists he has picked up so far this season, including one for Lukaku against Reading. Lukaku's game is far more about creating chances for himself, thus he only has two assists this season, one of those being a shot of his parried into the path of Long against Everton.

Long is pretty much the ultimate team player who fights for every last ball. You only have to look at his display at Chelsea last week. The service Long got throughout the game was average at best, exceedingly poor at its worst. He had barely anything to work with but he still put the hard yards in to help out the team.

In some ways, it is almost a shame that Long is used as someone who does the "dirty work" and the things that go unnoticed, because he, too, is a real threat when in his best form and at full flight. But he sacrifices that for the good of the team, something that will be needed this Saturday against Swansea.

They are a side who like to play out from the back, moving the ball to their central midfielders or fullbacks. This is where Long's work rate and pressing will come into play; it should help to nullify Swansea's natural game. If he is in partnership with Lukaku, such a tactic will work even better with two men to do the pressing rather than one. It is important Albion stifle Swansea early on in their attacks, because they possess a pace on the wings that West Brom haven't dealt with in their three Premier League encounters with the Welsh team so far.