Hoodoo's, mistakes and positives for Baggies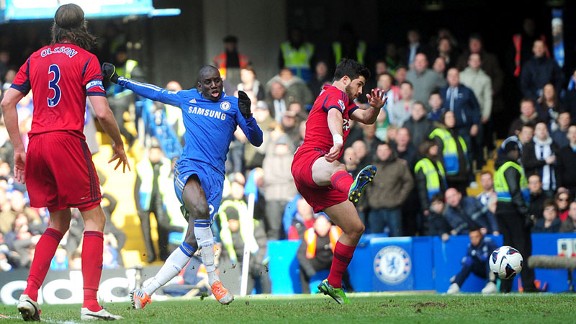 PA PhotosChelsea's Demba Ba scores the only goal of the game against West Brom
Under both Roy Hodgson and now Steve Clarke, West Brom have picked up somewhat of a reputation for breaking long-held club hoodoos: wins at Villa Park, Anfield and the Britannia stadium from last season, a double over Liverpool this season.

- Lythell: Three amigos divert spotlight from Benitez
- Delaney: Benitez beats the boo-boys
- Benitez praises Chelsea fans for backing team

In the past two campaigns, Albion have beaten Chelsea at home on both occasions. But one hoodoo that seems destined to never be broken is their poor record at Stamford Bridge, which continued on Saturday with a 1-0 loss. West Brom have now played seven games at the home of the European Champions and have never picked up so much as a point, only scoring their first goal at the ground last season through Shane Long.

Saturday was perhaps seen as the best chance yet to get something against Chelsea, with the Rafa Benitez controversy during mid-week and with Albion coming into the game on the back of two impressive performances against Liverpool and Sunderland. However, it was an uncharacteristic mistake from Gareth McAuley that ultimately proved the difference.

McAuley has been tremendous since being signed by Hodgson last summer on a free transfer from Ipswich Town. He has been a colossal figure at the back, often out-performing his more lauded partner, Jonas Olsson.

The Northern Irishman is simply a good defender. He isn't exactly Franco Baresi or Franz Beckenbauer on the ball, but he wins nearly everything in the air and stays tight to his man. He did neither of those on Saturday as he lost David Luiz at the back post from a corner, the ball being headed back to Demba Ba who certainly doesn't have a hoodoo against The Baggies, it was his sixth goal in five games against them.

The back five of Ben Foster, Steven Reid, McAuley, Olsson and Liam Ridgewell have proven to be a more than reliable defensive unit. It isn't exactly packed with pace but all five are solid Premier League performers, proven by the fact it is the first time Albion have lost with this back five in the Premier League, quite some record.

Overall, the performance could be considered a tad disappointing. The formula of sitting back and then attacking on the counter in the second half was hugely successful against Liverpool, but not so much here. West Brom showed too much respect to Chelsea after the first five minutes, they were allowed to get into their style of play and get the fans onside.

It was one of the games where The Baggies should have gone at it from the start, not gung ho, just provide a bit more support to Shane Long, who once again worked tirelessly up front with very little service of a good standard. The Chelsea supporters were clearly on edge, particularly with Benitez's midweek rant, and a poor start would have just made the atmosphere even more difficult for the players.

Pushing Marc Antoine Fortune up alongside him from the start might have helped Long. Whenever he did receive the ball in a decent area he used it well but then couldn't get into the box to attack any cross that was provided by Fortune or Graham Dorrans.

Having said all of that, coming away from Chelsea disappointed with a 1-0 defeat shows just how far West Brom have come. Despite some of these criticisms, there were certainly a few positives to take from the game. The first of these was the continued "reintegration" of Peter Odemwingie into the Albion fold.

Firstly, his arrival onto the pitch was greeted by cheers by The Baggies fans, with all the initial anger seemingly spilled out last week when Odemwingie was brought on. But what would have been of more pleasure to head coach Steve Clarke was his performance. Odemwingie looked very threatening, having a couple of nice runs at the Chelsea defence and seeing a freekick tipped over by Petr Cech.

It is important that Odemwingie is reintegrated because he is one of few players at the club who is willing and capable of running at players with pace and skill. Sometimes his final ball is poor but what is important is that he gets into those threatening positions. He certainly still has more making up to do with the Albion fans, but performances like these will quicken the process no end.

The second positive would be the form of Ben Foster. It was announced on Thursday that Foster would be coming out of international retirement to re-join the England set-up. With Hodgson watching, Foster put in another sterling performance that may well have pressed his claims to be number one for the national side.

He made a series of wonderful saves, most of them from Oscar. His first save was arguably his best, parrying away a close-range effort from the Brazilian. Aside from one poor kick, another hugely impressive aspect of Foster's game is his distribution. He even attempted a bicycle-kick in a frantic end to the match... that was less impressive.

Finally, a mention to Izzy Brown. Although he didn't get on and make history as the youngest player in the Premier League, it must have been fantastic for him to travel with the first team squad and it is also encouraging for Baggies fans. There is nothing better than seeing a young player come through. It is important that Albion keep the youngster from the clutches of the big clubs who are circling, Arsenal having already been linked with a £1 million move for the youngster.