The key players and combinations for West Brom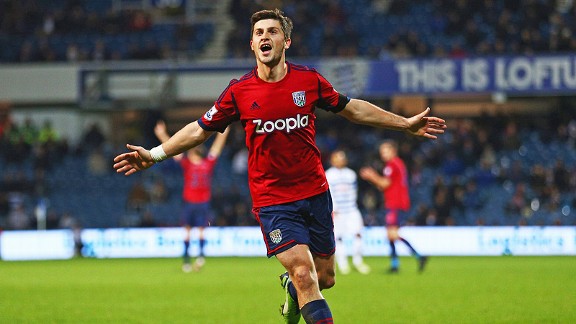 Paul Gilham/Getty ImagesShane Long's constant pressure on opposing defences is a big reason for West Brom's late game success.
After a week off, it is important that West Bromwich Albion use last Monday's 2-0 victory over Liverpool as a catalyst to get more points and finish as high as possible. If it is a case of after the Lord Mayor's show against Sunderland this weekend, Albion go back to square one.

- Clarke enjoying West Brom challenge

For the Baggies to kick on from that victory at Liverpool, there are some important players and combinations that West Brom need to keep fit and firing in order to achieve their goals for the season.

1. Claudio Yacob and Youssuff Mulumbu

It was a sight to behold at Anfield last Monday, seeing Claudio Yacob and Youssuff Mulumbu back in the central midfield berths with James Morrison pushed up in front of them. This was the trio that West Brom had in place when they had such an impressive start to the season.

While Morrison is important, Yacob and Mulumbu add something both defensively and offensively. Yacob and Mulumbu do a fantastic job of protecting the defence, which in turn makes it easier for the back four. If Yacob and Mulumbu break up play and stop players running at the defence, the defence will not be dragged out of position which will in turn allow for more solidity.

However, the job Yacob and Mulumbu do offensively is massively underestimated. Yacob is superb under pressure; he keeps it simple but can also play a pass that shifts defence to attack. Mulumbu's passing ability isn't on the same level as Yacob, but his drive from midfield is something West Brom have sorely missed. It is another outlet, another way of relieving pressure and counter-attacking quickly.

2. Chris Brunt

The Albion captain has certainly showed an improvement in form over the past month or so, he was hugely influential in West Brom's comeback from 2-0 to 2-2 against local rivals Aston Villa in January. That was in the central role but he has been moved back to his most natural position on the left hand side.

It is pivotal for Albion that Brunt continues his upturn in form if they are to function as an attacking unit. At the start of the season, it was Peter Odemwingie and Zoltan Gera on the wings. Gera is now out for the season while Odemwingie's situation is awkward to say the least. That leaves Brunt as the Baggies' most proven performer on the wings. A lot of the creative burden will be on Brunt, especially with a lack of other natural wide players.

3. Romelu Lukaku and Shane Long

This is probably the most interesting conundrum that faces West Brom head coach Steve Clarke. It's likely that he wants to see the two play together up front, but can he afford to do that as it would sacrifice the 4-2-3-1-/4-3-3 that has served West Brom so well for most of the season?

So it seems that Clarke will return to the method that worked so well earlier in the season, which was to have Shane Long start most games and tire out defences with his constant pressing and running in behind, then have Romelu Lukaku come on when the defence tires to run at them more directly.

In some way you have to feel for Long -- Clarke said as much earlier in the season. He does all of the donkey work which allows Lukaku to come on and take advantage. It's not to say that it can't work the other way around; I'm sure that Long will have an effect in games that Lukaku will struggle in so on those occasions it may be beneficial for Clarke to switch roles between the two.

The five players I have mentioned will all be key men if Albion are to kick on once again and secure possibly their highest ever Premier League finish.