Moment of madness costs Albion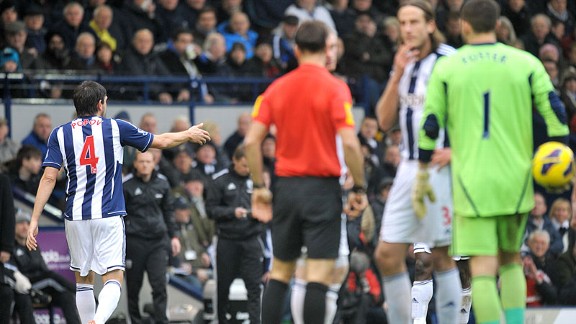 APGoran Popov walks off the pitch after being sent off
The first half of West Bromwich Albion's game against Spurs was a marked improvement on recent efforts in the opening period. The Baggies actually had the better of the match, which is something that has been rare of late.

- Bale brilliance beats Baggies

However, the Baggies' chances of taking anything from the game were ruined when Goran Popov spat at Kyle Walker and was sent off. Spitting at anyone, whether it hits them or not, is a disgraceful and cowardly thing to do, thus it was right that Popov saw red.

West Brom manager Steve Clarke was certainly not impressed. "The game changed with the sending-off," he said. "I'm absolutely disgusted with Goran's behaviour.

"One of the group has let the players down. It changed the whole complexion of the game. It's difficult enough in the Premier League playing against 11 players, especially when you're playing against Tottenham.

"There's no excuse for that. There's no place for it in life, never mind on a football pitch. As always there will be disciplinary procedures taken against the player but they'll remain in-house."

I hope the club hit him with the maximum possible fine. Popov has a responsibility as someone in the public eye, so should be made an example of. 11 vs 11 West Brom had more than a chance of taking three points, but Spurs' ability to keep possession made it a very tough task when reduced to ten men.

But there were some encouraging signs from West Brom, particularly in an energetic first-half display. On a couple of occasions the final ball was off, while Shane Long and Romelu Lukaku both had issues with their first touch when presented with clear cut chances on goals. The mere fact that Albion are creating these chances, given that previous displays lacked any real threat, is obviously a good sign.

Further encouragement came from the form of both Chris Brunt and Claudio Yacob. Skipper Brunt returned to his most natural position on the left-hand side of a four man midfield and he was clearly more comfortable than in the central role he previously occupied.

Although Brunt did not get many chances to whip his trademark crosses into the box, he worked hard and used the ball intelligently. Brunt is likely to continue in this role considering the uncertainty over the futures of Jerome Thomas and Peter Odemwingie.

Argentine international Yacob has been a huge miss for West Brom. His ability to break up play is something none of the other Baggies midfielders can match. He also possesses a composure on the ball that is standard requirement in the middle of the park. Once Youssouf Mulumbu is restored alongside Yacob, some of West Brom's defensive issues will start to clear.