First half frustrations continue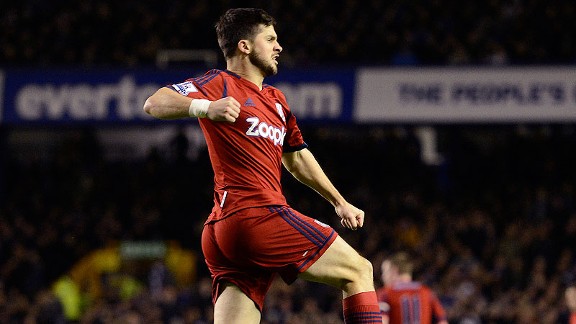 Paul Ellis/AFP/Getty ImagesShane Long's second half goal was the lone bright spot in West Brom's 2-1 loss at Everton.
Whether it is a bad pre-match meal, a poor warm-up or a team talk that doesn't get the blood pumping, something is going wrong in The Baggies pre-match preparation as once again West Brom put in another lacklustre first half display.

- Match report: Everton 2-1 West Brom

A relatively poor first half against Manchester United at Old Trafford is probably understandable. But the first half performance against Fulham on New Year's Day was awful against a side who rarely win away from home. A home game against Aston Villa where you'd have thought the players would be pumped up to the maximum turned into a lacklustre display with Villa two up at halftime.

Then a similar situation today against Everton. No one really expects to go to Goodison Park and take points, apart from the top sides, but even so the least fans can expect is a performance with a bit of urge, vigour and attacking intent. Everton were allowed to dominate possession in the game until it was too late for The Baggies to mount another Villa-esque comeback.

Some of Steve Clarke's selections are beginning to confuse me, although I appreciate that his hands have been tied with injuries and now transfer-related absences, but to select a wide player in the centre(Chris Brunt) and a central player out wide(Graham Dorrans) is just plain confusing to me.

A change in formation may be what is needed. Far too often fullbacks are being left exposed by the wingers being too advanced. Billy Jones might not be the best fullback in the Premier League, but the lack of protection he gets at times is astounding. I genuinely believe a 4-4-2 is the way forward, particularly with a front line of Shane Long and Romelu Lukaku.

I do not think Albion will go down. I'm not going for a knee-jerk reaction in wanting Clarke out, it is just frustrating to see such an excellent start to the season petering out into a nothing year when it could have been special, well special for a club like ours that can hope for eighth at best.