Odemwingie, Everton and a change?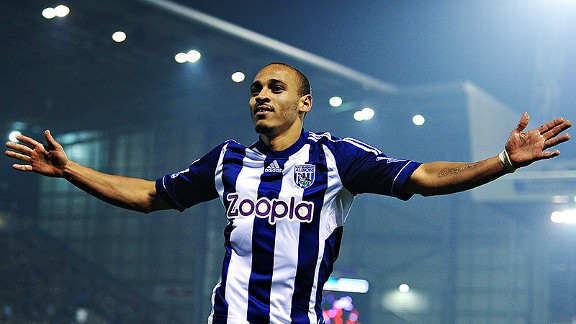 Laurence Griffiths/Getty ImagesPeter Odemwimgie has not endeared himself to West Brom supporters of late.
The biggest story coming out of West Brom at the minute -- and arguably the biggest story in the transfer window -- is Peter Odemwingie's proposed move to QPR. It's been the subject of a lot of media coverage over the past couple of days, in part down to a rather spectacular Twitter meltdown from the Nigerian.

To make one thing abundantly clear, Odemwingie is a massive player for the Albion. He is the only player Albion have who is fully accustomed to the wide forward role that Steve Clarke likes to use, a role Odemwingie has played at previous clubs which makes his criticism of Clarke playing him out of position even more confusing.

- Clarke wants Odemwingie stay

But to make another thing clear, despite all his talents, Odemwingie has gone about things completely the wrong way. I was disappointed that Odemwingie wanted to join QPR, but removing my fan hat from the equation, you can hardly begrudge someone the opportunity to double his wages in what is possibly their final career move.

However, the statement and subsequent tweets from Odemwingie have made any sympathy from me towards his position disappear. It is the same for a lot of Baggies fans; in his tweets and statement, Odemwingie managed to disrespect the club, his fellow players, the coaching staff and the fans. It was Odemwingie's criticism of the fans that really tipped opinion over the edge, in my case anyway, and for fans who had backed Odemwingie since day one and funded a banner in response to the infamous banner unfurled by fans of his previous club, Lokomotiv Moscow.

Odemwingie is not in the squad for the Everton game tomorrow evening, but apart from this ongoing transfer saga, Clarke must be fairly pleased with how things are working out. He has reported a clean bill of health for the Everton game, minus long-term injury victim Zoltan Gera. Youssuff Mulumbu will return from African Cup of Nations duty in time for the Spurs game, which suggests that Albion will be pretty much at full strength.

With the potential of Odemwingie leaving the club, I wouldn't be surprised to see a change in the way Albion set up. As mentioned, Odemwingie is the one player at West Brom who can play the wide forward role naturally. With his probable absent, I think Clarke may revert to a 4-4-2 that he has used on occasions this season.

The return of Mulumbu and Claudio Yacob will allow him to return to the midfield axis that was so successful earlier in the season. James Morrison could then move to the right side of midfield; it would be a shame to move Morrison from the advanced central role he has played so well but needs may require this shift. Morrison has performed well in that wide role earlier in the season at Wigan as well.

On the left side of midfield, Clarke would have the choice of Jerome Thomas or Chris Brunt, both of whom are perfectly capable players at this level and who offer two different type of wide player. The advantage of a 4-4-2 over the 4-2-3-1 is it will provide more protection for the fullbacks who have been out-numbered in recent games.

The front two would then consist of two from four: Shane Long, Romelu Lukaku, Markus Rosenberg and Marc Antoine Fortune. While the potential of a Long-Lukaku partnership is mouth-watering, I also expect this to provide Rosenberg with a few more chances in the central striker role. He has copped a bit of stick from Albion fans, but has only had a few games in that central role and I really think he has shown a few signs of being able to play well in this league.