Jonas Olsson: What's going on?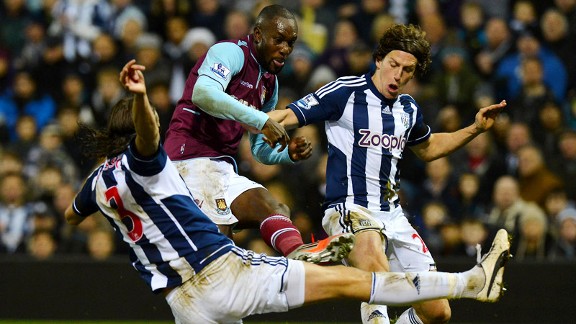 Ben Stansall/AFP/Getty ImagesJonas Olsson, left, has proved vital to West Brom's defence
Not exactly how Steve Clarke would have wanted to prepare for Saturday's clash with Reading. Instead of fielding questions about the current injury crisis West Brom find themselves in, or the opposition, the Albion manager was forced to talk about the on-going speculation surrounding Jonas Olsson.

The Swede has been a huge presence for Albion this season at the heart of the defence. When West Brom tied him down to a new four-year contract in September, I thought that would be the end of all the rumours surrounding Olsson's future but alas they have raised their head again in this transfer window.

Albion have turned down a bid in the region of 5 million pounds from QPR for their vice captain, with Clarke very firm in stating The Baggies would not welcome any more bids for the defender.

Personally I can't see Olsson joining QPR. It was always clear that he had ambition, he has said that he wants to win things and play at the highest level and, to be quite frank, he has far more chance doing that for West Brom than he does for the London club.

It is vitally important that he is kept a hold of, at least for this transfer window. He has formed a solid, reliable partnership with Gareth McAuley at the centre of the defence and his absence is always noticeable - just look at the last few weeks and how McAuley doesn't look quite as assured as when partnered with Olsson. In addition, it is highly unlikely that West Brom will be able to bring anyone in on the same level of Olsson, at least in their price range.

What was interesting about Clarke's response at the press conference was the revelation Olsson has a clause in his contract that is activated in the summer, but can only be activated by six clubs. It seems these clauses are all the rage at the moment, but I am not suprised to see one in Olsson's contract. West Brom were desperate to keep the centre half so I am sure they were willing to give a bit of leeway to him in negotiations.

Of course speculation will now arise as to who the six clubs are. It could be that the clubs are top sides who Albion are fairly confident won't be in for Olsson, or it maybe sides chosen more on their geographical location. I don't think any Baggies fan would begrudge Olsson a move to a big club...as long as it's in the summer!