Bargain buys key in Baggies win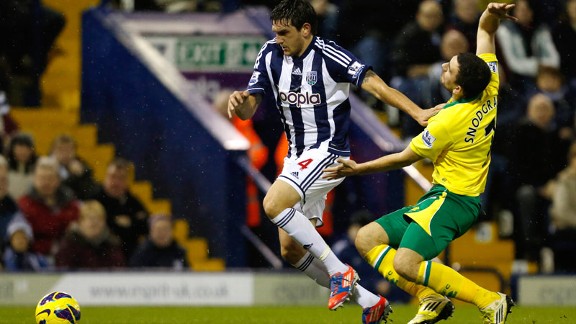 Paul Thomas/Getty ImagesGoran Popov, left, got the better of Norwich's Robert Snodgrass
West Brom's bargain buys were the key performers in the 2-1 win over Norwich at the Hawthorns Saturday, in particular Gareth McAuley and Goran Popov in the back-line.

It was probably the perfect game for McAuley. The rain was swirling and he was up against a side willing to play the ball in the air to their centre forward. McAuley was brought in on a free transfer from Ipswich last summer at age 31 having never played Premier League football. Most Albion fans had never heard of him and expected very little but McAuley has proved himself to be every inch a Premier League centre-half.

I don't think McAuley lost more than one ball in the air all game against Steve Morison, a battering ram of a striker. What typfied McAuley's performance was Morison barging into him not even looking at the ball and McAuley not moving an inch while still winning the header.

But the Northern Irishman is not just one of those centre backs who is a big physical presence who struggles when the ball gets in behind him. This was shown by one superb recovery and tackle on Morison in the second half. A short free kick broke down and Morison was released through the middle and was bearing down on goal about to shoot when McAuley slid in and took the ball off his toes.

Macedonian international Popov was equally impressive in the left back role. The on-loan fullback has come in for an experienced and proven Premier League performer in Liam Ridgwell but has put in performances that may well see Ridgewell relegated to the bench for a while. Popov had a good duel with Robert Snodgrass on the Albion left and arguably came out on top.

He was equally as good going forward, seen in the opening salvos of the first half when he whipped in a delightful cross that Romelu Lukaku glanced just over the bar. Throughout the game, Popov ably supported Peter Odemwingie, who once again provided Albion with some natural width although he didn't really get much joy in this game.

It was the Popov/Lukaku combination that brought West Brom the winner late on, with Popov angling a ball into the box from the left-hand side with Lukaku launching himself at the ball and driving a header into the net.

While the majority of the credit seems to be going towards Lukaku, another example of an Albion bargain buy, it was McAuley and Popov who really stood out for me in a win which was certainly a very nice Christmas present for both Steve Clarke and the West Brom fans as Albion head into the Christmas period joint third with 30 points already on the board.