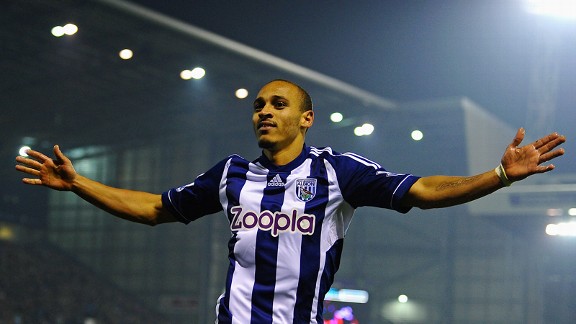 Laurence Griffiths/Getty ImagesThe sight of Peter Odemwingie celebrating a game-winning goal would bring some Christmas cheer to West Brom fans.
So providing the Mayans weren't right and the world ends tomorrow, West Bromwich Albion face a hectic Christmas period with four games in 11 days. Currently the Albion squad has been ravaged with injuries to a few key players while others are struggling with form.

- Foster in line for West Brom return
- Odemwingie: West Brom are singled out

Even a moderately successful Christmas period will result in West Brom heading into the new year with 30 points which would represent a superb achievement for Steve Clarke's first half-season as head coach of the Baggies. It would also provide Albion with a great platform to go onto heights they haven't reached before, such as 50 points and if I dare to dream, a European spot.

With that in mind, I've assembled an "Albion-themed" Christmas list ahead of these fixtures, highlighting some of the things I want to see over this busy period of games.

1. Claudio Yacob to return

It looks as if Yacob will miss Albion's game with Norwich at the Hawthorns with the hamstring injury that has kept him out of the previous two games in which West Brom have missed his presence greatly. The make-up of Albion's squad means Yacob is pretty much irreplaceable in terms of the attributes he has. West Brom have a lot of gifted forward-thinking midfielders, but no one who can fill the holding role that Yacob does with such aplomb. Clarke would be delighted to have him back.

2. Chris Brunt to return to form

Brunt has presented Clarke with a big problem this season as his form has been very poor. The issue is that Brunt is the captain and also has shown over Albion's past Premier League seasons that he has the ability at this level to create the chances the West Brom frontline has been sorely lacking in recent games. He's a player that should fit in well with Clarke's more attacking ethos, but it just isn't working out at the moment.

3. A constant right back

Right back has been a problem position for West Brom this season. Steven Reid started the season in the role but lasted only three games. Billy Jones came in but was quickly out, being replaced by Gabriel Tamas who had a few struggles in the role while even Gonzalo Jara saw game time. Jones returned and was very impressive in the Baggies' four game winning streak, before falling ill and being replaced by Reid who this time only lasted two games. It hasn't helped the Baggies by not having a permanent right back this season, particularly as Reid and Jones possess different styles. Reid is better defensively and doesn't venture forward too often whereas Jones is a more modern full back, which brings a different element to the Baggies offence.

4. Markus Rosenberg to score

The Swede has had very few chances to impress this season, starting only three league games including a very strange game he started against Stoke. I think that Rosenberg has showed signs of his ability; he's got a good touch and played a few nice passes against Stoke. But the issue is that he hasn't really had a chance in his preferred role as the main striker; this season he has played every forward position but there. One goal could change things for Rosenberg and give him the confidence boost that he clearly needs.

I'm sure Clarke will want three points from Norwich as his first present of the festive period as will the Albion fans, so despite the injuries ravaging Albion at present, I am hopeful of a win for the Baggies.