Tough tests with Mulumbu absent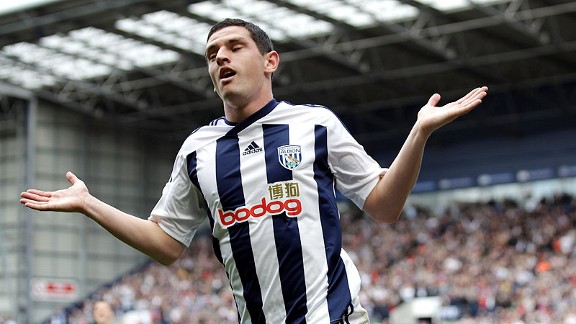 Ross Kinnaird/Getty ImagesGraham Dorrans is the best choice to move into West Brom's starting lineup
West Brom have had very tough fixtures during their first 12 games of the season, some that would be considered much tougher than their forthcoming three, Sunderland and Swansea away followed by a home game against Stoke. But I would argue that this set of fixtures present the toughest test so far of Steve Clarke's reign.

For such a good start, The Baggies have had their fair share of injuries to key players. Ben Foster has already missed more games than last season, Gareth McAuley was absent last week against Chelsea, Claudio Yacob has missed a game and of course The Baggies were without both of their first choice right backs for a number of weeks. In other years, these injuries really would have depleted the squad to the point where players usually on the very fringes would have to fill in.

This season West Brom have a strength in depth but I feel this will be sorely tested in the next three games due to the their proximity. First up is a trip to Sunderland, where we know Youssuff Mulumbu and Ben Foster will be missing. Boaz Myhill has shown he is a more than able stand-in for Foster, but I will be interested to see how The Baggies deal with the absence of Mulumbu. It should give some indication of Clarke's thinking for January and the African Cup Of Nations.

The Congolese international has been a mainstay of The Albion side since they were promoted to the Premier League under Roberto Di Matteo. His form during that first season back in the top flight superb, although it dipped last year Mulumbu remained an influential figure in Roy Hodgson's side. His form has picked up once more this season and he performs a crucial role in the Baggies side, breaking up play alongside Yacob but also bursting forward at every opportunity.

Whoever replaces him on Wearside is likely to be the man who takes over in January As mentioned, Albion have a strong squad so Clarke has plenty of choices for the central midfield role although no one quite like Mulumbu.

One option is to move James Morrison back into this role, as he did at Newcastle when Yacob was injured. Morrison performed well that game but I feel that you cannot move him from behind the main forward where his form has been outstanding . I'd prefer one of the players on the bench to take Mulumbu's place and I see three options.

Arguably the most natural replacement for Mulumbu would be Steven Reid, who performed so well for Blackburn in a similar role. However a few things count against Reid which makes me believe he won't play there. Firstly, he has not played in midfield for nearly three years so I can't see Clarke risking that. Secondly, he has recently returned from injury so probably isn't 100 percent match fit. And finally, with his injury record I'm not sure his body can now live up to the more rigorous role as a box-to-box midfielder.

I would like to see Graham Dorrans given the role, with the main competition being Chris Brunt. Brunt is a fantastic player, has superb vision and a great passing range, but he has been used in the central role before and it hasn't worked out. He is at his best out wide. Although the Scot also prefers to play further up the pitch, I think he has enough of the correct attributes to fill in for Mulumbu.

Dorrans isn't scared of making a tackle, although not a lot of that will be needed alongside Yacob. Similar to Brunt, Dorrans possess a good passing range and vision while his set piece delivery if selected will be a bonus. I'd choose Dorrans over Brunt because he also has a bit more pace and dribbling ability than the club captain, which will help cover the loss of Mulumbu's energy.

I'm trying to remain fairly pessimistic but if Albion come away from these three games with more than four points, I'll start dreaming a little.