Clarke vs Di Matteo-what's changed?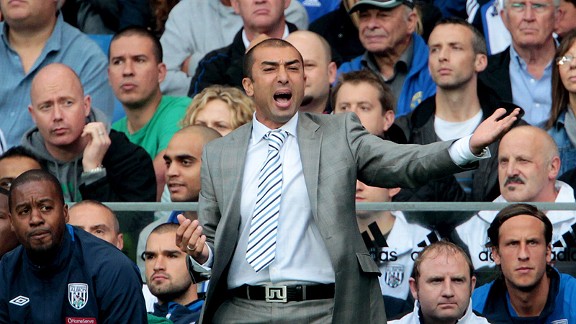 Phil Cole/Getty ImagesRoberto Di Matteo, pictured above as West Brom manager, helped build the foundation for the success of Steve Clarke's Baggies.
I don't think anyone can dispute that Roberto Di Matteo was the correct choice as Albion head coach way back in 2009 when he replaced Tony Mowbray who departed for Celtic following West Brom's relegation to the Championship. Di Matteo continued the style of football introduced by Mowbray, free-flowing, passing, attacking football with a tad more pragmatism to it.

Di Matteo also had a great start to his first season in the Premier League, my particular highlight being the 3-2 win at the Emirates against Arsenal. However by the end of his reign, Albion were in free fall back to the Championship with Di Matteo seemingly struggle to rescue Albion from a long losing streak. After a 3-0 defeat away to Manchester City, Di Matteo was put on gardening leave.

I highly doubt Di Matteo, Jeremy Peace or the West Brom fans thought that the first time Di Matteo returned to the Hawthorns as a manager would be as the manager of Chelsea, even less so that he would win them the Champions League. But still, it is clear the right decision was made by the Albion board that have seen The Baggies consolidate as a Premier League side aiming for a top 10 finish each year.

Thus I thought it would be interesting to compare Di Matteo's West Brom to the one we see today under Steve Clarke. Firstly, Di Matteo's West Brom were more focused on possession and attack than Steve Clarke's side. Di Matteo liked his wingers to hug the touchlines, he didn't ask too much of them defensively in terms of tracking back as long as they were providing the goods going forward. The side was a lot more open then -- it was common sight to see three men left at the back, sometimes even two, if both full backs bombed on.

Clarke is far more contained in this sense. West Brom under Clarke still play good football, make no bones about it, but possession is a far less important facet of their game now. Clarke's Albion tend to play fast, counter-attacking football based around a solid defensive unit rather than a possession-based game with a more open side.

In spite of me saying this, at this stage of the season under Di Matteo (11 games in) Albion had scored 14 goals whereas this season they already have 17. This may be in some part down to personnel. The Baggies have far more options in the forward area this season with four players already scoring three goals whereas Di Matteo's side had more of a reliance on one player, Peter Odemwingie.

One stat that doesn't surprise me is goals conceded. At this stage under Di Matteo, West Brom had conceded 19 goals in contrast to only 12 goals conceded this term. This is where a clear difference is seen between the two sides and highlights the changes made by the man whose reign slots between Di Matteo's and Clarke's, Roy Hodgson. His influence is clear to see over Albion. He installed a shape and discipline that had not been seen under Di Matteo.

The emphasis on shape has continued under Clarke. Everyone is aware of their role and responsibilities while under Di Matteo, I felt the players were given more freedom, which is probably more successful at a bigger club where you can expect to dominate possession and have a better, and well more expensive, defence behind the attacking players.

A very interesting comparison between the two West Brom sides is that both Di Matteo and Clarke played the same formation, but in a totally different manner. Di Matteo's 4-2-3-1 was very attack-minded with Odemwingie leading the line along with support coming from all of the midfield players. Paul Scharner and Youssuff Mulumbu were the two in front of the defence and were a good combination, but both men liked to get forward to support attacks thus leaving the defence exposed at times.

Claudio Yacob fulfills the same role Scharner did but he does it in a much more defensive manner. It's very rare indeed to see Yacob in and around the opposition's penalty area. He is far more content to sit deep, control the game and break up play should a counter-attack look to be on the cards. This allows Mulumbu to get forward a bit more like he did so well under Di Matteo but without having the same effect on the defensive capabilities of the side.

The full backs under Di Matteo tended to get forward more, with Gonzalo Jara in particular a very attack-minded full back in comparison to the first choice in Clarke's side, Steven Reid, who again is content to only get forward when needed but sees his first job as keeping goals out.

Di Matteo did a good job for West Brom. He was the starting block from which Hodgson and now Clarke have built and that must be respected. But for those in the national media who now suggest Albion got rid of Di Matteo too soon, I think the job done by his two successors show the right decision was made.