Mulumbu key as Albion win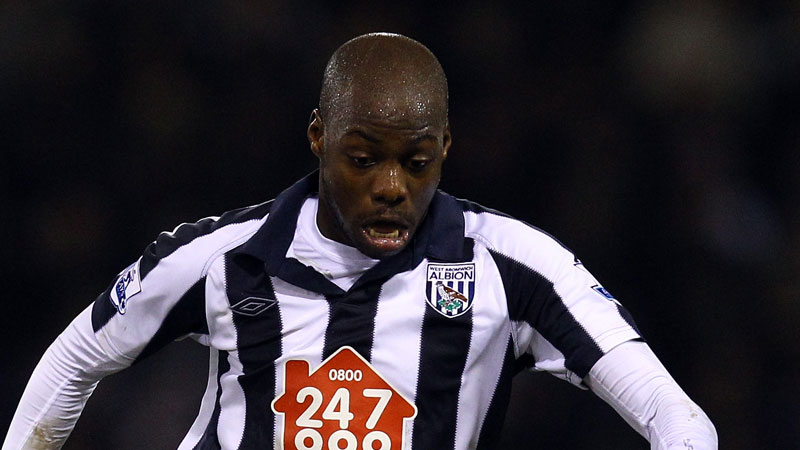 GettyImagesYoussouf Mulumbu: Has really come to the fore this season
Youssuff Mulumbu's superb midfield display, along with the continuing excellent performances of key partnerships, were the catalysts behind Albion's 2-0 victory over Southampton on Monday night at the Hawthorns.

The display highlighted everything good about Mulumbu's game, and also showed how much he has improved in other areas. The DR Congo international was tireless - sprinting for a late counter attack when Ben Foster was happy to calm things down.

- Clarke relieved to win again
- Odemwingie sends Baggies fifth

Mulumbu was at his box to box best, breaking up play in front of the back four before getting forward to provide extra support for the attacking quartet of Dorrans, Gera, Odemwingie and Long. It was a performance reminiscent of his displays in his first full Premier League season under the combined Di Matteo/Hodgson reign where he contributed seven goals and swept up the player of the year awards.

However, there was also a notable improvement in his game on Monday, in that he showed a wider range of passing than normal. There were a couple of poor passes early on, but as the match developed Mulumbu showed how much he has improved his distribution both in short and long passing. A couple of his more ambitious attempts were a little off target but for him to be contemplating those sorts of passes is unimaginable from even last season, when his displays were fairly under par.

The main reason, I believe, behind the flourishing of Mulumbu and the other attacking players are the partnerships that have developed throughout the team. Mulumbu's first season in the Premier League, alongside Paul Scharner, was a huge success but last season he struggled as the lone defensive midfielder. Having Claudio Yacob alongside him has re-invigorated Mulumbu, as he now has less responsibility riding on his shoulders to protect the whole of the back four.

Gary Neville noted this is in his preview of the game, Mulumbu and Yacob hunt in a pack around the edge of the Albion box but also have a good understanding going forward. Yacob always wants the ball, meaning Mulumbu always has that fall-back option alongside him.

The partnership behind them, Gareth McAuley and Jonas Olsson, also continues to impress with a 4th clean sheet in six home games - a magnificent defensive record. Olsson and McAuley complement each other. It is something Albion have longed for, and they have finally found it in these two centre-backs, who will throw their body in front of the ball and win headers all day.

These partnerships are providing the solid foundations from which the forward players can flourish, and another partnership seems to be developing well in the shape of goal-scorer Peter Odemwingie and Shane Long. Alongside a couple of nice interchanges between the two, Odemwingie set up Long for his goal against Manchester City and of Long returned the favour in some style on Monday night. His run-in behind was well timed, his control and turning of the defender exemplary, but it was the cross that was quite simply out of this world, placing the ball right onto the head of on-rushing Odemwingie.

It was a partnership that never quite got going last season in a two-man attack, but perhaps Odemwingie coming from wide in support of Long will prove to be the answer. Steve Clarke will certainly be hoping so.