Long vs Lukaku: The stats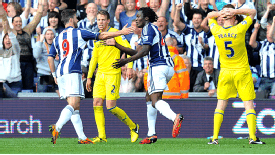 GettyImagesRomelu Lukaku and Shane Long: West Brom attackers
Ahead of the Southampton game on Monday night, Steve Clarke is once again faced with the tough choice of who leads the line: Shane Long or Romelu Lukaku. Lukaku scored against Newcastle, but also missed two one-on-ones. We've also seen that a goal in your previous game doesn't matter, as Clarke dropped Long to the bench after he scored against champions Manchester City.

There is a bit of mystery over Long at present as Ireland boss Giovanni Trapattoni ruled Long out of his latest squad with injury, before it was even mentioned by West Brom, who rate him as a doubt after he went for a scan on Thursday. But if Long is fit, I've decided to take a look at the choice based purely on statistics.

GOALS

The main statistic for the striker, really, and there is nothing between the two in this department. Both men have three goals in the Premier League, while Long also has two goals in the Capital One Cup. To delve further into the debate, you have to look at how many minutes it is per goal for each man.

Shane Long's three Premier League goals have come in 518 minutes, working out at a goal every 172 minutes. If you add his two League Cup goals into the equation, that takes it to a goal every 123 minutes. Romelu Lukaku has had far less time on the pitch, with only two starts to Long's seven, so his goals come on average every 96 minutes. Both men have very impressive ratios, and I'm sure most Albion fans would settle for those minutes-to-goals stats to last the whole season.

SHOTS

This is the first real difference between the pair. Even in his fewer minutes on the pitch, Lukaku has managed to get more shots away on goal with 20, while Long has only had 15 shots. Lukaku also has a more impressive ratio of shots on target, with 12 out of 20 shots going goalwards, giving him a 60% shot accuracy.

Compared to this, only six of Long's 15 shots have hit the target this season, which gives him a shot accuracy of 40%. However, with only six shots on target, Long averages a goal every two shots on target; Lukaku averages a goal every four shots on target. Overall, it means Long averages a goal every five shots, while Lukaku averages a goal around every seven shots. Again not a lot to choose from in that respect.

ASSISTS

Now the main aspect of a striker has been dealt with - their goals and shots - we now move onto some other areas of their game. In terms of assists, Long has a clear advantage over Lukaku. Long has claimed two assists in the league this season, for James Morrison against QPR and for Lukaku himself against Reading. In comparison, Lukaku has yet to make a goal for one of his team-mates.

PASS COMPLETION

Another vital role for the lone man up front is to be able to hold the ball up and then link play with the rest of the team's attacking players. Both strikers have been criticised for their ability to do this in the past, so I've looked at their pass completion rates for the season. Long comes in at near enough 69% with 73 of 106 passes successful.

Lukaku has played 92 passes compared to Long's 106, and has completed 67 of these passes which gives him a completion rate of near enough 73%, giving him the advantage in this aspect.

So in conclusion, the stats simply mirror what we can see in the flesh, there is very little between the two strikers. If on the off chance Steve Clarke was reading this in an attempt to help his decision, then I'm sorry!