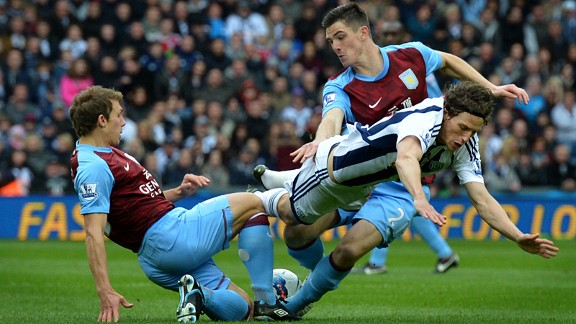 GettyImagesWest Brom's Billy Jones is back ready for battle
Ahead of the weekend's game with Newcastle, Albion received some welcome news as former Preston fullback Billy Jones returned to training following three weeks out with a knee injury.

The news will have pleased head coach Steve Clarke as West Brom have really struggled in that position over recent games, thus Clarke will be happy to see a specialist rightback available to him once more. Gabriel Tamas came on for Jones at Aston Villa and performed very well and looked as if he would prove to be a capable deputy for a few weeks.

Unfortunately for Tamas the previous two games have really highlighted the fact that he is being played out of position. Both against QPR and Man City, Tamas picked up first-half bookings, which in the case of Man City left him walking a tight rope whilst he was hauled off against QPR at half time after being given a nightmare of a time by Adel Taarabt. The other issue with Tamas is that his distribution from rightback was poor, though I don't blame him solely for that, the lack of width not providing him with a simple pass.

Gonzalo Jara Reyes came on for Tamas against QPR and he is a strange case really. This is Jara's 4th season with the Baggies but he's yet to find where he fits in best. He's played centreback and defensive midfield but has spent most of his time at rightback. There is no denying Jara's capability going forward. He provided a superb bit of play to lay on Mulubmu's goal against QPR and gives Albion an option out wide if playing narrowly.

The issue with Jara is his judgement defensively. Twenty seconds into the half, he attempted to nutmeg Taarabt and failed, immediately putting Albion on the back foot. There are also questions over Jara's temperament, whilst some of his tackling certainly has room for improvement.

Unfortunately, the return of Jones does not signal that Albion's worries at rightback will go away. Jones has proved to be very consistent in the blue and white, he has had some fantastic games but also some very average ones, the most recent being Fulham away this season. Much like Jara, Jones is very good going forward whilst the defensive side of his game isn't at the same level. Having said that, he was having a great game against Aston Villa before he got injured so hopefully he has got used to the pace of the Premier League.

Newcastle is probably a good game to come back for with Jonas Gutierrez up against him. The Argentine does not run at the full back as much as say Hatem Ben Arfa. Ideally Clarke would like to see Steven Reid back as well as Jones, but Reid is still side-lined with a hamstring/groin injury.

I wouldn't be surprised to see Albion making an addition in this position in January although I imagine this will depend on if Albion can offload one of the current crop of rightbacks.