Klinsmann tends to his pool with European friendlies
GLASGOW, Scotland -- The term "friendly" in relation to soccer can prove an alien concept to some. To others, the word does not exist in the context of professional sport. Pride is at stake irrespective of the bonus of points. Yet, if there is one benefit to the oft-maligned exhibition match, it is that it provides ample opportunity to test out those players who have yet to place themselves firmly onto the Venn diagram that is the national team pool.

"This game is going to be a benchmark for a team trying to do better. It is part of a learning process, and we are looking forward to it." United States men's national team coach Jurgen Klinsmann revealed Thursday afternoon. The former Germany international is delicately drifting toward the end of a stellar calendar year in the job. Sixteen victories, 51 goals; both returns represent records for the team across such a period.

Thus, it is with little surprise he has selected his final two friendlies of the year to experiment. Depth is an important part of any national team, and, despite lacking the star names of Landon Donovan and Clint Dempsey, Klinsmann's roster can still sparkle. Complementing emerging starlets like John Anthony Brooks and Aron Johansson with those who garner less conjecture like Brek Shea -- auditions to appear in the 2014 parade at Brazil begin now.

Admittedly, performing with aplomb against Scotland is unlikely to fully endorse a candidacy for next summer's World Cup, but it can at least earn someone a callback to the next round. That's the hope of players like Eric Lichaj. The former Aston Villa man entered the ambiguous world of free agency in the summer before earning a deal at Nottingham Forest. Now on something of a firmer footing, the defender revealed this week he is keen to cease his chance in amongst the ambiguous absence of Timothy Chandler.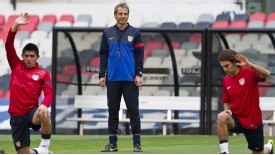 APJurgen Klinsmann is looking to add depth to his squad.
Contrasting the USMNT's celebrations at their summer plans is Scotland. There remains just the faintest whiff of failure in the Glaswegian air after Scotland were once again unable to qualify for a World Cup (1998 in France representing their last appearance). Even Klinsmann was asked to rationalise how the U.S. have qualified for seven successful tournaments while Scotland continue to falter -- his talk of the difficulty of qualifying from Europe providing little comfort to the locals in attendance.

Regardless, it has not dampened the anticipation between clubmates. In particular, Tim Howard spoke of a particular pest in the Everton dressing room. "He's been chirping in my ear for the last two, three weeks, but I've kept quiet," the goalkeeper said with a wry smile when asked whether Everton colleague Steven Naismith had discussed Friday's fixture.

Naismith did not take the field the last time the two sides met -- a game Klinsmann described on Thursday as a "favour" for a U.S. side in the midst of preparation for World Cup qualifiers and the nigh 100 degree Floridian heat. The USMNT coach is adamant that the same side (both figuratively and literally) will not take the field on Friday night. "They have proven a point that they are a lot better than the beginning of their World Cup-qualifying campaign," he said, citing victories over Croatia as reasons he had chosen Scotland.

With Klinsmann unable to share any personal memories of Hampden Park from his time as a player, he quickly returned to regaling his mission statement for the trip. "Our goal is to grow and improve and get everyone playing on another level," he explained. "If we look at our squad, we have a good squad. We want to continue that process."

That process also involves catering to those plying their trade in England, Germany, France and Italy. Games held in the continent provide the added bonus of skipping long-haul flights. As Klinsmann discussed the benefits of avoiding the "exhausting" effect of intercontinental travel by playing in Europe, the knowing nod of agreement from Howard suggested that it is a view shared by players, too.

Breaking for a brief sojourn to Scotland and Austria before restarting his Premier League fixture list with Everton, a short flight across Europe to Merseyside -- as opposed to one across the Atlantic -- will keep both manager Roberto Martinez, and, more importantly, Howard happy.

Now 34, the custodian might have felt his age as the squad took to the Hampden park pitch on Thursday night amid myriad jokes and thermal wear. Pegged as a leader by Klinsmann, Howard warmed up with both Bill Hamid and Sean Johnson as he fulfilled the role of most-experienced goalkeeper on the trip.

Coming off the back of seasons with DC United and the Chicago Fire, respectively, the pair's inclusion represents more tending to the pool by Klinsmann. While neither is likely to make the plane to Brazil next summer, affording them the experience of an international camp not only aids them in maturing but also grooms them with the intention of one day potentially filling Howard's gloves.

Of more pressing concern to Howard will be the stellar form of Brad Guzan. Klinsmann confirmed he had spoken to those with MLS playoff games to confirm why they had been omitted. Realistically, the same applies to players like Guzan. With Howard describing the Villa goalkeeper as "like a best friend," the pair will spend the next seven months vying for the coveted No. 1 spot "like dogs," as Howard so poetically put it.

Meanwhile, for those with something of a more secure spot, the chance to enhance their reputation and forge new bonds awaits. Including the likes of Michael Bradley, Jozy Altidore and the aforementioned Howard, means those keen to impress must do so in surroundings that will likely mirror the training camp in Brazil as Klinsmann looks to rear a large number of potential players.

As for the ambitious Klinsmann, just the hint that he is beginning to become woven into his adopted nation is starting to shine through. "We know why we are where we are, and we know we still have a long way to go still," he said before adding, "But we are very hungry for improvement and ambitious. Americans are ambitious people in general; they don't like to be second third or fourth. It's just in their DNA."

NOTES:

• Julian Green has not been with the camp this week. Klinsmann was keen to stress the youngster's decision process will not receive pressure from those in the U.S. camp.

• Klinsmann also spoke of the important strides players like Howard have made in the past 10-15 years in improving the perception of U.S. players in Europe.

• With two away games on this trip, Klinsmann is also eager to use the opportunities away from home to gauge just how the side are coming along in their progress.