Jurgen Klinsmann's oft-mentioned depth chart is guarded like a state secret. Only a few U.S. staffers have access to the highly classified, ever-changing pecking order of players at every position on the field, which is stored in a file deep in the bowels of the national team boss' hard drive.

Yes, it turns out the depth chart is a living, breathing document. And when Klinsmann and his assistants convene, the internal hierarchy is often written out, in various formations, on a white board at the team hotel, providing a visual snapshot of who stands where at a particular moment in time.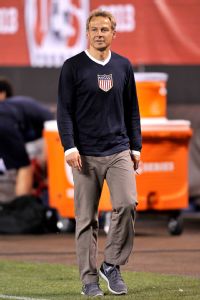 David Richard/USA TODAY SportsJurgen Klinsmann will get a chance to evaluate players against Scotland and Austria in the next week.
Now, with just six months to go before Klinsmann & Co. select the 23 players who will represent the United States at the 2014 World Cup in Brazil, that list is as important as ever.

This isn't the first time we've tried to decode the player pool's chain of command -- ESPN Insider subscribers can find the first two versions here and here -- but trying to figure it out continues to get more challenging.

As U.S. star Landon Donovan told us last month, the battle for places on the squad has "never been this competitive." That's because the pool has never been this deep.

As was the case back in May, we've gone only three deep at each spot in Klinsmann's preferred 4-2-3-1 set. A total of 26 players are listed -- fewer than before, but still three more than will make the final cut. And it doesn't even include promising attack-minded youngsters Terrence Boyd and Joe Corona, both of whom have been regular call-ups for most of Klinsmann's two-plus years at the helm, or healthy-again Bundesliga veteran Steve Cherundolo, who will have the opportunity to play his way back into the starting lineup in the coming weeks and months.

Yes, the depth chart will surely change following the games in Scotland and Austria, perhaps again after the Yanks' three group foes are determined at the Dec. 6 World Cup draw, and many more times after that.

Unlike the Brazil Board, this is not a roster projection. This is simply an educated guess -- based on who has participated in recent games and camps, conversations with people close to the team, plus the words and actions of Klinsmann himself -- at how the constantly evolving picture looks right now.

Striker: Jozy Altidore

Altidore is still looking for his first goal since returning to the Premier League with Sunderland, but his status as the first-choice forward for the U.S. remains secure. Altidore has scored a career-best eight goals for the Yanks this year, and despite the lack of production so far in England, his work rate, hold-up play and movement off the ball have improved since leaving Dutch club AZ Alkmaar. So has his willingness to bang with opposing defenders, where his physical gifts make him a matchup nightmare. Altidore's a horse -- and Klinsmann will ride him all the way in Brazil.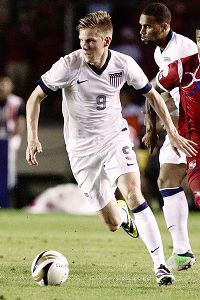 AP Photo/Arnulfo FrancoAron Johannsson scored his first United States goal in the win versus Panama.
2. Aron Johannsson

The Alabama-born, Iceland-raised forward's stock has gone through the roof since he made his U.S. debut in August. Johannsson is tearing up the Netherlands' Eredivise the way Altidore did a year ago, but he might be an even more ruthless finisher than his former AZ teammate, and that has vaulted him ahead of Eddie Johnson in the pecking order up front.

- Johannsson analysis

3. Eddie Johnson

Good as he is in the air, Johnson isn't ideally suited to playing up top alone. But, as he showed in September's World Cup berth-clinching win against Mexico, he can play the role effectively when called upon.

Right midfielder: Landon Donovan

The national team's all-time scoring leader is good enough to start anywhere in the attack, but his ability to run at defenders is probably best utilized on the right, where he's had some of his best games for the U.S. in recent years. If Klinsmann keeps Fabian Johnson in midfield, this is the spot where Donovan slots in best.

2. Graham Zusi

Zusi's been a revelation for the U.S. since establishing himself as regular late last year, and he'll remain in contention for a place in Klinsmann's first-string XI. As well as he's played for the Yanks, though, he'll have a hard time beating out Donovan if that's who's ahead of him.

3. Alejandro Bedoya

Bedoya's performances for Nantes in France have vaulted him into contention for a place in the Americans' lineup. He's been neck and neck with Zusi of late, and he's also an option on the left, where he played against Panama last month.

Attacking midfielder: Clint Dempsey

Dempsey's struggles after returning to MLS in August are well documented, but make no mistake: Deuce's experience, creativity and toughness are invaluable to the U.S. team. Dempsey has spent time up top and out wide, but has been at his best for the Yanks in the "hole" behind the striker, where he has the freedom to find the ball. When he does, good things happen for the Yanks -- like the five goals in 10 games he scored in 2013.

2. Donovan

Donovan has played this position many times, most recently in the Gold Cup, when he often morphed into a second striker. Sitting slightly deeper plays to Donovan's strengths: he can stay facing the goal, using speed and quick combination play to create scoring chances.

3. Mix Diskerud

Klinsmann likes the passing and vision Diskerud offers, and his defensive deficiencies -- which he's worked hard to correct this year -- are less exposed with two holding midfielders behind him.

Left midfielder: Fabian Johnson

Johnson may be the team's best left back, but for now, Klinsmann prefers him on the wing. Little wonder. The Bundesliga vet offers plenty going forward; he's an excellent crosser who also has the engine to get back and help defensively -- even after making one of his many gut-busting runs up the touchline.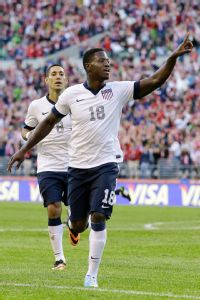 AP Photo/Ted S. WarrenEddie Johnson has enjoyed a resurgence with the national team during qualifying.
2. Eddie Johnson

EJ will never be a true winger, but he's been deployed wide regularly since Klinsmann brought him back into the fold late last year. For the most part, the results have been good -- particularly when Johnson cuts inside to support the forwards, allowing his left back to overlap.

3. Herculez Gomez

Another converted striker, Gomez's work rate and nose for the goal earned him nine starts here during qualifying. Klinsmann hasn't forgotten, even if a lingering knee injury robbed the charismatic Mexican-American of his fitness recently.

Right holding midfielder: Jermaine Jones

The imposing Schalke destroyer is one of Klinsmann's most trusted soldiers despite a penchant for picking up yellow cards. That's because most of Jones' fouls are tactical, and his mere presence strikes fear into opponents' hearts. And as a Champions League regular, he brings the type of experience against top-end opposition that few Americans have.

2. Geoff Cameron

The versatile Stoke City right back filled in here twice during qualifying and played well. Cameron not only has the fitness and tackling ability to do the dirty work in midfield, but his passing ability allows him to contribute offensively, too.

3. Diskerud

Nobody's ever mistaken Diskerud for a defensive midfielder, but against certain opponents (or if the U.S. is in need of a goal) his technical gifts can break down teams from a deeper-lying spot.

Left holding midfielder: Michael Bradley

It's been said often, because it's true: Bradley is the U.S. team's most indispensable player. His off-the-charts soccer IQ means he's hardly ever out of position, which is important playing next to Jones, who tends to roam. His fitness is among the best on the squad, and his heart-and-soul approach to every game and training session forces teammates to match his intensity, which becomes especially valuable when the U.S. is on its heels.

2. Kyle Beckerman

The Real Salt Lake captain has physical limitations at the highest level, but his smart, disciplined game allows him be effective. He rarely makes mistakes, and Klinsmann loves him in the locker room.

3. Sacha Kljestan

Kljestan is in the form of his career right now, but with Bradley and Jones entrenched as the starters -- and Beckerman more of a defensive specialist -- his opportunities have been limited. "I wish I could give him more playing time," Klinsmann said recently.

Right back: Brad Evans

The Seattle Sounders midfielder could be beaten out by a dedicated right back between now and the World Cup, but right now the job is his to lose. Evans barely put a foot wrong during qualifying, starting five of 10 games in the final round. Questions remain about his ability to perform at a similarly high level against the elite teams the U.S. will meet in Brazil, but it's worth noting that Evans, 28, impressed in friendly wins over Germany and Bosnia-Herzegovina this year.

2. Fabian Johnson

The right-footed Johnson has found a home on the left for both club (Hoffenheim in Germany) and country. But on those rare occasions when he's been asked to fill in on the right -- like against Mexico in September -- he's been as solid as he is on the opposite side.

3. Cameron

Cameron plays there every week against some of the world's top attackers, but Klinsmann still isn't sold on him out wide with the U.S.

Right center back: Omar Gonzalez

The gigantic (6-foot-5) L.A. Galaxy stopper was thrown into the fire in the Yanks' first qualifier of 2013, and improved as the year went on. Yes, he's still inconsistent at times. But his aerial prowess is unmatched on the U.S. squad, and Clarence Goodson, Cameron and Michael Orozco haven't been able to knock him out of the lineup. The understanding he's developed alongside Matt Besler will also help him hold onto his spot.

2. Cameron

The 28-year-old has barley played in the middle since joining Stoke in the summer of last year, but he insists center back is his best position. Klinsmann agrees.

3. Michael Orozco

Hard as it is to see the little-used Orozco making the final 23 in May, he keeps getting called up, most recently for the upcoming friendlies in Scotland and Austria.

Left center back: Matt Besler

Besler didn't have a single cap when 2013 began, but the national team rookie was probably the Yanks' most consistent defender during qualifying. The cerebral Besler is also a quick study. If he continues to improve, it's hard to see him not starting the Americans' opener next summer.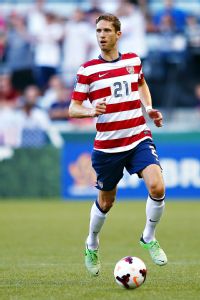 Jonathan Ferrey/Getty ImagesOnce thought to be falling out of favor, Clarence Goodson has established himself as a reliable veteran option.
2. Clarence Goodson

In late 2012, it looked like Goodson's days at international level were numbered. But the 2010 veteran's been rock solid all year, notably in home qualifying wins against Costa Rica and Mexico.

3. John Brooks

There's no doubting Brooks' talent, but the 20-year-old can't leapfrog any of the players ahead of him unless he reclaims his starting spot for Bundesliga side Hertha Berlin.

Left back: DaMarcus Beasley

After being pressed into emergency service in the snow globe win over Costa Rica in March, Beasley, a career winger, told reporters "I'm not a left back." But his tune changed by the time qualifying ended in October, and he now embraces the role even if he remains in midfield for his Mexican club, Puebla. Wherever he plays Beasley has always been a tenacious defender, and displays in his new position throughout qualifying (and in friendlies versus Belgium and Germany) earned Klinsmann's trust. He'll stay the starter until that changes.

2. Fabian Johnson

Beasley's emergence allows Johnson's attacking talents to be used farther up the field -- a luxury Klinsmann could barely imagine a year ago.

3. Edgar Castillo

The little lefty's stock could drop if the U.S. draws fast, physical African or European foes next month, but can play a role off the bench against smaller, more technical opponents.

Goalkeeper: Tim Howard

Nobody's job is ever completely safe in the cutthroat world of international soccer, but Howard's is as secure as they come. Klinsmann has made that clear time and again in recent months. That's not to say a colossal drop in form wouldn't open the door for Brad Guzan, who's been brilliant for Aston Villa this season. But Howard has only become more reliable as he's gotten older, and his performances for Everton in 2013 have been among the best of the 34-year-old's decorated career.

2. Brad Guzan

Guzan, now in his second year as a Premier League starter, could easily step into the goal for the U.S. without any drop-off from Howard -- and proved as much in the three qualifiers he played this year. After this World Cup, the gig will be his alone.

3. Nick Rimando

Rimando has been the best keeper in MLS for years. He's also a key glue guy, a big reason the 34-year-old RSL stopper was entrenched as the No. 3 even before leading the Yanks to the Gold Cup title in July.