USMNT hot list: Veterans making final push
Whenever Jurgen Klinsmann names his roster -- it could be this week, it could be next -- for the U.S. national team's upcoming matches at Scotland on Nov. 15 and in Austria four days later, don't expect a B-squad.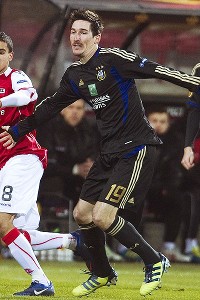 Toussaint Kluiters/AFP/Getty ImagesSacha Kljestan is looking for a chance to step up and show himself as a viable midfield option for the U.S.
The U.S. coach made clear last week that with just three FIFA fixture dates left between now and May, this month's friendlies will be treated like the World Cup tuneups they are. That means taking a team as close to full strength as possible.

"We have to look at bringing the best available players," Klinsmann said in an interview with USsoccer.com. "We will be following the situations in Europe and MLS carefully."

Thanks to a break in the MLS schedule between Nov. 10 and 23, stars such as Clint Dempsey, Landon Donovan and others could be summoned at least for the first leg of the trip overseas, even if their respective teams advance in the MLS playoffs.

Who gets the call and who stays home will be determined on a case-by-case basis, and how that shakes out remains to be seen. What is certain is that wherever U.S. players are earning their paychecks, they continue trending up (or down), giving Klinsmann and his staff more and more information to base their decisions on as time goes by. Below are some of the biggest movers over the last seven days -- a couple of whom have plenty to gain if they're asked to suit up for the Yanks this month.

Warming up

Sacha Kljestan, M, Anderlecht (Belgium)
Why he's here: The 28-year-old Californian has scored in three consecutive matches for Anderlecht, giving him a career-high seven goals on the season.
What this means:: Kljestan is still very much on the bubble, and breaking into the crowded U.S. midfield is a tall task. But Klinsmann has challenged players in middling leagues to become difference-makers, and Kljestan has been one this season. If his recent nose for goal carries over to Champions League play (Anderlecht visits PSG on Tuesday), that could make a more lasting impression.

Brad Evans, D-M, Seattle Sounders (MLS)
Why he's here: Evans scored a terrific goal as the Sounders eliminated Colorado 2-0 last week, then added a crucial assist in Seattle's 2-1, first-leg loss to Portland in the Western Conference semifinals. He even spent some time playing fullback.
What this means: Evans continues to be a bright spot for the Sounders, and he has not given Klinsmann any real reason to remove him from the U.S. lineup. Even if Seattle comes from behind to upset the Timbers, there's a good chance Evans starts at right back in Scotland on Nov. 15 (3:05 p.m., ESPN2/WatchESPN).

Jermaine Jones, M, Schalke (Germany)
Why he's here: Things didn't look great for Jones when he was benched for a Bundesliga match last month. But an injury crisis in Schalke's midfield provided an opening, and Jones, who turned 32 on Sunday, rewarded manager Jens Keller with solid performances despite playing through a lingering knee injury. (U.S. scout Matthias Hamann was in attendance to watch Jones pick up a late assist in Saturday's 2-0 win against Hertha Berlin.)
What this means: With Marcus Holger and Roman Neustadter sidelined, Jones seems likely to start Wednesday's Champions League match at Chelsea, and beyond. That's good for the U.S. -- unless it prevents him from getting his knee repaired during the Bundesliga's winter break as planned.

Ricardo Clark, M, Houston Dynamo (MLS)
Why he's here: The 30-year old -- a starter for the U.S. at the 2010 World Cup -- was easily the best Dynamo player in the club's first two playoff games, contributing an important goal and assist to his usual hard-running defensive play.
What this means: Clark hasn't appeared for the U.S. since early 2012, so it's hard to see him breaking back in with the U.S. team at this late stage. That said, if he continues playing at a high level and helps lead Houston on yet another deep run, a January camp invite is possible.

Cooling down

Jozy Altidore, F, Sunderland (England)Why he's here: Altidore was removed halfway through the Black Cats' 1-0 loss at Hull City.
What this means: Two first-half red cards forced coach Gus Poyet's hand, but Altidore did little to distinguish himself during the visitors' atrocious opening 45 minutes. With powerful Manchester City looming next week, retaining his spot in Poyet's lineup isn't a sure thing.