Five players who can impress Jurgen Klinsmann during MLS playoffs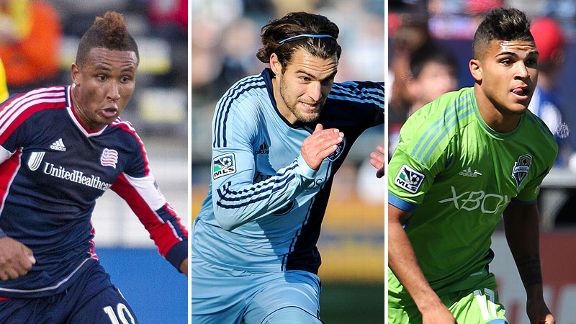 USA Today SportsJuan Agudelo (l), Graham Zusi (c) and DeAndre Yedlin(r) all have a chance to make a major impression on U.S. boss Jurgen Klinsmann during the MLS postseason.
Jurgen Klinsmann won't be in attendance when the MLS Cup playoffs kick off Wednesday when the Colorado Rapids visit the Seattle Sounders in the Western Conference play-in match. But 1,200 miles south of CenturyLink Field, at his home in Orange County, Calif., you can be sure that the U.S. coach will be watching.

With games in Scotland and Austria next month and January's important pre-World Cup camp on the horizon, Klinsmann and his staff will be scouting the postseason closely. Sure, the player pool is close to set, with next summer's tournament just seven months away. Klinsmann himself said not to expect "too many surprises" in the final march toward Brazil 2014 just a month ago. Still, while it seems less likely that a breakthrough playoff run will vault a player currently on the outside into the starting lineup -- as was the case with Real Salt Lake's Robbie Findley four years ago -- Klinsmann also wants to include a few fresh faces in the January camp.

"We'll try to bring in some younger players, have a look at them as well," the coach told U.S. Soccer's official website last week.

In 2012, the Houston Dynamo's Will Bruin, Brad Davis and Tally Hall used an unlikely run to the MLS Cup final to catapult them onto Klinsmann's radar. This year, other players will have an opportunity to do the same.

Here are four of them, plus a veteran who could help cement his place in the starting lineup over the five weeks.

Juan Agudelo, F, New England Revolution

Agudelo hasn't been called in since January. But the 20-year-old, who became the national team's youngest scorer three years ago next month, led the Revs to the playoffs after arriving in New England in May. Rumors of questionable training habits followed when he was traded out of New York and Chivas USA in a 12-month span, but Revs coach Jay Heaps has lauded Agudelo's professionalism so far. A strong first-round performance against Sporting Kansas City would certainly catch Klinsmann's eye, although Agudelo's playing time and production at Premier League side Stoke City -- which he'll join in January -- will ultimately determine whether he goes to Brazil.

Luis Gil, M, Real Salt Lake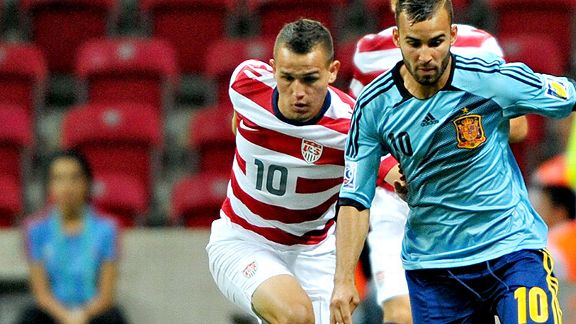 Ozan Kose/AFP/Getty ImagesLuis Gil has shown a lot of potential but is probably a long shot for a trip to the World Cup.


Let's face it: Gil isn't a serious candidate to make this World Cup roster. But the 19-year-old remains among the most promising young players in U.S. soccer, was the best player on Tab Ramos' U.S. U-20 squad last summer and has been brought along expertly at RSL over the last four seasons. Gil enters the postseason in a good place, having played 90 minutes in each of the last five games for Jason Kreis' team, which of course already boasts U.S. regulars Kyle Beckerman and Nick Rimando. If Gil can help RSL make a deep run, a call-up from Klinsmann for the January camp -- which the U.S. will split between Los Angeles and Brazil -- isn't out of the question.

DeAndre Yedlin, RB, Seattle Sounders

With right back still up for grabs, the speedy Yedlin was anointed a future senior-teamer early this season. But as well as he played, for the most part, during his rookie season, Klinsmann made it clear earlier this month that the 20-year-old still has plenty of room to grow. That doesn't mean an invite in January is unlikely, but a series of composed, mature defensive performances during these playoffs could seal the deal. And that will only be possible if the Sounders, who are on a 0-4-1 run, avoid being upset by the Rapids in their single-elimination tilt Wednesday night.

Gyasi Zardes, M-F, LA Galaxy

Like Gil, Zardes, who made 23 starts (four goals) in his first season as a pro, is auditioning for a spot on the January roster. The 22-year-old is raw, but he's strong, fast and, at 6-foot-2, has a frame well-suited to the international game, particularly on the wing. Zardes has impressed Galaxy teammates with his attitude, strong work ethic and willingness to learn. That helped him improve throughout the year, to the point that he could play a big role for LA coach Bruce Arena in these playoffs. If he can take another step forward there, he's exactly the type of young player Klinsmann will want pushing his regulars early next year.

Graham Zusi, M, Sporting Kansas City

With two goals in the two Hexagonal-closing qualifying wins earlier this month, Zusi put himself in position to win back his right midfield job with the U.S. That said, the 27-year-old can't afford to ease up now. Klinsmann is constantly challenging players to "raise their level," and for Zusi that means leading SKC -- which fell short of an MLS Cup final berth the last two seasons, losing in the first round a year ago -- on a title run. Reaching the championship match would also provide extra exposure to European teams looking to sign the Florida native on loan in the new year.